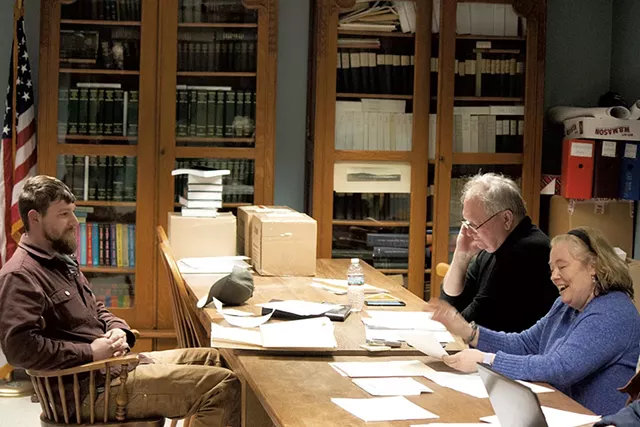 Derek Brouwer
From left: Brian Montminy II, Doug Swanson and Toni Eubanks at the Barton selectboard meeting
On January 21, Brian Montminy II walked into the town offices in Barton, a place where firearms are ubiquitous enough that the Lake House Saloon across the street posts its "no guns" rule out front. He took a seat in the cramped room where local officials gather twice a month.
"I have never been to a selectboard meeting in my life," Montminy told the two members in attendance. Wearing a flannel shirt and work pants, the 30-year-old town resident removed his ball cap and began to read the resolution he came to ask the officials to adopt.
The measure would declare Barton a "Constitutional Gun Owner Township," recognizing the "inalienable" right to keep and bear arms. The statement declares "all federal and state laws and regulations attempting to restrict these rights to be infringements, hence null and void under this resolution."
The last bit was the only hang-up for selectboard chair Toni Eubanks. She worried aloud about possible ramifications of defying state law. Fellow selectboard member Doug Swanson wasn't concerned.
"I'm ready to make a motion to sign it," he said.
Such resolutions have sprung up in a dozen or so Vermont towns this month as some local gun-rights advocates latch on to the "Second Amendment sanctuary" movement that has galvanized activists in Virginia and several other states. Pittsford, Searsburg, Derby, Clarendon and Holland recently became the first Vermont towns to adopt them, and others are poised to put similar resolutions to a public vote on Town Meeting Day.
Proponents insist that the defiant language is merely symbolic, intended to send a strong message to state lawmakers that gun owners are fed up with efforts to, in their view, trample their constitutional rights. But even some gun-rights advocates have criticized the tactic as a gesture toward lawlessness.
For decades, firearm enthusiasts have fought restrictions at the federal and state levels. But as the mounting body count from mass shootings has brought new support for stricter gun regulations, the groups now see local politics as a way to push back.
Nearly every county in Virginia has passed some form of sanctuary resolution in recent months, stating their opposition to gun restrictions with language that suggests local officials might refuse to enforce new laws. In a few rural areas, sheriffs have said they will do just that. Such defiance echoes former Kentucky county clerk Kim Davis' refusal to issue same-sex marriage licenses in 2015, despite a federal court order.
Local proponents believe Vermont is fertile ground for the sanctuary movement, given the slate of gun-control legislation enacted in 2018.
The Vermont laws expanded background checks, raised the age to purchase guns, banned sales of high-capacity magazines and bump stocks, and created "extreme risk" protection orders that allow authorities to seize guns belonging to someone considered a threat to themselves or others. Republican Gov. Phil Scott lost the support of groups such as Gun Owners of Vermont, a 22-year-old volunteer organization that espouses a "no-compromise" position on gun rights, after signing the legislation.
Additional bills have been introduced this year, including some to create gun-purchase waiting periods. Scott has said he doesn't believe lawmakers should focus on the issue this session.
Still, "it's been death by a thousand paper cuts," Montminy said in an interview with Seven Days.
The Barton resident joined Gun Owners of Vermont in response to the 2018 gun legislation. Earlier this month, the group's leaders began soliciting its members on Facebook to introduce sanctuary resolutions to their town selectboards. The effort is loosely organized; president Eric Davis said he didn't have a complete list of where members have lobbied so far. Some of the towns include Cavendish, Warren, Barre Town, Newport Town, Northfield, Newfane and Barton. Irasburg, it turned out, had already adopted a resolution in 2013, pledging not to enact any law that infringes on the "fundamental freedom" of gun ownership.
The group has not previously advocated action at the local level, said founder Eddie Cutler, who stepped down as president this month and said he plans to move out of state. Prior forays into local politics came in reaction to municipal attempts to regulate guns. Gun-rights activists' chief weapon in those battles had been Vermont's preemption law, which explicitly bars town governments from regulating guns by ordinance or resolution. Some 44 other states have similar laws on the books.
That's why, when Davis introduced a sanctuary resolution in Northfield last week, fellow town resident and gun-rights activist Chris Bradley stayed home. Bradley, president of the Vermont Federation of Sportsmen's Clubs, did agree with the sentiment, but "I didn't want to put myself in a position to say what they were considering was illegal," he said.
"I think the preemption law is absolutely critical to Vermont," he continued. "We can't use it to cut one way, and then expect it to cut another."
Bradley described the effort as a sign of legitimate frustration with the turning tide in Montpelier.
"There are a number of people who don't think they have a voice," he said. "They need an outlet. The sanctuary movement is an outlet."
Some selectboards have shown reluctance to weigh in, suggesting instead that advocates wait until Town Meeting Day to introduce their resolutions for a floor vote.
"I support this. But I was not elected to do what I want," Barre Town Selectboard member Bob Nelson said during the board's January 21 meeting, video of the discussion shows. "I was elected to do what the majority of the citizens want me to do. The residents haven't been able to speak."
In Holland, however, the three selectboard members unanimously approved the resolution on January 22. Its language mirrors that of a template available on the Gun Owners of America website and goes further than the one Montminy introduced in Barton. Holland's states that the town has legal authority to refuse to cooperate with gun-control laws and that anyone in town jurisdiction who violates the sanctuary provisions may be sued in state court.
Such claims have no legal legitimacy, according to the Vermont Attorney General's Office.
"Laws enacted by the General Assembly, including those that regulate firearms, are the laws of our state," the office said in a written statement to Seven Days. "Those laws are binding unless and until they are legislatively repealed or held unconstitutional by a court. Cities and towns passing resolutions purporting to opt-out of compliance with state laws are not valid."
David Mills, a selectboard member in Pittsford who voted to adopt a sanctuary resolution, said the town has no intention of defying state laws.
"It is a way to make a point to the state," he said.
Davis said that's all his members are asking town officials to do.
"We're certainly not encouraging anyone to break the law," he said, adding, however, that "civil disobedience is a very real thing, especially in a state like Vermont."
Sen. Phil Baruth (D/P-Chittenden) compared the proponents' symbolic flirtation with noncompliance to a 2018 Montpelier rally where gun-rights groups handed out free high-capacity magazines just before Scott signed legislation banning their sale. He called the sanctuary movement, with its rhetorical play on "sanctuary cities" for undocumented immigrants, an unserious addition to the gun-safety debate.
"This is at once a way to raise the temperature on the gun debate, but also a way to troll liberals on their attitudes toward refugees," Baruth said.
So far, no elected sheriffs or other local law-enforcement officials in Vermont have publicly stated any intention to flout their responsibilities. In Essex County, a rural Northeast Kingdom expanse bordering New Hampshire and Canada, Sheriff Trevor Colby said he has plenty of gripes over mandates coming from Montpelier, but he must carefully weigh the idea of defying them. The state could pull his office's funding, take away his law enforcement certification or worse.
"Is it worth the fight? That's what you have to face," he said. "My requirement is to enforce the law. It will really take a significant issue for me to face not enforcing the law ... To me, there isn't a necessity right now in Vermont."
Ironically, the hollowness of the sanctuary resolutions could help the movement gain traction. The gun resolutions have not yet provoked the long, contentious debates surrounding something like a proposed immigration ordinance in Hartford. That measure would limit local officials' communications with U.S. Immigration and Customs Enforcement. Supporters and opponents traded heated rhetoric for months at packed selectboard meetings. The measure is now slated for a public vote on Town Meeting Day.
At the Barton Selectboard meeting, Montminy had no opponents to rebut, and when he was done, selectboard member Swanson reached across the table to shake his hand.
"I really respect somebody coming forward, and I really respect the fact that it's a young man," Swanson said.
The selectboard split one to one — with one member absent — and didn't adopt the resolution. The members instead invited Montminy to present it for a floor vote on Town Meeting Day.
In the sparse crowd at the meeting were two men, one from Glover and one from Westmore. They'd heard that Montminy planned to present and wanted to watch him in action. Afterward, each said they plan to introduce similar resolutions in their towns, as well.