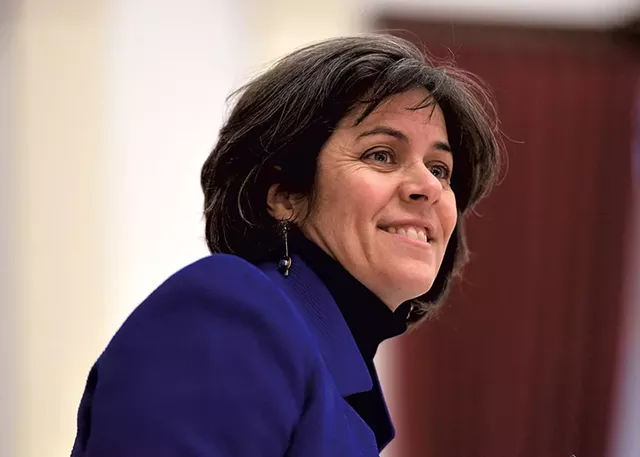 Jeb Wallace-brodeur
House Speaker Mitzi Johnson
Last year, the Vermont legislature's Democratic leaders repeatedly delayed adjournment as they tried in vain to strike a deal with Gov. Phil Scott. They never settled on a compelling counterargument, and they weakened their position by continuously bickering with one another.
It was, in short, a mess.
This year, the legislature and governor are once again at loggerheads. But with a biennium under their belts, House Speaker Mitzi Johnson (D-South Hero) and Senate President Pro Tempore Tim Ashe (D/P-Chittenden) have consolidated power, dialed down conflict between the two bodies and taken a more forceful approach with the Republican governor.
Disregarding Scott's veto threats, the legislative leaders oversaw the passage of budget and tax bills that won tri-partisan backing and adjourned, as planned, on May 12. Whether they can parlay that support into an effective strategy when they reconvene this week at the governor's request remains to be seen.
The speaker and pro tem were both elected in January 2017 after leading powerful money committees for several years — Ashe, 41, chaired Senate Finance; Johnson, 47, ran House Appropriations. Ashe was known for making strategic alliances and being tight-lipped about his intentions. Johnson was considered a policy wonk, well versed in the state budget but less comfortable navigating the building's politics.
"Mitzi has grown tremendously since last year," said Rep. David Deen (D-Westminster), who is retiring after 30 years in the legislature.
In the first months of Johnson's speakership, the Republican minority in the House hijacked floor debates on multiple occasions. When some House Democrats broke ranks with their party, Johnson and her leadership team showed little inclination to corral them. That led to some embarrassing outcomes: For instance, 15 Democrats and independents voted for the governor's statewide teachers' health insurance proposal, which Johnson and the rest of the party opposed.
Some Republicans concede that greater discipline among Democrats has constrained them.
"I think [Johnson] has improved over the past year with getting her caucus to a majority position," said Rep. Jim Harrison (R-Chittenden). He could recall only one instance in which Republicans outmaneuvered the speaker on the floor. The GOP's triumph was amending a bill to outlaw coyote-hunting contests to eliminate possible jail time for offenders.
"So, you have to give credit to the speaker for that discipline," said Harrison, who spent decades lobbying at the Statehouse before taking office. He added: "From my perspective, I wish there wasn't so much discipline."
Johnson said she was "more decisive" this year because she had a better sense of where her members stood on issues. "Just having a year on the dance floor together helped us dance a bit better together this year," she explained.
She insisted that if Democrats were voting more in-step, it wasn't the result of arm-twisting. Johnson said she and her leadership team, including Majority Leader Jill Krowinski (D-Burlington), worked hard to craft legislation around lawmakers' concerns, preempting objections.
House leaders marshaled enough votes to pass major bills, including marijuana legalization, a $15 minimum wage and major gun reforms. The passage of those bills, opposed by some Democrats, wasn't preordained.
Johnson managed to exert more control without antagonizing House Republicans. House Minority Leader Don Turner (R-Milton) described her as "inclusive," "fair" and "respectful." In contrast to his relationship with her predecessor, Morristown Democrat Shap Smith, Turner noted, "I always felt welcome in [her] office."
The 53 House Republicans enjoy fleeting relevance toward the end of each session because the speaker often needs a three-fourths majority to suspend the rules to expedite the passage of legislation. On the final day, Turner said he'd suspend the rules on six of the 19 bills on the House agenda, leaving the rest to languish. Later, he agreed to another six, bringing the list to 12.
By Turner's account, Johnson took his tactics in stride. But some of the bills that didn't make the cut were Senate priorities. The pro tem was less tolerant, according to Turner, who said Ashe "wasn't very happy" when the three leaders met at around 10:30 p.m. on the final night.
The pro tem has maintained more cordial relations with Republicans in his own chamber. Comparing running the body to "herding cats laced with Ritalin and on steroids," Senate Minority Leader Joe Benning (R-Caledonia) declared Ashe's management skills "extraordinary."
It probably helps that Ashe has been solicitous toward the seven Republican senators, even though they constitute less than a quarter of the 30-member body. At around 6 p.m. on the final night of the session, Benning said, he told Ashe that Senate and House Republicans had scheduled a half-hour meeting with the governor. Benning was impressed that the pro tem agreed to postpone a floor debate until they returned.
Ashe frequently expresses deference to committee chairs, downplaying his own role in directing policy. During media briefings, he brings a rotating cast of senators into his office, ceding the spotlight and giving them a chance to tout their work.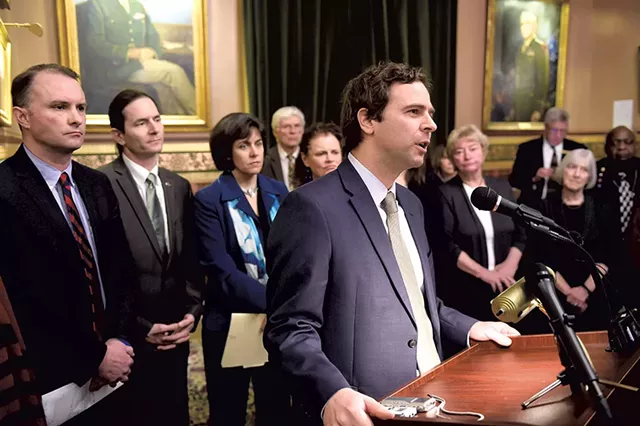 Jeb Wallace-brodeur
Senate President Pro Tempore Tim Ashe
Despite his insistence otherwise, plenty of people suspect he's pulling the strings. "I think Tim puts people into those [chair] positions that can advance his own agenda, and then gives them credit for doing it," Benning said. "If something goes wrong, he's also got them as a scapegoat."
The actual chairs seem more inclined toward Ashe's view of their roles.
"He's just tried to be very inclusive," said Sen. Claire Ayer (D-Addison), the outgoing chair of the Committee on Health and Welfare, who originally ran against Ashe for the pro tem post. "By and large, he's been supportive of chairs."
Ashe notably did not support a bill Ayer championed this session, which would have laid the groundwork for publicly funded universal primary care. In fact, he effectively dismantled it by introducing an amendment that turned it into an open-ended study.
Ashe argued that, without the amendment, the Senate Appropriations Committee, on which he serves, would have voted the bill down. Even so, failing to come to consensus privately meant headlines about senators killing a bill that would have provided universal primary care.
"To be fair, we had a year of discussions about this bill, and I never did gain his support," said Ayer. "He never said don't do it," she noted.
The pro tem has been criticized for catering too much to moderate, old guard Democrats, whose support helped him clinch his position. But he took a step toward dispelling that perception when he pushed S.55 — a sweeping gun bill — through the Senate, despite objections from veteran Sen. Dick Sears (D-Bennington).
"That was a key moment in Tim's leadership," said Senate Majority Leader Becca Balint (D-Windham), one of the newer, more liberal members.
The gun bills — three in all — demonstrated both Ashe and Johnson's ability to deliver contentious legislation to the governor's desk amid a highly charged political climate. To do so, they worked through tense moments, including early on, when the House and Senate clashed over rival gun-removal proposals, both of which ultimately passed.
That marked an improvement over last year, when, according to Balint, "it felt like there was a lot of distrust between the two chambers."
Toward the end of that session, leaders griped openly about the other body's seeming inability to pass certain bills. Each chamber seemed to pursue its own agenda without regard for the other.
The Senate began to lay the groundwork for a minimum wage bill that the House felt lukewarm about, while the House passed a paid family leave bill that was met with ambivalence in the Senate.
Both measures passed the two chambers this session, though Scott vetoed them this week.
Ashe said the biggest lesson he gleaned from last year was the importance of working beyond the Senate chamber. "When I was chair of the Finance Committee, it was really about delivering the final product on behalf of the Senate," he said. "As pro tem, it's a combination of that, but also making sure we get to the finish line with the House and the governor."
While House and Senate leaders have begun working better in tandem, relations with Scott's administration are more strained than ever. The governor has again pledged to veto the budget and tax bills, this time because lawmakers have refused to use onetime money to keep property taxes level — a proposal Democrats deride as fiscally irresponsible.
Gov. Scott said he has "a deep amount of respect" for both leaders and that their private meetings throughout the session were "very cordial." Though he characterizes their pushback as political, Scott asserted that, "outside of the gold dome, we get along just fine."
Last year, as the regular session drew to a close, Ashe and Johnson's prolonged closed-door negotiations with the administration accomplished little beyond exasperating the rank-and-file legislators left out. This year, the two chose not to sit down with a governor they consider intransigent.
Instead, with support from a handful of Republicans, both chambers passed a tax bill that comes close to Scott's goal: It would raise the property tax rate 2.6 cents for residents and 5.5 cents for nonresidents.
The legislature limited the rate increase, which would otherwise have been about 5 cents for residents, by using onetime money to fill the education reserves — a onetime expense — and by reducing eligibility for a program that allows homeowners to pay property taxes based on their income.
The budget, which passed unanimously in the Senate and won support from a majority of House Republicans, would direct much of the onetime money Scott wants to use to buy down property taxes to instead shore up the state's teachers' retirement fund. That appealed to Republicans, a number of whom have expressed discomfort with the governor's proposal to use onetime money for an ongoing expense.
Outside the building, however, Scott still appears to have the upper hand.
Both the speaker and the pro tem have struggled to articulate a narrative compelling enough to counter the governor's no-new-taxes mantra. Citing U.S. Sen. Bernie Sanders' (I-Vt.) ability to distill a simple message, Ayer noted that state lawmakers "have not mastered that."
True to form, during a press briefing after Scott released his property tax proposal May 1, both Ashe and Johnson quickly got into the weeds about pension funds and onetime money. At times, they reverted to an argument that didn't win them much sympathy last year, contending that the governor was dropping plans too late in the session to warrant serious consideration.
Since then, they've sharpened their rhetoric, focusing less on legislative process and more on the plan's merits. In a scathing May 16 letter to the governor, Ashe likened Scott's proposal to "paying for state government on a credit card."
Johnson said she agreed with many of Ashe's points, but he took a "more assertive" tone than she would have.
"We have slightly differently styles," she noted.
Although Ashe and Johnson aren't close, they've kept any conflict from spilling into public view. With tensions rising and public scrutiny intensifying, the true test is still to come.
Disclosure: Tim Ashe is the domestic partner of Seven Days publisher and coeditor Paula Routly.
Correction, May 24, 2018: The Vermont Senate considered legislation to set a $15 minimum wage in 2017 but didn't pass the bill until this year. A previous version of this story contained an error.