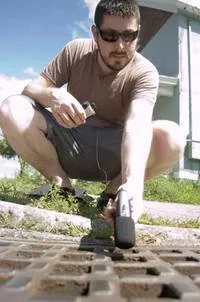 On a bench in Burlington's Battery Park, between the lake and the bike path, Yann Novak sits cradling a digital audio recorder in his palm. In his other hand is a microphone, which he shields from the gusty breeze. Leaves rustle, drums boom faintly; a boat horn lows far out on the water. A woman makes cooing sounds, presumably to a baby. After about five minutes, Novak, a 28-year-old from Seattle, switches off the recorder. "That was interesting," he says. "I liked that."
To most folks enjoying the waterfront on this sunny Saturday afternoon, these sounds are just background noise. To Novak, they're raw material. He's a "sound artist" doing a 10-day residency at Kasini House in the Old North End, which will culminate in a performance at the North Street gallery of a composition incorporating sounds he recorded in the neighborhood.
What is sound art, exactly, and how is it related to musical composition? "I tend to shy away from defining the two," says Novak, who releases his and others' work on his own label, Dragon's Eye Recordings. "There's a large overlap, and I fall somewhere in it. It depends for me on the context of the work more so than on how it was created" — i.e., he calls his work "sound art" when it appears as part of an installation with a visual component, "music" when it doesn't.
To create his compositions, Novak captures sounds with his compact recorder-and-mike set-up, uploads them to his computer and uses software to transform them. One piece, for instance, weaves the squawks of starlings taking wing outside his Seattle apartment with a thrumming electronic pulse. But he steers clear of anything resembling a dance beat. "I was into the dance and rave culture when I was a teen in the Midwest and got very . . . disillusioned with the hedonism and party aspect," Novak says. He describes his music as "ambient, experimental. It will have some rhythmic elements."
But he doesn't see it as esoteric or purely abstract. "It's about kind of emotionally reaching out to an audience, and that is done through a translation of my own experiences," Novak says. "I pull the context of the recording away and highlight the resonance that the place has for me and convey that to the audience."
A serendipitous meeting with gallery owner Ric Kasini Kadour brought Novak to Vermont — it's his first time on the East Coast of the U.S. What emotional resonance does the Old North End have for him? "Right now, having only been here for a couple hours, my first read is of a kind of false nostalgia for Madison, Wisconsin," says Novak, referring to the college town where he grew up. "I loved walking around last night and seeing people on porches — it's so hot, there's nothing else you can do but be outside."
Unlike a local artist, Novak comes to this setting with few preconceptions — gazing at the lake, he admits he's not sure what it's called or what's on the other side. "Doing the recordings is very much about discovery," he explains. He likes the unpredictability of the process: "You pick a point in time and space, but there's no way of telling what's going to happen past that point. So you hit 'record' and hope for the best."