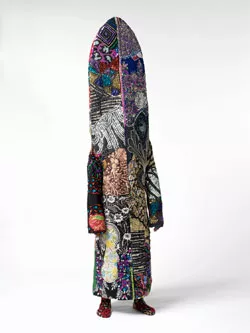 Judging from the first show he's assembled as curator of the BCA Center, DJ Hellerman will be presenting some ambitious, challenging and eclectic exhibits during his tenure at Burlington's highest-profile art venue.
"Seat's Taken" brings to the Church Street Marketplace works by 11 artists, mostly young and not from Vermont. Visitors will get at least a glancing sample of the current American art scene as they peruse pieces that are alternately beautiful, amusing, vapid and, in one case, horrifying.
Hellerman, 27, comes to BCA with a broad awareness of what's happening in the contemporary art world. He spent the previous six years helping enlarge an Ohio insurance company's collection of some 6500 paintings, drawings, sculptures, photos and installations by living American artists. Hellerman's personal contacts, as well as his familiarity with aesthetic trends, underlie a show that features a variety of media, styles and perspectives.
"Seat's Taken" also has what its curator considers to be a unifying theme. The show aims to be an examination of human interaction, especially of the prejudicial sort. The title comes from the 1994 movie Forrest Gump, in which Tom Hanks' outsider character is told by passengers on a school bus, "Seat's taken. You can't sit here."
"The scene is iconic," according to a wall text that introduces the BCA Center show. The pieces on display are "designed to contribute to a dialogue about exclusion, inclusion and diversity," visitors are further told at the outset. "Close interrogation of the work in 'Seat's Taken' will reveal issues surrounding race, gender, religion, values, wealth and identity."
Some of the art does do that, but much of it doesn't. While the 30 or so pieces can all be assayed — and, in a few instances, enthusiastically admired — as individual art objects, the show doesn't cohere in the way Hellerman wants it to. He employs lengthy, dense exegeses posted alongside many of the works to persuade viewers that what they're seeing fits into his conceptual box. These curatorial interpretations can make it hard for the art to speak for itself.
Nevertheless, some of the pieces do so quite eloquently. A pair of 8-foot-tall "soundsuits" by Chicago-based artist Nick Cave are visually spectacular in their resemblance to the feathered, spangled and colorfully brocaded costumes worn by Mardi Gras Indians — that's the African American krewe that gets the good times rolling in the annual New Orleans parade.
Too bad Cave's creations can't be heard as well as seen at the BCA Center, because elsewhere he has designed them as audio sculptures. How they fit into the show's theme of exclusion and inclusion isn't obvious.
Of all the works in "Seat's Taken," four nonfunctional chairs by Montpelier artist Angelo Arnold come closest to referencing the show's title — but only in a literalist sense. While it's true that no one could sit in any of these elongated or warped pieces of furniture, it seems sketchy to argue that Arnold intends them as metaphors for exclusion. They appear more like imaginatively formalist works that combine unexpected materials — the bristled parts of brooms, for example, that substitute for legs on an otherwise ordinary wooden folding chair.
Nathan Vincent plays a similar riff with a much heavier political bass line in his set of crocheted objects. The New York artist uses a stereotypically feminine process to produce objects emblematic of aggressive masculinity — a sword, for instance, along with a joystick, a slingshot and a (very funny) grouping of small black bombs with dainty white fuses. The effect, as Hellerman hopes, is to destabilize long-accepted associations.
A quartet of photographic portraits by another New Yorker, Alix Smith, also occupies a secure place on the curator's thematic agenda. She shows same-sex couples looking utterly bourgeois and oddly unsmiling as they observe their kids in settings of material comfort. Smith succeeds in subverting assumptions about what constitutes "normalcy" — and whether that's a condition to be aspired to.
Naoko Wowsugi also uses photography to comment on identity. Her sequence of 18 group portraits leads the viewer along a trail in which an individual in one group photo turns up in the next. Wowsugi suggests that we're all pretty closely interconnected, despite apparent separations into subcultures such as skaters, goths, cyclists, Girl Scouts, Muslims and daycare toddlers.
The show's standouts, in terms of both composition and content, are the pair of oval-bordered, ink-and-acrylic sketches by Frohawk Two Feathers. This Los Angeles artist gives visual form to his imagined saga of two 18th-century colonial nations, Frengland and Fenoscandia. Frohawk poses serious questions regarding race and power, but he evokes big smiles on viewers' faces as well as furrowed brows. His works bear over-the-top titles and list coffee and tea as materials — which presumably account for the spills and stains on the otherwise expertly marked paper. The images are self-consciously melodramatic yet expressive of a droll sensibility.
Many viewers may choose to avoid Todd Pavlisko's video on the second floor. "Centerpiece" is a grotesque — and failed — attempt at making art. From three angles and over the course of 13 nauseating minutes, Pavlisko is shown hammering a nail through his left foot and into a wooden floor. Notwithstanding the allusion to the crucifixion of Christ (the ultimate outsider?), the video's inclusion in "Seat's Taken" is sensationalist and gratuitous.
"Seat's Taken," a group exhibit at BCA Center, Burlington. Through April 6. burlingtoncityarts.org/bcacenter