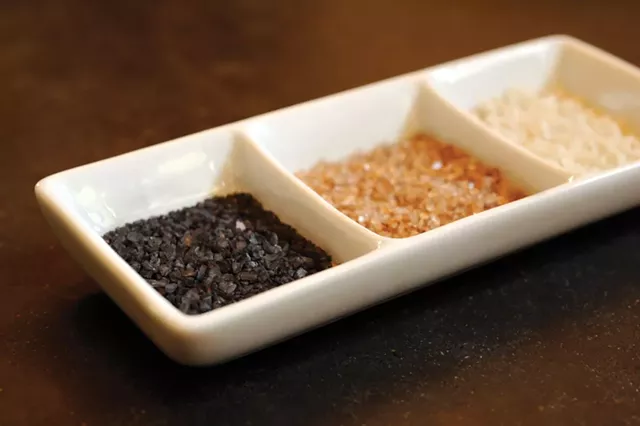 Jeb Wallace-brodeur
Salt in Montpelier
You don't have to be a fan of J.R.R. Tolkien to love the hamachi tartare at Salt. But restaurant owner Suzanne Podhaizer hoped savvy diners would be hip to to the reference on her Middle Earth menu to his Gollum character, who lives for raw fish.
In this case, it was flavored with mustard and capers on a crispy nest of fried potato and topped with a single quail egg. All that might have made the tartare too gourmet for Gollum, but it was perfect for human diners settling in for a cozy, literary meal.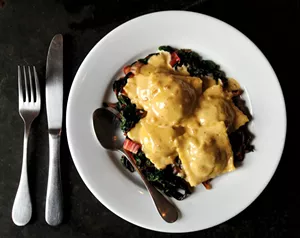 Jeb Wallace-brodeur
Stuffed ravioli and chard at Salt in Montpelier
Dominated by a shelf full of cookbooks, the 16-seat dining room at Salt may feel like a hobbit hole, but the Tolkien-themed menu was a rare affair, offered for just three weeks. Podhaizer changes up the food offerings for maximum seasonality and to keep regular diners — who might tire of the same menu — coming back.
Since she opened the intimate restaurant in 2010, the former Seven Days food editor has cooked up dozens of themed dinner dishes, such as an all-red menu to coincide with Valentine's Day — chilled lettuce soup and Madeira-braised pork shoulder graced a meal that might have been served at Monticello. Another, inspired by Alice in Wonderland, included a white-rabbit confit with apricot chutney.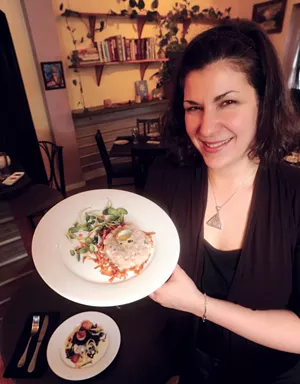 Jeb Wallace-brodeur
Suzanne Podhaizer with Gollum's hamachi tartare, potato nest, quail egg at Salt in Montpelier
But the restaurateur behind the whimsical dishes is grounded by her firm commitment to local agriculture. Last year, Podhaizer began cultivating her own small farm in Marshfield to supply the restaurant, growing herbs, veggies and some rarely seen ingredients. Epazote was featured on a South-of-the-Border menu, shiso on a Japanese one. For the latter meal, Podhaizer tried a touch of culinary alchemy, flavoring kale to stand in for seaweed in a miso soup.
International techniques inform even the most homegrown of Salt's dishes. The American Comfort Food menu, for instance, included Shanghai-style soup dumplings filled not with the classic pork and scallions, but with chicken noodle soup.