Hannah Palmer Egan
Khao soi (foreground) and larb
The first time Bangkok natives Exzy Saengsiri and Jinney Thananusak came to Vermont, it was New Year's week, 2014. Both in their late forties and partners in life and business, the two women were visiting friends who were working at Middlebury's Sabai Sabai Thai Cuisine.
The weather was cold, even by Vermont standards. The temperatures dipped below zero for three days. For Vermonters battling the post-holiday blues, it might have seemed like a fine time to book a flight to Thailand. The Thai travelers, however, were smitten with the Green Mountains. During their visit, they learned that the owners of Newport's Baan Thai Cuisine were looking to sell their downtown restaurant. "We were very interested in having a business here," Saengsiri said. Within 10 months, they did.
The women returned to Thailand and got to work packing up their old lives and planning new ones in Vermont. As they got money together and waited for their E-2 investor visas to go through, Saengsiri and Thananusak formulated their concept and commissioned hand-stitched, spiral-bound menu books with silver elephants on the front. They had food photos taken and wrote promotional copy.
At the Bangkok Sunday market, they purchased handmade wooden check presenters and little stands for drinks and dishes, as well as tapestriesand other décor items. "Everything was ready before we came," Saengsiri said. Since the space was already outfitted as a Thai restaurant, building renovations were mostly cosmetic.
Hannah Palmer Egan
Dusit Thai dining room
Last November, the couple opened Dusit Thai Cuisine in the former Baan Thai space at 158 Main Street. In January, they installed their Sabai Sabai friends (who had subsequently been working in Chicago) in the kitchen.
But why Vermont? I wanted to know on an icy February evening, as snow began to swirl outside. And why, of all places, the tippy-top of the Northeast Kingdom? "We wanted to have more experiences," Saengsiri explained, standing behind the bar. "We wanted to do all that we can."
Toward that end, the Dusit Thai menu is long: Page after page of dishes, photographed in full color, range from authentic, traditional Thai, such as mild kratong tong — crisp pastry shells stuffed with delicately seasoned chicken, corn, carrots and peas — to those more familiar to Americans, such as spring rolls, pad Thai and tempura-fried vegetables.
"We picked the most popular dishes from Thailand," Saengsiri said, "and dishes we knew foreigners like." The entrepreneur said she lived in Perth, Australia, for a year and a half, where she became acquainted with the Western palate.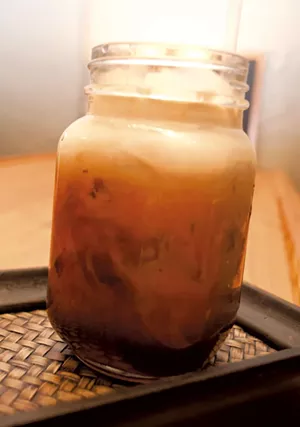 Hannah Palmer Egan
Thai iced tea
Though Dusit Thai's menu is fairly fixed, monthly specials — such as grilled salmon with garlic sauce or lamb chops with cashews — keep things fresh. In summer, there will be housemade coconut ice cream, a traditional Thai dessert.
Locating ingredients is still a challenge, Saengsiri said. Sweetly pungent, lemon-scented kaffir lime leaf, used in curries, stews, salads and pretty much everything else, is difficult to find in the Kingdom, but is indispensable to Thai cookery, as is spicy Thai basil. Saengsiri orders these herbs and other specialty ingredients weekly from New York.
Authentic flavor is a big concern, as part of the Dusit mission is to bring Thai culture to Vermont. The women are eager to share their lifestyle and their warm, friendly smiles in Newport. When it comes to their food, they're willing to accommodate Vermonters' palates to a degree, but they're uncompromising in some ways. "We have to inform the customers," Saengsiri said. "When they say they like it hot, we say, 'This is Thai hot.' They have to learn!"
When I tried it, a cool bowl of larb (ground-chicken salad), seasoned with fish sauce and shallot, burned with pulverized Thai chile even though it was served with a sprig of mouth-calming mint. The pad krapow — Thai basil stir fry — was spicy, sweet and savory, with strips of chicken and lots of basil mingled with carrots, peppers, onions and other vegetables cooked to a crisp but chewable state.
Hannah Palmer Egan
Pad krapow
Khao soi is a traditional northern Thai curried-noodle bowl (one of my favorites) that can vary from a soup to a more stew-like consistency, depending on the cook. Dusit Thai's version was a thick, spoon-coating soup. The expected snarl of crisp, fried egg noodles rested on a bed of chewy noodles in a rich, coconut-y broth. With each mouthful, the heat built to a belly-warming hum, as a cool blue evening fell outside the floor-to-ceiling windows.
I ordered everything "hot," having verified my predisposition for heat, and found everything masterfully spicy but not over the top.
Lifting a spoonful of broth to my lips, I wondered aloud: 'Has anyone ever sent anything back for being too spicy?' "No! Never!" Saengsiri said with a laugh. "People sometimes say, 'It burns my lips, but it makes me warm.' Sometimes they cry, but they're happy."
So far, the restaurant co-owner said, she's had nothing but satisfied customers. In the few months since Dusit Thai's launch, it's developed a local following, including an elderly lady who visits nightly for Thai coffee (as she did at Baan Thai before it closed). "I used to help out a little at Baan Thai," the woman told me, "but Exzy won't let me lift a finger. So I just have my drink and that's it. But the food is also very good."
Saengsiri smiled. "The people here are very kind," she said. "We've had a lot of support."
Hannah Palmer Egan
Larb
The Newport newcomers are no strangers to running a small business, though — Saengsiri owned a noodle joint in Bangkok, and Thananusak's family runs a telecommunications company back home. "Running the business is not so different here than in Thailand," Saengsiri said. "But it's changed our lives."
Life is easier here, she added. "Everything was always so busy and crazy in Bangkok," she said. "People everywhere at all times."
But in Thailand, dining isn't dependent on the season. Saengsiri said she wasn't prepared for Vermont's winter lull. "Everything was going very well until a few weeks ago," she said, noting that business took a nosedive during the first few weeks of January. "It's our first year, so we don't know the cycles," Saengsiri admitted. "In Thailand, there's no winter or summer. People eat out all the time. Here, everything stops."
The afternoon I was there, she said she sent her waitstaff home. "It was too quiet!" she said. But as we spoke, several parties arrived for dinner, despite the falling snow outside.
And Dusit Thai is a welcoming place. The dining room, divided into three areas by magenta half walls, feels cozy. The soaring, pressed-tin ceilings are painted a sunny gold, and the exposed-brick walls are hung with Thai tapestries. At the back of the building, a large banquet room features a long service bar. It's easy to imagine dancing in that airy space at parties or receptions, once the Kingdom awakes from its winter slumber.
But even in the quiet days of early February, Saengsiri said she's not worried. "We are just happy to cook the food and so, so glad people are enjoying it," she said. "We enjoy that, too. I love serving. We are happy."