"Nowadays, you hear about kimchi parties. Kimchi is this mysterious, precious thing," says Elena Gustavson.
The lacto-fermented cabbage seemed a little more mundane when Gustavson was growing up in Los Angeles in the 1980s. The daughter of a Korean-born mom remembers the dish as an everyday part of meals. At Sunday potlucks at her mother's Korean church, she says, "I remember there being all kinds of kimchi and the smell of all the old men sweating garlic out in the basement."
As Gustavson grew up, so did her passion for the spicy condiment. Now she's sharing that zeal with the approximately 1,400-strong town of Cabot. Late last year, Gustavson opened DownStreet Eats in the space most recently known as Butters Restaurant. Replacing the tiny town's sole restaurant was a brave decision. Even braver was making kimchi a regular part of the fare.
Gustavson's boyfriend, Will Ameden of Under Orion Farm in Marshfield, isn't so enthusiastic about her favorite dish — he compares kimchi's smell to silage. Even Gustavson understates her contribution: "It's been fun to give people a little taste of the kimchi that I make. It's not actually as bad as they think."
But Cabot residents are more effusive. "It's terrific that Elena is bringing a little bit of food adventure to Cabot — a little Korean bistro fare," says Lars Hasselblad Torres, a local who is director of the office of the creative economy at Vermont's Agency of Commerce & Community Development.
A decade ago, Gustavson and her then-husband left California partly to find a place with a sense of community in which to raise their children, she says. Now living in Craftsbury, she chose Cabot for DownStreet Eats "mostly because there's nothing really in Cabot."
That isn't entirely true. Just down the road from her restaurant, the famous cheddar producer of the same name lends the town an air of wholesome Vermont-ness. But an authentic Asian restaurant isn't the first thing one expects to find in a town associated with dairy.
Gustavson says she merely identified a hole in the market and filled it. Still, when DownStreet Eats opened last September, the chef-owner offered macaroni-and-cheese and cheddar-bacon-tomato tarts alongside banh mi and braised Korean beef. She says she hoped the former set of offerings would help the latter go down a little easier.
It turned out, there was no need. These days, American comfort foods appear less often on the menu. "It's not as hard as I thought it would be," Gustavson says of introducing diners to unfamiliar cuisine. "Folks are pretty open-minded and pretty trusting."
It helps that Gustavson engages diners from the moment they enter the restaurant. They order from a chalkboard menu posted near the entrance, so that she or a trusted friend at the counter can walk uninitiated eaters through the day's offerings. Despite a few crinkled noses from the most traditional Vermonters, Gustavson says, the tactic seems to be working.
Another of her tricks is describing her Asian dishes in English. On the chalkboard, Gustavson's creamy take on garlicky kkori gomtang appears simply as "oxtail stew." A banh mi is broken down into its elements of lemongrass pork terrine, garlic mayo, cilantro, basil-herb paste, fresh greens and a soft roll.
Once diners have ordered, they repair to one of two rustic-chic rooms decorated with local art. The tables are likely to be peopled with a who's who of the Vermont food scene — a world to which Gustavson is nothing if not well connected.
The former program director of Hardwick's Center for an Agricultural Economy, Gustavson continued to work there for a few months after opening DownStreet. She still occasionally helps out at the office. Before coming to CAE in 2009, Gustavson ran the kitchen at Sterling College, where she was instrumental in making the institution's food into a locavore force. She pioneered a workshop on the economic and environmental impact of eating local food.
Members of the Pete's Greens CSA have probably eaten Gustavson's dishes without knowing it. When the farm began including preparation ideas with its celeriac and kohlrabi, she was the one who wrote the recipes.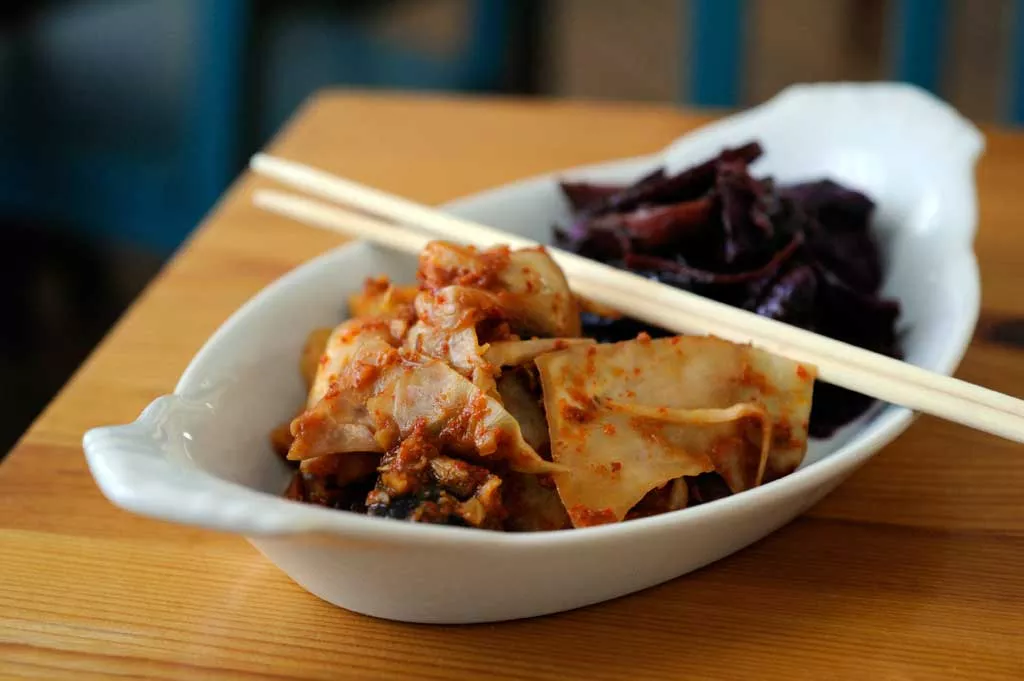 Her connections to the food producers of her region are evident on the plates at DownStreet Eats, even in the winter. Vietnamese-style rice-paper rolls explode with pea shoots from Peace of Earth Farm in Albany. (One of the only booming Vermont crops at this time of year, sprouts make a number of appearances at DownStreet.) Juicy slices of apple sweeten the appetizer, which is flavored with herb pesto and a smear of peanut butter. The fusion of Vermont and Vietnam continues with a chile-flecked, fish-sauce-based dip on the side. Despite its many contrasting ingredients, the app is no culinary culture clash.
Gustavson says the top seller on her weekly menu is anything Korean barbecue. Indeed, nearly every diner on a recent Saturday night seems to be getting dak bulgogi, or Korean barbecue chicken. It's plated with a pile of sticky rice topped with scallions and a square of nori. And, yes, there are sprouts.
The plate also includes fresh kimchi made with red cabbage and apple for an uncommon touch of sweetness. It's crunchy and spicy, though it's missing the funk that Gustavson saves for her more intense, two-week-fermented version. The chicken itself lacks the heat of a typical dak bulgogi, but a swipe of sweet-and-spicy gochujang rights the flavor of the tender, organic drumstick.
A miso-soba noodle soup is showered with black sesame seeds. The flavors may belong to Japan, but gingery meatballs made from Under Orion Farm's beef play the starring role. The oxtail in the delectable soup also came to DownStreet Eats via Ameden.
Gustavson's significant other doesn't just bring home the beef. He helps out in the kitchen when he's not farming or piloting a plane. "He's been my absolute biggest cheerleader and support system," says Gustavson.
Ameden is not the only loved one who's become a regular at the eatery. The frequent presence of Gustavson's three children makes DownStreet Eats a true family restaurant. Her eldest daughter has begun helping out as a server to raise money for her eighth-grade trip to Washington, D.C.
When Gustavson was a child herself, she says, she unwittingly absorbed an appreciation for local ingredients. Her mother was the only person in their Los Angeles neighborhood who kept a garden. The restaurateur recalls her embarrassment as she watched Mom collect sea urchins and mussels from the ocean.
The practices that once mortified her now inform nearly every dish at DownStreet Eats. Even exotic ingredients that crop up on the menu are usually balanced in the same dish with basics gleaned nearby. At dessert, ginger panna cotta uses local dairy. A chewy sweet-potato cake recalls dense Asian desserts. But Gustavson imbues it with apple-pie spice for a taste of Vermont.
Ultimately, the cuisine of DownStreet Eats is uniquely Gustavson's own. The Asian flavors come from her mother, while the comfort food recipes can be traced back to her American father's mother, who prepared green-bean casserole and pot pies for her granddaughter.
Beyond its food, the key to DownStreet Eats' success is community. The restaurant was originally open only on Friday and Saturday evenings and for Sunday brunch. Local demand encouraged Gustavson to add take-out Thursdays, which give townspeople one more night to get out of the house without traveling far. "It's a place for folks to gather in a way that hasn't been there in the past," says Hasselblad Torres.
It's not a coincidence that the woman who moved to Vermont to be part of a community is creating uncommon food with a taste of her adopted home. DownStreet Eats isn't just hers — it's Cabot's.
DownStreet Eats, 3075 Main Street, Cabot, 563-2048. DownStreeteats.com