Matthew Thorsen
Andrea Haney enjoying jerk chicken and rice and peas at the Champlain Valley Fair
Without ChristianMingle.com, Vermonters might never have been introduced to Guyanese cook-up rice or pepperpot stew. Robert Whitcomb met his now-wife, Marcelle, née Bunbury, through the dating website two years ago. A little more than a year ago, they were married.
In April, the couple began parking their food truck, Bunbury EAT, or BEAT VT for short, at the University of Vermont's University Place. This summer, they also sold at the South End Truck Stop. But Marcelle Bunbury-Whitcomb considers the Champlain Valley Fair, which began last Friday and continues through Sunday, the truck's official "coming out."
Bunbury-Whitcomb was born in Guyana, a country in South America that she considers culturally Caribbean. Her upbringing in francophone Montréal exposed her to a wide swath of Caribbean cultures. Now, even after 12 years spent teaching special education in London and a few more years in Vermont, Bunbury-Whitcomb still produces home cooking that reflects a pan-Caribbean aesthetic. "The first time I met her, she made me roti and curry chicken, and I was sold on Caribbean food," Whitcomb recalls.
The former army mechanic, living at the time in his native Glens Falls, N.Y., soon realized that he and Bunbury shared not only a devout faith but also the desire to own a food business. Once he tasted her cooking, there was no question that island flavors would fuel the endeavor. Soon after their marriage, they began taking steps toward their goal.
"Persistence has been the key," says Bunbury-Whitcomb. "We're not a couple that gives up." They're also a couple that still shimmers with a honeymoon glow. During an afternoon conversation at the Champlain Valley Exposition, each ogles the other as he or she speaks.
The couple purchased a former bookmobile and rechristened it the "Caribmobile." Whitcomb installed the thoroughly equipped kitchen himself. To fit the professional-grade stove, fryer, griddle and everything else he needed through its slim entrance, he had to take the appliances apart and reassemble them inside. "If I had some funding, I could build someone a really nice truck, but I would never do it on a shoestring budget again," he says.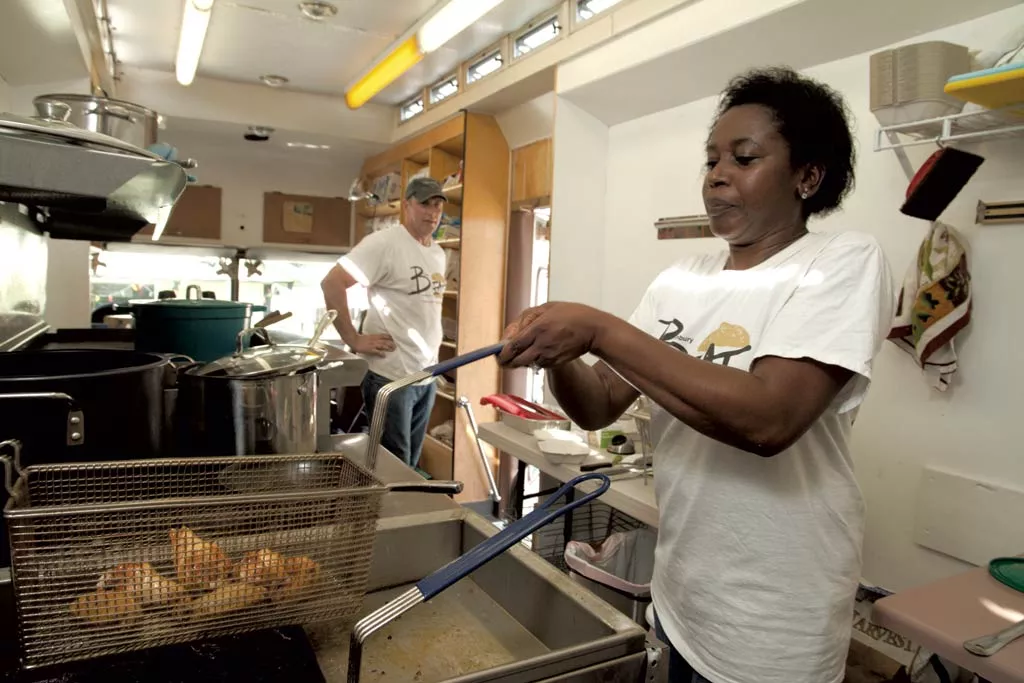 Matthew Thorsen
Robert Whitcomb and Marcelle Bunbury-Whitcomb
Aside from cooking, organization is Bunbury-Whitcomb's strong suit, perhaps owing to her career as a special educator. (She's currently preparing to start the academic year in the Burlington school system; her husband will run the food business while she's at school.) Realizing that the fair's large, captive audience could include a career-making sampling of customers, she began prodding the fair's concessions manager, Shawn Quinn, eight months ago, even before she applied to vend at UVM.
Bunbury-Whitcomb's desire to educate has quickly turned BEAT VT into more than a business; it's also a crusade to inform Vermonters about her native region. "The Caribbean is very diverse," she says. BEAT's dishes are pan-Caribbean, ranging far beyond the Jamaican specialties that Burlingtonians first tasted at the now-shuttered Caribbean Buffet and Cool Runnings.
Both on the truck and on BEAT's website, Bunbury-Whitcomb has posted a key to some of her and Whitcomb's specialties. Photos and descriptions accompany each dish, along with an image of a chili pepper beside hot foods.
Whitcomb says the truck's most popular item is its curried goat, made from animals bought from Vermont Chevon in Danville. He cuts up whole goats for the curry, served with roti. The animals' bones go into stock, while any extra meat lands in one of Bunbury-Whitcomb's Guyanese specialties, known as cook-up rice.
The traditional New Year dish is flavored with coconut and speckled with black-eyed peas and "a whole bunch of different meats," says Whitcomb.
"You won't find that anywhere else," his wife adds. "That's why I'm so proud to be able to introduce people to these foods. We introduced the cook-up and people loved it. It's different from the rice and peas."
BEAT's version of the latter, simpler dish fairly crackles with flavor. The white rice is dyed brown by spices and flavored with tender onion and garlic. The "peas" are actually slightly al dente kidney beans, which soak up a hint of sweetness as admirably as the rice does.
Vegetarians can order the dish as is, but they'd be missing out on the layered flavor of the couple's sweet and tangy jerk chicken or pork. The meat is speckled with seeds from Scotch bonnet peppers, but, for now, Whitcomb is careful not to overwhelm his customers with spice. "After they try it, I ask people, 'Do you want me to make it hotter?'" he explains. It's all part of the constant market research that he hopes will make the business a success.
One rewarding lesson has been the breakout popularity of fusion dishes that Whitcomb — who never cooked professionally before starting BEAT — invented himself. The jerk burger combines a juicy beef patty, pulled jerk pork, pineapple sauce and cheese on a homemade bun.
A longtime fan of poutine, Whitcomb prepares a Caribbean version with fried plantains in place of frites. He bathes it in a spiced split-pea sauce, then tops it with cheese and pulled jerk pork. The sauce has garnered such a positive reaction that Whitcomb plans to serve a slightly thicker version in the winter as soup. "We got feedback about that, [with] people asking, 'Can I get a bowl of this?'" he says.
The couple's home kitchen is certified for catering, which gives them a leg up on many food-truck owners, especially in terms of storage. But they're still careful to cycle through the menu to avoid waste — and give themselves room to experiment.
That means not every favorite appears on the menu on a given day, with the exception of some staples such as crispy jerk wings and rice and peas. Meanwhile, the couple can continue to introduce customers to new dishes. Desserts, for instance, include sugary triangles of pineapple pie and gluten-free cassava pone, a sheet cake made from mashed yuca.
Before foods make it onto the truck, the Whitcombs test many of their dishes on their friends at the Burlington Church of Christ. Since several of those churchgoers eschew sugar, the couple has perfected a version of the cassava pone that's sugar free and, according to Bunbury-Whitcomb, just as good.
The couple hopes to slowly expand their catering business, which will allow them to prepare dishes that are impractical for the truck. Those include Bunbury-Whitcomb's homemade ginger beer and sorrel drinks, as well as delicacies ranging from lobster to coconut cake.
Though she's all for growth in that direction, Bunbury-Whitcomb makes it clear that "We are not interested in opening a brick-and-mortar [location]." Regardless of the venue, she hopes diners will find "convenient food with restaurant-quality production" at BEAT VT, adding, "We believe it's a restaurant-quality experience on foot. People always tell us that."
Whitcomb will have enough work running the truck through the school year. He'll get some help from Bunbury-Whitcomb's son, Shakir Stephen, the bass player for Burlington band Binger, when Stephen is not onstage or finishing his senior year at UVM. Bunbury-Whitcomb will also lend a hand whenever her own school schedule allows.
Whitcomb is ready to face the challenge, saying that, for the first time since leaving the army after the Gulf War, he feels like he's found his place in the world. "I think probably what did me the worst was missing the rules," he reflects. "Not having that set of rules to follow anymore, I was a little lost. Now I'm not lost."
He's found himself in the process of perfecting his take on Caribbean cuisine — not exactly what the Adirondack-reared boy might have expected before meeting his wife. And, while Whitcomb discovers his raison d'être, Vermont is discovering the diversity of home-cooked Caribbean cuisine.
INFO
Bunbury EAT, through Sunday, August 31, at the Champlain Valley Fair in Essex. The truck returns to University Place in Burlington after Labor Day. beatvt.com
The original print version of this article was headlined "Beat's Cooking"