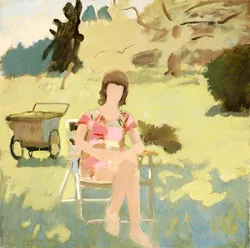 Few major American artists are better suited to a summertime show than Fairfield Porter. The sun seems always to be shining in his paintings, which depict a Waspy world of money, leisure and preppy propriety. "Fairfield Porter: Raw" is thus a perfect warm-weather exhibit for the Middlebury College Museum of Art.
For all of his casual charm, however, Porter (1907-75) was no lightweight, and this is not a frothy, school's-out show. A realist at a time when abstract expressionists were in their ascendancy, Porter painted portraits and landscapes as harmonies of pale colors and soft light.
This show, consisting of 39 oils and drawings from the Parrish Art Museum in Southampton on Long Island, offers a glimpse of what it bills as "The Creative Process of an American Master."
Porter's method is detailed in a 1955 Artnews essay by the New York poet Frank O'Hara, with photos by Rudolph Burckhardt. The published piece, "Porter Paints a Picture," is displayed in a vitrine. Nearby, Middlebury's curators have highlighted the "raw" state of eight loosely sketched scenes of Maine, Amherst and Manhattan by angling these unframed oils atop a bar that runs along a set of temporary walls.
O'Hara writes that Porter's work has "a look of spontaneity and effortless felicity." But in tracing the creation of a portrait of the artist's 4-year-old daughter — from drawings, through oil sketches, to six stages of the painting itself — O'Hara and Burckhardt show how studied and disciplined Porter's technique really was.
Several pieces in the show are unfinished, some intentionally so. Many of Porter's portraits, for example, lack facial features. That odd omission seems to serve a dual purpose. As with the headless, sculpted torsos of classical antiquity, viewers are forced to concentrate on aspects of the work that might otherwise be seen as secondary. Leaving faces blank also enabled Porter to avoid what he acknowledged to be a weakness in his work: an inability to render convincing likenesses.
That's not always the case, however.
A 1972 self-portrait corresponds closely with photos of the artist that are included in the show. With his Kennedyesque, flopping forelocks, the unwrinkled Porter looks amazingly youthful at age 65 — just three years before his death.
There's also an entirely finished, nearly life-size portrait of his wife, Anne, wearing a black-and-white striped dress and standing between a large picture window and an interior wall covered with postcards and small paintings. The folds in a red coat draped over a stool in the foreground testify to Porter's training in the techniques of the Old Masters.
In perhaps the finest piece in the show, Porter's friend and fellow representational painter Jane Freilicher is shown seated outside in a canvas chair alongside her young daughter, who's wearing a red play suit. As is indicated by an accompanying photo of Porter painting this picture, the setting is the expansive lawn and fields of the artist's Southampton home. The mood here, as in so much of Porter's work, is cheerful, relaxed, comfortably elegant.
There's none of the agita characteristic of the abstract expressionists — let alone their elevation of the artist's psyche over recognizable subject matter. Yet Porter cited Willem de Kooning as a crucial influence on his work. And he regularly drank with de Kooning and other ab-ex all-stars at the Cedar Tavern, their Greenwich Village hangout, during weekly trips to Manhattan from his home and studio in Southampton.
How to explain such a curious kinship?
Curator Klaus Ottmann suggests in the catalog for the show that Porter was interested more in the process of painting and the materiality of the medium than in what the work appeared to be about. "Most critics and artists looked at figurative paintings in terms of their content," Ottman writes. "For Porter, it was painting itself that mattered."
In other words, he merely happened to compose portraits, landscapes and strangely unpeopled city scenes, because, as he commented in an interview, "a reference to reality is the easiest thing to do." Looked at from that angle, Porter's achievement can be seen to involve much more than the painting of pretty pictures. He was an avant-gardist posing as a traditionalist.