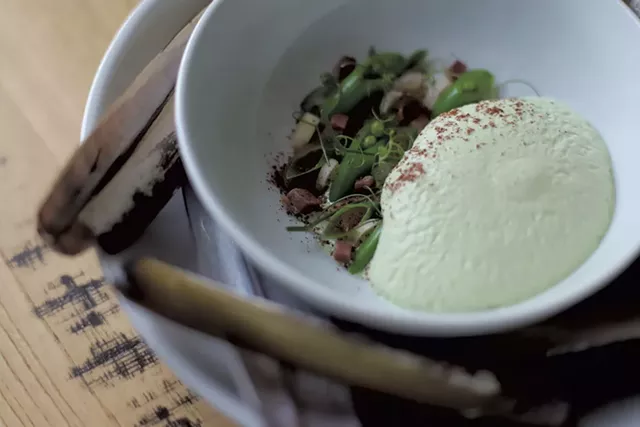 Sarah Priestap
Wild Roots' razor clams with peas and pea crema
Even at 7 p.m., the solstice sun hung high over the hills above the White River Valley. Seated in Adirondack chairs on the lawn behind Wild Roots restaurant, my friend and I dug our bare toes into the high grass, chattering about work and neighborhood gossip at the end of a long day. She sipped a sparkling vodka cocktail, scented with fresh basil and stained pink with muddled strawberries. Blue sage blossoms floated atop my drink, a honeyed gin-and-lemon number shrouded in velveteen egg-white froth.
In May, the restaurant celebrated its first anniversary. But preceding that milestone — a big deal for any food business — was a stressful spring. Weeks earlier, opening chef Peter Varkonyi had taken his leave, a move that saddened regulars and called the restaurant's very existence into question. Wild Roots suffers from the same dearth of competent cooks that afflicts most high-end Vermont eateries.
"It was a scary time," said Jayne Sully Cole, who owns the restaurant with her husband, Josh Walker. Where would they find a new chef who could match Varkonyi's skill level, ethics and ambition?
"We had to do some real soul searching," Sully Cole added. "It was a lot of, 'What is this restaurant?'" But they felt they owed it to the farmers, who supply their kitchen with everything from rolled oats to Ossabaw Island pigs, to continue. They pushed out job ads through every imaginable channel, local and otherwise, hoping against hope that someone good would come along.
Then Robert Mahoney responded — via Craigslist, of all places. The soft-spoken 31-year-old cook's résumé includes years in sous-chef positions at Michelin-starred New York City restaurants Aureole and Piora.
Sarah Priestap
Robert Mahoney
"I've been wanting to work in a 100 percent farm-to-table setting for a while," Mahoney told Seven Days last week. "And there are not many restaurants out there that are not chef-owned doing that."
So things worked out. Mahoney, who was living in northern New Hampshire, packed his bags and moved to Vermont. He arrived in early April, just in time to catch the end of a winter that wouldn't quit.
He's spent the past two months getting to know the area and building relationships with the many farmers who stock the Wild Roots larder. Mahoney writes and rewrites his menu, sometimes 10 times weekly, to showcase new ingredients the moment they start to bloom.
On summer's longest day, he tossed a jumble of bouncy, sweet-fleshed razor clams, raw and saline with seawater, with house-cured pancetta, cut sugar snaps and diced cattail shoots, then tucked them in a tangle of pea tendrils. On top, pea purée tinted a dollop of shirred crema palest green.
The dish, which featured still-living bivalves plucked from the tidal flats off Cape Cod and delivered by Ethan Wood of Wood Mountain Fish, was a sonnet to early summer. The peas were the season's first; the tart and crunchy cattails, pulled from a nearby marsh.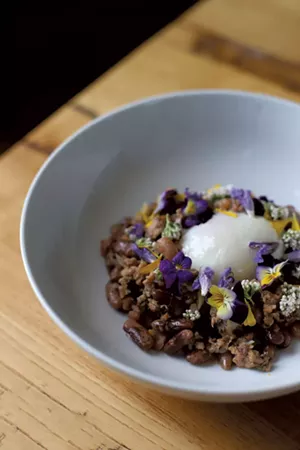 Sarah Priestap
Wild Roots' veal sausage with egg
Later in the meal came a hearty plate of crumbled veal sausage, cured a week in sea salt, coriander and dried seaweed and served with softened cattle beans and salt-cured Maine flounder. It was a pungent reminder that, even at the solstice, Vermont's winter is never far removed. In late June, the growing season is just starting to give back; summer's coveted tomatoes, eggplants, sweet corn and squash have yet to arrive on the scene.
"Right now," Mahoney said, "it's still a transition period between the menus of winter and summer, so it's a progression until we can switch it completely over."
When summer's vegetable parade gets going, the chef said, he plans to ferment, can, pickle and preserve all he can — the better to keep winter menus varied, lively and local while farm fields are sleeping.
Even now, Mahoney is fermenting his way to amped-up flavor profiles. At our table, a whorl of hand-cut alkaline noodles, made with whole wheat from Charlotte's Nitty Gritty Grain Company, was toothsome, nutty and dressed in a rich cream sauce.
My friend and I decided the sauce was most certainly milk-based. Not so: Mahoney had spun a purée of hazelnuts — brine-fermented with a splash of kraut juice to kick-start the culture — with roasted shiitakes and leaves of Swiss chard.
The dish, though decidedly unshowy, was as dynamic, elegant and packed with savory richness as any fine, broth-soaked risotto dusted with cheese. We were astonished to learn it was vegan.
"Mind: blown," my friend said aloud, twirling the last bit of pasta around her fork. I absolutely agreed. It was one of the more fascinating dishes I'd eaten in some time.
But then, isn't that why we eat out? At their best, restaurants exist not just to nourish and pleasure us but also to inspire, to show us things we wouldn't otherwise see or eat at home.
And, in late June, the finest ones remind us that when it comes to summer in Vermont, you've got to get it while you can.