Courtesy Of Allen Conroy
A scene from The Marriage of Figaro
Driving up to the main rehearsal space of the Seagle Music Colony in Schroon Lake, N.Y., one of the most elite voice academies in the country, is a concert unto itself. When the building's windows are splayed open, the deep, rumbling baritones and high soprano warbles of 32 of the country's best up-and-coming opera singers pour unfiltered into the Adirondack woods. Surrounded by little besides trees and connected to the outside world only by the newly installed Wi-Fi, these vocal powerhouses hone their craft far from the distracting buzzes of reality.
It's pure, unbridled opera boot camp, baby.
Seagle Music Colony has been prepping and preening aspiring professional opera singers in this unlikely neck of the woods for the past 104 years, making it the country's oldest vocal training program. Its founder and namesake, Oscar Seagle, studied and taught voice in Europe before coming to the U.S. during World War I. After a quick stint in Lake George, N.Y., he set up shop in Schroon Lake, teaching singing lessons out of the barn that now holds the program's 175-seat theater. The Seagle family remained at the helm of the program until 1995, when a board of directors took over.
In the years since, management has raised the stakes tremendously, expanding the program's budget from $30,000 to $850,000, with renovations to campus buildings to match. General director Tony Kostecki, artistic director Darren Woods, and managing and technical director Jim Koehnle now work at Seagle full time, prepping and fundraising for upcoming summers and pre- and post-season outreach programming.
While longevity isn't always synonymous with quality, noted Kostecki, Seagle has become more and more selective over the years, with more and more singers vying for the program's 32 spots each audition cycle. "We have a reputation now that we really get a lot of great young, up-and-coming singers interested in our program," he said.
"If you're here, you're considered one of the 32 best singers in the country," Woods added. Most of the singers are enrolled in academic programs at various levels.
In some ways, Seagle is a summer camp, à la Camp Rock: Singers eat family-style meals together, room in bunks (an all-female one is known as the "Diva Den") and end the session with a campfire-esque dinner.
But it's also an intensive course in what it takes to be a professional singer. From June to August, singers get three Sundays off. The remaining days in the nine-week session are filled tip to tail with audition workshops, classes and rehearsals for the colony's four public shows and touring children's show. Each singer is part of nearly every production and guaranteed at least one principal role. Leads are expected to know their music by heart from the get-go, regardless of which language the lyrics are in.
Reveille at Seagle is delivered not by bugle but by vocal trills and warm-ups that can begin as early as 6:30 a.m. for 9 a.m. audition workshops. Starting that early is no small feat, as anyone who has ever tried to croak out a tune before noon knows. And the singing doesn't come to a full stop until curtain call — which, during this month's run of Wolfgang Amadeus Mozart's four-act The Marriage of Figaro, is often not until 11 p.m.
In their remaining waking hours, performers work one-on-one with voice coaches and teachers and rehearse for upcoming shows. It's an unrelenting crazy train of opera, with one show running into another ... and another and another.
That hectic pace mimics a pro opera singer's real life, said professional singer and Seagle alum Seth Carico, who attended from 2002 to 2006. At the German repertory opera house where he worked post-Seagle, singers often performed 10 to 15 different roles a year.
"Seagle is an ideal training place for that experience," Carico wrote from London, where he's now rehearsing for a production of Richard Wagner's Das Rheingold. "The rapid schedule teaches the young artists that if they want to succeed in such an intense environment, they must fill in all the blanks themselves."
The staff at Seagle, many of whom were students at the colony themselves, are flush with guidance when it comes to the big questions: What comes after college? How does work-life balance even look for a performer in a world far outside the norm of nine-to-five workdays and three-piece suits? What to wear to an audition?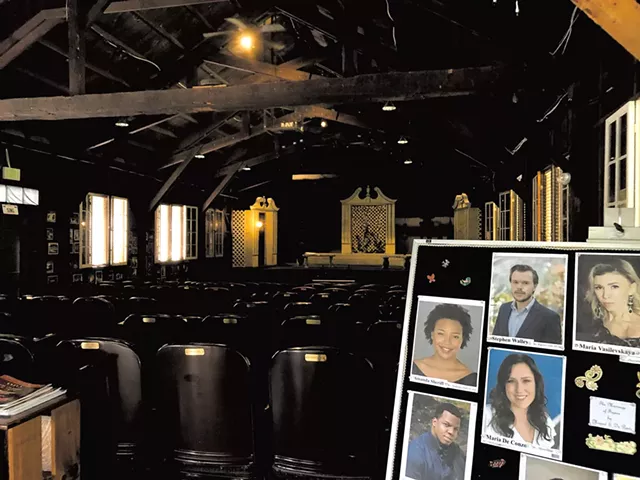 Sabine Poux
The Oscar Seagle Memorial Theater
Throughout the summer, staff teach workshops and classes that delve into the navigation of relationships, finances, etiquette, clothing and more in the operatic world — details that academic programs often leave out.
"Here, you talk about how the career actually works, how the business works," said Maria Vasilevskaya, a 24-year-old mezzo-soprano from Russia. "In academia, you hardly talk about that."
This is Vasilevskaya's second year in the program. Most singers attend two summers, though plenty stay for more, or just one. As she's learned to navigate the biz in the U.S., she said, as well as how to balance her marriage with her career, she's found the lessons of Seagle particularly salient.
"We don't only talk about how to have a career but also how to have a life," she said.
Vasilevskaya's age is the median among the program's current artists. Some of the younger singers are still working toward bachelor's degrees at universities and conservatories around the country, while the oldest singers, like 29-year-old tenor Anthony Rohr, have already finished master's degree programs.
"All but one year in my twenties have I been in school," Rohr said. "I've been a long time in academia. Now it's time to take the plunge" — meaning a headfirst dive into the fast-paced, competitive worlds of professional opera and musical theater.
Rohr will have a lot of support when he takes that step, not only from Kostecki and Woods — who affectionately refers to the singers as "kids" — but also from his "guild parents," patrons who are assigned singers to cheer on at performances throughout the session. Sometimes this fandom lasts beyond Seagle. Woods noted that superfanatic guild parents and board members have been known to fly to Europe and beyond to hear "their" singers perform.
Many are also patrons in the traditional sense, supplying fiscal contributions and scholarships so that few singers pay the summer's full $5,250 tuition.
On a recent Thursday morning, a row of guild parents sat in the back of the rehearsal space while their singers, made up and dressed to the nines, sang through mock auditions for the Seagle staff and students. Some arias brought spectators to tears.
"What I love this morning is, all of you made me have an emotional reaction," said one of the vocal coaches, delivering feedback. "That's why we're here. That's what I love."
It was a widely shared sentiment. After a morning of individual voice lessons, singers gushed to one another over lunch in the colony's homey, wallpapered dining room. "You made me cry!" said one girl to her friend. Changed from her audition dress into leggings and a tank top, she was scooping potatoes and salad onto her plate as Lizzo played from an iPhone in the kitchen.
It was a picture of sleep-away-camp normalcy, even if just for a moment. But at 2 p.m., singers met in the rehearsal space again, their Teva sandals traded for character shoes, to run through a scene for the colony's upcoming production of The Manchurian Candidate.
Based on the book and movies of the same name, the show follows the intense story of a U.S. presidential election wracked by foreign interference. After the singers reviewed music with an accompanist, director of production Richard Kagey set the scene.
"This is a party of white, racist people," he said. "Make some uncomfortable moments."
There's more room than usual for moment making in a new opera like The Manchurian Candidate. Its four-show run at Seagle will be just the third-ever staging of the production.
"It's fascinating to work with these new works, especially because the singers get to wrap themselves around a role that we have no reference for," said Kagey, who first came to the colony as a singer in 1963. "Operas are wonderful, but operas that have been around for a long time have a lot of expectations."
Seagle's creative team has made a conscious effort to include more contemporary American works among the two operas and two musicals it presents each session, though it's not passing over the classics. Hours after The Manchurian Candidate rehearsal — and following dinner and a short break — the cast of Figaro crooned onstage in lyrical Italian, English supertitles projected over their wig-wearing heads. A packed audience, many of its members summering in the Adirondacks, listened in awe.
It's easy to be starstruck by these performers, their big, booming voices filling every corner of the whimsical wooden theater in the woods. Soon, many of them will move on to bigger stages.
Just last week, at Woods' behest, one of the program's sopranos, 24-year-old Ashlee Lamar, flew to Illinois to sing for a representative of the Lyric Opera of Chicago.
"She has the kind of voice that comes along once in a generation," Woods said of the singer.
At the end of the summer, companies and artist managers come to Seagle to hear the colony's singers, who have to put all they've learned to the test. If all goes according to plan, they won't be nervous, because performing to the highest of expectations will be second nature.
"The program's a lot of work, but you come out of this feeling like you can do anything," Rohr said.