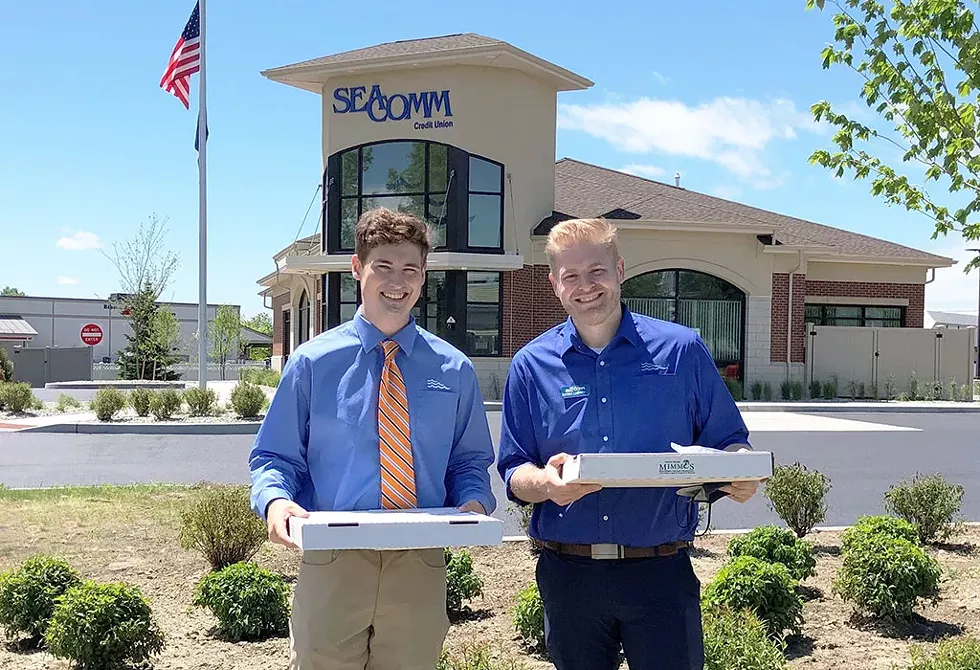 Courtesy Image
SeaComm surprises local businesses with pizza from Mimmo's
When people move to a new community, their new neighbors might bring over food to welcome them to the neighborhood. When SeaComm Federal Credit Union opened a branch in Essex this winter, it reversed the tradition. The staff of the New York-based financial institution ordered 50 pizzas from Mimmo's Pizzeria and Restaurant in Essex and delivered them free of charge to 20 nearby businesses.
The people who got the pies were grateful. So were the restaurant owners.
Big orders for parties or company lunches had dwindled during the pandemic, says Simone Spano, who manages his family's Mimmo's location in Essex. SeaComm's generosity helped offset some of that lost business, and it was completely unexpected.
"No banks have ever done anything like that," he said.
At SeaComm, random acts of kindness come naturally. Founded in 1963 by factory workers in Massena, N.Y., the cooperative financial institution now operates nine branches, including two in Vermont, in Essex and South Burlington. SeaComm contributes to all of the communities it serves through its unique Pay It Forward program, which distributes free goods such as food, movie tickets or a tank of gas at random in the areas around SeaComm's branches; the Mimmo's pizza delivery was part of it.
Pay It Forward recipients don't have to be credit union members, says marketing and communications specialist Tyler LeBoeuf, who helps manage the program. They don't have to provide personal information or pledge to join the credit union.
SeaComm's only request, says Tammy Harrigan, senior vice president of marketing and communications, is that recipients themselves pay it forward by doing something kind for someone else.
Sometimes they do: After SeaComm paid for someone's cart full of groceries at Save A Lot supermarket in Potsdam, N.Y., the lucky shopper turned around and paid for the purchases of the customer behind her, Harrigan says.
Gestures like that make SeaComm's communities better places in which to live and do business, LeBoeuf explains. "One of our goals from the beginning has been to create a chain reaction of kindness," he says.
Lending a Hand
SeaComm launched Pay It Forward in 2017. Since then, it has hosted 65 related events.
Food is a recurring theme: In August 2019, before its South Burlington branch opened, SeaComm bought Ben & Jerry's scoops in downtown Burlington for 500 people. Around that time, LeBoeuf walked into Pauline's Café on Shelburne Road and picked up the tab for about 30 customers' lunches.
The credit union's generosity takes other forms, too: In summer 2019, members of SeaComm's marketing team descended on Church Street Marketplace in Burlington with $20 Visa gift cards, which they handed out to 100 people.
"It had a twofold effect," says LeBoeuf. "We were helping them, but they were also helping the local businesses because they were right there shopping."
When SeaComm opened a branch in Plattsburgh, N.Y. in 2017, the credit union arranged with a local gas station to have its staff pump and pay for fill-ups for about 500 drivers. In the fall of 2019, at the Essex Cinemas, SeaComm offered free admission, popcorn and a drink for everyone who attended the initial screening of Maleficent; a SeaComm employee donned the title character's signature black costume as she waved people into the theater.
All told, SeaComm has given away freebies through Pay It Forward worth roughly $125,000.
SeaComm contributes to its communities in other ways, too: The credit union has supported the King Street Center and Ronald McDonald House in Burlington and sponsored numerous Little League teams and fundraisers across its territory. But the Pay It Forward gifts can have ripple effects that are particularly memorable.
Last December, SeaComm covered the cost of the remaining layaway balances for 27 customers of Walmart stores near the credit union's locations. One woman cried as she told SeaComm representatives that they had saved her Christmas, Harrigan recalls.
"She was going to have to return, or get rid, of her layaway," says Harrigan. "Those were her grandchildren's toys, and she didn't know how she was going to be able to afford it. So she said that we were her Christmas angels."
'Never Forgetting Your Roots'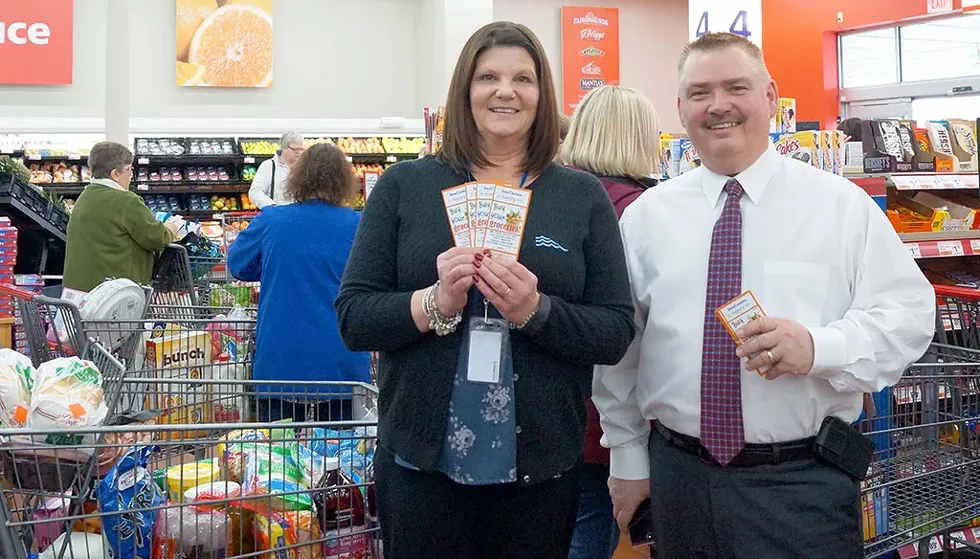 Courtesy Image
SeaComm buys groceries for 100 local residents (Branch Manager Barbara Bessette and Scott A. Wilson President and CEO)
SeaComm's community-focused philosophy is part of the nonprofit organization's DNA. The credit union traces its roots to 10 original charter members — workers at Massena's General Motors die-cast plant — who each dropped $5 in a toolbox. By pooling their resources, they realized they could help colleagues in need stretch their dollars between paychecks.
The GM factory closed in 2009, but the credit union has only grown. SeaComm now has more than 50,000 members, most of them in four counties of northeastern New York. The original co-op merged with other entities over the years and ultimately changed its name to encompass the larger region around the St. Lawrence Seaway: SeaComm is short for Seaway Community. One of the credit union's current board members has been volunteering for the organization for 58 years since its charter was passed through the National Credit Union Administration.
After opening the Plattsburgh branch, SeaComm's board began considering where to expand next. It studied the Vermont market. Though crossing the lake — and the state line — was a big leap, Vermont seemed like an ideal fit, Harrigan says. The state is known for community connectedness, as well as cooperative ownership models; think Cabot Cooperative Creamery and City Market, Onion River Co-op.
Though credit unions operate like banks, they're nonprofit, member-owned entities. Vermonters understand and appreciate the difference, which is why there are so many credit unions here to choose from.
What Sets SeaComm Apart?
Courtesy
Scott A. Wilson, SeaComm President and CEO
"We are deeply committed to service," says president and CEO Scott A. Wilson. "It has to do with never forgetting your roots and taking care of people."
That means offering members a compelling value, he says: "From the time they walk into one of our branches, phone into our Call Center or log in at one of our mobile delivery platforms, we want the experience to exceed their expectations.
"We don't take that lightly," he says. "In fact, we obsess over it."
In addition to seeking member feedback through random monthly surveys, Wilson invites members to call, email or stop by his office in Massena. And Wilson visits branches in person on a quarterly basis to talk directly with members; a recent trip brought him to Essex.
"As the CEO, I work for the members," he says. "I want to know how we're doing as their credit union."
Wilson points out that SeaComm has to earn a profit, but its mission has always been about more than just money. "Ultimately, running a successful credit union is about taking care of family, friends and neighbors," he says.
Welcoming the Neighborhood
Courtesy Image
SeaComm gifts puzzles and flowers to local nursing home residents
Now, those neighbors include Vermonters.
Because SeaComm expanded here during the pandemic, it hasn't been able to hold grand opening events at its new branches. This summer, SeaComm is finally hosting a pair of celebrations — in Essex on August 13 and in South Burlington on August 27. They'll feature food trucks, games, prizes and free ice cream.
SeaComm will Pay It Forward beforehand with free scoops of Ben & Jerry's in Jaycee Park in South Burlington on July 28 and Maple Street Park in Essex on July 29. Find out about future Pay It Forward events by following SeaComm's Facebook and Instagram accounts.
Katie DeSanto, a manager of the Phoenix Books store in Essex, was one of the lucky recipients of the Mimmo's delivery in March. She says she and her colleagues enjoyed not only the pizza from one of their favorite restaurants but also the visit from SeaComm staff who brought it and stayed to chat.
As a retailer, she added, she appreciates SeaComm's efforts to generate goodwill within the community. "It was just a lovely, pleasant and neighborly thing for them to do," DeSanto says. "They're trying to say, 'Hey, we're here for you.'"
That's exactly right, says Wilson. SeaComm is all about small-town, one-on-one service. "I love when you drive by a house and someone is sitting on the front porch and gives you a wave," he says. "That's us. We want everyone to feel that way."
This article was commissioned and paid for by SeaComm Federal Credit Union.