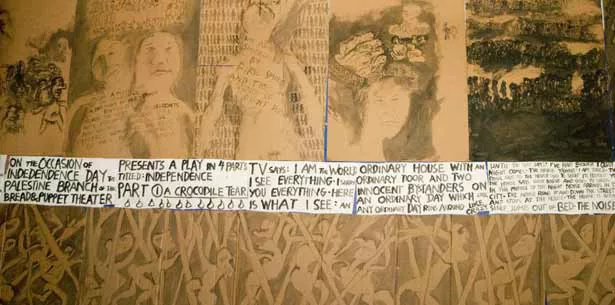 BURLINGTON - It appears the South End Arts and Business Association (SEABA) can finally move on with planning Art Hop 2008, now that it's put out the fires ignited by last year's event. Three months after a controversial art exhibit and lecture on the plight of the Palestinian people and Israel's future sparked a heated and occasionally ugly public debate, the SEABA board of directors issued a statement clarifying its position on censorship, free artistic expression and the role of political activism at future Art Hop events.
In an open letter to the Israel Center of Vermont, the SEABA board of directors wrote, "We are sad about [the] turn of events with 2007 Art Hop and have come to understand the deep hurt and betrayal felt by members of the Jewish community . . . " That letter was in response to the one sent by the Israel Center of Vermont, condemning the September 8 talk that accompanied artist Peter Schumann's "Independence Paintings." During that program, author Joel Kovel discussed his book, Overcoming Zionism, which advocates a one-state solution to the Israeli/Palestinian conflict.
In a September letter to the SEABA board criticizing that program, the Israel Center of Vermont accused Kovel of being "anti-Semitic," "historically and factually inaccurate," and "advocating an end to the state of Israel." The Israel Center further condemned SEABA for permitting the Art Hop to be "hijacked by a discredited author arguing a fringe political position."
In its response letter to the Israel Center, hand-delivered in late December, the SEABA board reiterated its official policy of allowing "access to all artists, ancillary events and programming, without prejudice or review." The Schumann exhibit and the Kovel talk received "no more or no less attention and consideration" than other Art Hop events and installations, the board noted.
"We stand by our policy to support individual artists to allow them to present their work without review," the board added. "We feel this accessibility is the cornerstone of Art Hop."
That said, the board has now taken steps to prevent a similar controversy from arising at future Hops. Group presentations will now be required to submit written proposals and mission statements in advance; their content will be reviewed by a committee of the board and addressed on a case-by-case basis. Board president Mark Stephenson believes this solution is a reasonable compromise that protects artists' integrity while also respecting the community's values.
"There's a lot of different art out there that says different things to different people," Stephenson said. "If someone is going to put together a program with an agenda, we want to know what that agenda is [and see] if it meets the needs of the community."
For his part, Yoram Samets with the Israel Center of Vermont expressed satisfaction with the board's response and called it "a good resolution."
"We were very thankful for their letter and for considering our concerns," Samets said. "Clearly, our primary focus was around making sure that, in the future, there would be some review, some oversight, some process that wouldn't allow something that wasn't intentional."
Marc Estrin is with the group Vermonters for a Just Peace in Palestine/Israel, which sponsored the Schumann exhibit and Kovel lecture. Estrin said it's unclear how SEABA's new policy will play out at future Art Hops.
"That SEABA will not censor artworks is of course a given, a First Amendment value endorsed by all," he said in a written statement to Seven Days. "Still, the question remains whether an 'artwork' ends at the frame, and whether presentations sharing its theme, and endorsed by the artist, should not partake of the same immunity from censorship."
This month, RETN Channel 16, Burlington's educational community-access channel, will air two documentaries about the Arab-Israeli conflict: The Forgotten Refugees on January 17 at 9 p.m. and January 19 at 10 p.m., and The Silent Exoduson January 24 at 9 p.m. and January 26 at 10 p.m. RETN Executive Director Scott Campitelli said several community members asked for the documentaries to be shown in order to balance previous broadcasts of the Schumann-Kovel event.