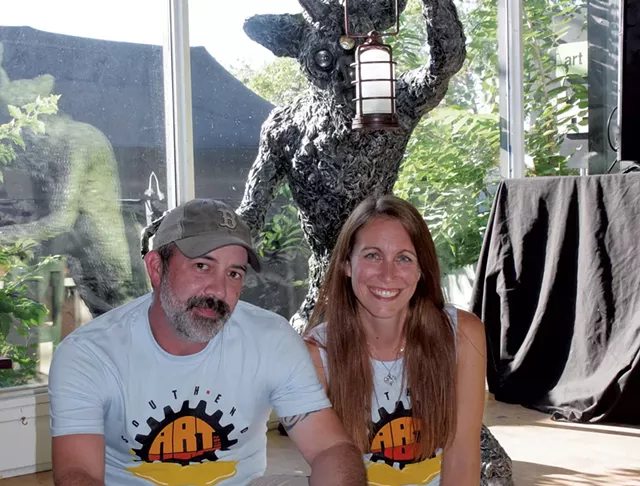 Courtesy Of Stephen Mease
Adam Brooks and Sarah Drexler
Looking for space, talking to people: That describes a good share of the activity at two Burlington arts organizations at the end of 2018. Earlier this year, Off Center for the Dramatic Arts in the city's Old North End learned that its lease would not be renewed when it ended in May 2019. Meantime, the South End Arts and Business Association was forced to vacate its headquarters on Pine Street and has temporarily taken a cubicle-size office in the Generator maker space building, moving most of its belongings into storage. What's more, SEABA's executive director, Adam Brooks, has decided to move on himself.
"It's been a great seven years, almost exactly," Brooks said in a recent interview at Generator. "It's a good time for me to pursue other opportunities and gives SEABA a chance to grow and adapt."
Since Brooks gave notice in October, board members have stepped in to provide support, said board president Seth Mobley. One of them, Jeanne Kirby, brings plenty of arts administration experience from her previous leadership role at Revitalizing Waterbury. She's been on the SEABA board since June, according to Mobley.
The organization produces the annual South End Art Hop and offers other events and services to members year-round. Assistant director Sarah Drexler curates art exhibitions at nine sites in Burlington, managing marketing and sales for the artists.
SEABA's strong board of 11 members represents "a good cross-section of the community," said Mobley, who has been on that board since 2014. He added that the group has been engaged in strategic planning and will now "focus on what we need regarding an executive director."
And, of course, they'll be looking for a new home. Per its name and mission, SEABA is seeking headquarters in the South End — an increasingly scarce commodity but not extinct, said Brooks and Mobley, listing the options of several buildings around the district.
Across town, Off Center board president Laura Roald said the group of theater artists would prefer to stay in the Old North End but has been looking in both Burlington and Winooski since the summer. "We're committed to having a venue designation," she said, noting the regulations around zoning, parking and accessibility. "We want a space that is safe and secure for our renters." Wherever they land, the space likely will need to be outfitted to function as a black-box theater.
The Off Center team is working with a commercial Realtor, Roald said. "It's hurry up and wait with a lot of this stuff," she observed of the search. But the thespians haven't been idle. The holiday season brought the "Offspring of the Return of a Very Off Xmas" in mid-December. Roald and co. are planning a Spring Open Artist Showcase, and the venue is largely booked until then. And, come May, "we'll be planning a big thanks-for-the-memories bash" to bid farewell to the original Off Center location, Roald said.