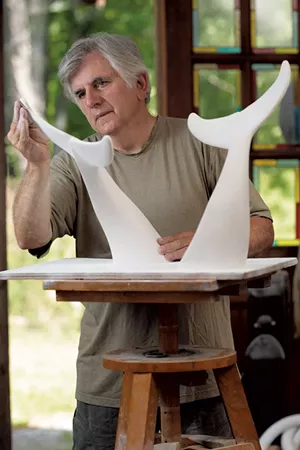 Ben Deflorio
Jim Sardonis
Along a stretch of Interstate 89 in South Burlington, two large structures resembling whales' tails emerge from the ground, a novel view for passersby and a favorite photo op for visitors from the adjacent field. But the local landmark made of African black granite wasn't always sited there. Officially titled "Reverence," the sculpture was once an icon in the town of Randolph, 60 miles to the south.
Now, nearly three decades after Jim Sardonis completed "Reverence," the local sculptor has been commissioned to create a second, similar work — and this one will stay in Randolph. Due to be completed next spring, the bronze "Whale Dance" will be installed on the exact spot where "Reverence" once stood.
The original whale sculpture was commissioned in 1989 by David Threlkeld, who owned the land surrounding the installation site. In 1999, when he sold the 172-acre parcel to Jesse "Sam" Sammis, he had to find a new home for the artwork. Threlkeld sold it to developers Technology Park Partners, who moved it to its current location near an office complex; a planned sculpture park at the site never materialized.
"A lot of people from Randolph were really upset when 'Reverence' was allowed to leave," said Sardonis. "Many people expressed, at least to me, that they were so sorry that there wasn't an effort to try to keep it here. It had kind of created an identity for Randolph."
"The sculptor and the sculpture are beloved in this town," said Marjorie Ryerson, "and they have a long history of being our icon."
Ryerson, who has lived in the Randolph area since 1973, described recently pawing through some of her old T-shirts and finding several depicting the whales' tails. The sculpture was a rallying point for the Whales Tail Biathlon.
"[The move was] a bad metaphor about all good things in Vermont moving to Chittenden County," said Paul Bruhn, executive director of the Preservation Trust of Vermont. "It was a real loss for the Randolph community."
At the original site, near the interstate, Sammis hoped to build a gigantic multiuse development that would include a welcome center, rest stop, hotel, residential area and more. That "Whale Dance" — or any public structure — will be installed there instead is due primarily to the combined efforts of the Preservation Trust, the Conservation Law Foundation, the Vermont Natural Resources Council and the grassroots group Exit 4 Open Space (E4OS).
Beginning in May 2015, these organizations worked together to prevent Sammis from developing the site, opposing his request for an Act 250 permit. After 149 acres of the parcel were sold to the Montpelier-based conservation nonprofit Castanea Foundation in April 2017, a 22.5-acre plot remained.
"We nudged him, cajoled, pleaded with [Sammis] to give us an opportunity to buy the 22 acres," said Bruhn. "He ultimately agreed and gave us two months to raise a million dollars."
One million was less than the land's estimated value but a considerable sum for community foundations and grassroots organizers. Eventually, they raised the money through direct solicitations to major donors, contributions from more than 500 individuals, and small-scale fundraising efforts, Bruhn explained. He estimated that approximately $200,000 was raised through grassroots efforts spearheaded by E4OS. Sardonis himself played guitar at several fundraising events with his band Second Wife.
This month, E4OS members learned that their efforts, and success, will be honored at December's national Conservation Law Foundation gala in Boston.
"I would say that, throughout this whole process, as we dreamed about protecting that land, we all had in mind that it would be wonderful to have a new, iconic sculpture installed where the whales' tails had been," said Bruhn.
Ryerson, a member of E4OS, reached out to Sardonis last summer to ask about the possibility of "Reverence" returning to its first home. The artist told her it would be less hassle and less expensive to create a new work instead.
After the Preservation Trust purchased the parcel from Sammis, Bruhn had several "informal conversations" with the Middlebury-based Vermont Community Foundation. These, he said, "led to a commitment from them for the funding that allowed us to commission this new sculpture by Jim." Bruhn would not share further details.
"I don't think any of us hoped that we would find the money anytime soon to do the sculpture," said Bruhn, "so this is a great bit of icing on an amazing effort."
As for "Whale Dance" itself, Sardonis said it will be rendered in bronze, a major difference from the granite "Reverence" and more in keeping with his original vision of the sculpture. The malleability of bronze will allow for more fluid movement than granite, which Threlkeld requested when he commissioned "Reverence."
"Whale Dance" will also be larger — 16 feet high; "Reverence" is 13 feet tall at its highest point. Once the design is finished, the work will be fabricated at the Polich Tallix foundry in Walden, N.Y.
"I'm trying to emphasize the dance-like qualities that I originally envisioned," Sardonis said, "thinking of the tails you see above the ground [but also] imagining the rest of the bodies below the surface, touching and dancing."
"It's really a full-circle thing," Sardonis continued. "I'm really looking forward to getting something back to Randolph that echoes what was there for 10 years."