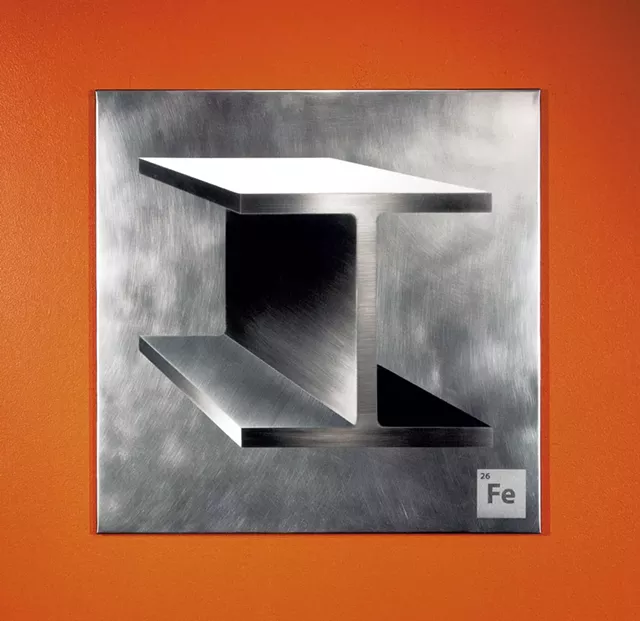 For the past three years, Burlington-based artist Bruce R. MacDonald has been working in his South End studio to, in his way, make the elements of the periodic table visible. He has cut, sanded, ground and otherwise altered 118 22-by-22-inch panels, primarily of stainless steel, one representing each element. He calls these collective works "Visible Indivisibles."
MacDonald completed his rendition of iridium in April, bringing the series to a close. And this Friday, June 16, the artist and his gallery, HAVOC, are throwing a party to celebrate. Guests will be privy to the six remaining "Visible Indivisibles" available for purchase, as well as to "Scheherazade," the 16th and final of MacDonald's "Snowflake" sculptures. The latter series was based on the photographic work of Vermonter Wilson "Snowflake" Bentley.
"Part of the mission from the beginning was to have [the elements] all feel different," the artist said during a recent studio visit. Using the standardized panel and his own "light sculpture" metalworking techniques, MacDonald consulted a broad array of sources to devise an appropriate representation of each individual element. He considered how and by whom the element was discovered, what it's been used for, its context in the periodic table and, it turns out, a whole lot more.
"Iridium Ir #77" shows a starry sky with a jagged mountain range at the bottom edge of the picture field. Four straight lines etched into the metal represent the paths of satellites. Along each of them is a small, simple burst: an iridium flare, caused when an Iridium Communications satellite reflects the sun's light toward Earth.
Also featured in this orbital drama is a comet shooting toward the ground. Recently, MacDonald noted, scientists have discovered that the Earth is covered in a thin layer of iridium-rich soil. This geologic fact has been explained as the result of a comet colliding with the Earth 65 million years ago, killing the dinosaurs and ending the Mesozoic Era. In this light, MacDonald finds it synchronistic that iridium was his last "Indivisible" — "the end of an era," he said.
But far more informs his series than science. MacDonald has created an expansive and remarkably layered amalgam of history and associations, both scientific and cultural. As he writes on his website, "mashed into this entire program is all the art history you can stand ... a compendium of cubism, minimalism, futurism, cave paintings, black boards, graffiti, Sol LeWitt, Lichtenstein, Miro, Twombly, ukiyo-e, Hubble photographs, deco, op, pop, comics, X-ray imagery, origami, medieval heraldry, O'Keeffe, Ruscha, Pollock, Hirst, Warhol, Magritte, James Turrell, David Smith, Agnes Martin, Banksy, Rothko, Basquiat..."
Examples? "Potassium K #19" is a riff on Andy Warhol's 1967 banana album cover for The Velvet Underground & Nico. "Iron Fe #26" is executed as an I beam, referencing American sculptor Mark di Suvero's appropriation of common building materials. But, as MacDonald pointed out, the end of the beam is also a capital I, for iron. As he put it, he wants the series to have multiple entry points, appealing to both "art weenies" and "science weenies."
Currently, MacDonald is writing up the backstory and references for each of his elements, to be published in a forthcoming volume accompanying the series.
HAVOC Gallery director Sarah Vogelsang-Card explained that MacDonald's process of devising each of the "Visible Indivisibles" has been an important path to new directions in his work. "It's been this incredible starting point for some brilliant new larger pieces," she said. "[These works] have been sketchpads for Bruce to launch new techniques and new concepts, whole new lineages of brushwork."
courtesy of HAVOC Gallery
"Iridium Ir #77"
MacDonald grappled for about a year with how to make "Curium Cm #96," the element named for Marie and Pierre Curie, who together pioneered the study of radioactivity. He ultimately decided to emulate the motion of radioactive particles within a cloud chamber by making only randomized marks on the steel square.
However, as MacDonald put it, "It's hard for a person to be random." His solution? Stringing up a battery-powered mini-grinder just above the panel. The tool ricocheted off the metal's surface, hitting it again and again. MacDonald estimated he changed the grinder's batteries some 20 times before he was satisfied with the random markings.
The "Visible Indivisibles" project, he said, has been about "pushing my abilities, [trying to] step outside and keep pushing, pushing." Not one to slow down, MacDonald has already begun on his next venture: rendering his own digital photography on metal.
"What's in my phone looks really different from most people's phones," he said. To illustrate, he pulled up an abstracted image of the ground outside his studio, likening it to a scene of "deep-space star-field things.
"The world is full of this kind of stuff," he continued. "That's the way I see."