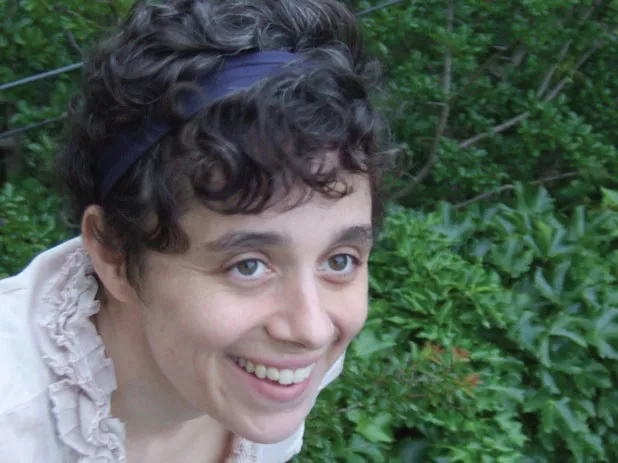 One day, Brattleboro-based filmmaker Morgan Faust was reading the New Yorker when she noticed an ad that read, "Do you need to buy some time?" She remembers thinking, What if you could buy time? Fun time or alone time? If you could buy it by the quality, not just the quantity?
Those questions inspired "Tick Tock Time Emporium," a short film that Faust and a crew of 25 will shoot in Bellows Falls this July. Faust, 32, describes it as a "Tim Burton-meets-Amélie-style film ... about a little girl who finds herself in a fantastical time shop, where time can be bought and sold."
Faust, a Boston native who's splitting her time between Vermont and her MFA program at Columbia, has plenty of experience behind the scenes. She produced Bess O'Brien's film version of Shout It Out! in 2008 and has been involved with the naturalistic, ultra-low-budget filmmaking movement critics call "mumblecore": She produced director Andrew Bujalski's Mutual Appreciation and associate-produced Funny Ha Ha.
More recently, Faust edited the indie film 3 Backyards, with Edie Falco, which was well received at Sundance. She's cast another of that film's stars, Broadway actress Rachel Resheff, as the heroine of "Tick Tock."
Faust says when she saw Adams Grist Mill in Bellows Falls, she realized it was "exactly what I imagined for the film" and contacted the local historical society about filming there. The Vermont shoot is scheduled to take about six days; the 15-minute film has a projected budget of $22,000.
That may seem low for a fantasy. But Faust hopes to "use colors and light to bring out that fantastical look," she says. Though she's working with a visual-effects team, she adds, "we're trying to make as much of it as possible really exist." That means delving into the historical society's trove of "old machines and devices and cameras." Faust and her brother, a production designer, are repurposing the quaint-looking objects as props. For instance, she says, "something that looks like an old camera could be something you could use to monitor how much time you're wasting."
Like Neil Gaiman's Coraline, the film's young heroine feels her mom never has enough time for her, but when she tries to pilfer some from the Time Emporium, untoward consequences ensue. The lesson, says Faust: "You can't really control what someone else does with time."
Faust hasn't yet cast all the film's 12 roles and welcomes local actors and artists. Interested? Contact her via faust-films.com.
This Thursday, women across the U.S. will be breaking out the high heels and sipping Cosmos to celebrate the opening of Sex and the City 2. And one Vermont company is poised to ride the wave of "fabulousness," as Inlu.com cofounder Monica Ostby puts it.
Founded three years ago by "South Burlington moms" Ostby and Jamaica Jenkins, Inlu is an online event-planning tool "built for events with a gifting component," says Ostby. The service makes it simpler for users to pool their money for a gift or contribute to a charity.
About a month ago, "A user called up and said, 'I think I'm going to do a Sex and the City party for a cause,'" says Ostby. "We thought, Gee, that's fabulous."
Now the Inlu site prominently displays the film's sparkly logo and star Sarah Jessica Parker's image alongside an invitation to host a themed "cause collection party" and "see the premiere with your friends (wearing lipstick & heels, or not)." Ostby says clients from coast to coast are planning parties with Inlu's help, using the movie as an opportunity to raise money for organizations such as Dress for Success and the Chittenden Emergency Food Shelf.
How did Inlu get permission to use SJP's image? "I called her publicist repeatedly," says Ostby. Once she'd presented her case, "It's an easy conversation to have; it moved quickly." With Parker behind the idea, approval from Warner Brothers followed.
Ostby is no stranger to Hollywood: Her husband, Hawk Ostby, cowrote the screenplays for the first Iron Man and Children of Men. Like Parker, he's repped by powerful talent agency CAA — a fact Ostby mentioned to the latter's publicist. But she doubts that connection pulled much weight.
"She's given us a break and she didn't have to," says Ostby of the actress. "We're thrilled. We hope our marketing introduction of this is just in time." The company is still in beta mode, she notes: "We're bootstrapping." Which raises the question: Can you pull yourself up by your Manolos?
What's Hawk Ostby doing these days? Monica notes that he and out-of-state writing partner Mark Fergus completed an adaptation of the graphic-novel series Cowboys & Aliens for a film now going into production, directed by Iron Man's Jon Favreau and starring Daniel Craig. They've also turned in a draft of a script for Akira, an in-development live-action version of the classic Japanese manga.