courtesy of Ben DeFlorio
Brandon Levesque from Rutland High School at the Olympiad of Architectural History last March
It seems like everyone is pushing educational technology lately. All Vermont schools have Wi-Fi, students use iPads and Chromebooks, and entrepreneurs push for STEM initiatives and coding classes.
But not every kid wants to be an engineer or computer programmer. What if your child wants to learn more about local history? Become a better writer? Work for social change?
Well, it turns out technology can help with all of that, too.
We found five innovative programs that use tech tools as a catalyst for learning about other subjects. From re-creating historic buildings with 3D modeling software to making digital films about issues that matter to them, our kids have opportunities we never could have dreamed of when we were their age.
Some of these opportunities kids can access by themselves. Others require a motivated teacher or adult. Some involve competition, and all invite collaboration. We think these programs represent the kind of screen time that all parents can get behind.
Printing the Past
3D Vermont
In the annual 3D Vermont contest, teams of middle and high schoolers learn to use high-tech tools for an unusual purpose: to better understand the past.
The competition, launched during the 2014-15 school year by partners including the Vermont Agency of Education and the Division for Historic Preservation, invites students to research a historic building in their town and create a detailed scale model of it using a 3D printer and the modeling software SketchUp. The hands-on project gives kids "a new entry point in understanding their place," said history educator Sarah Rooker.
Rooker was one of two adults who worked with the Windsor team for the past two years in her former role as director of new initiatives at the American Precision Museum in Windsor; she's now the director of the Norwich Historical Society. The 2015-16 Windsor team, a group of six students in seventh through 10th grades, met after school once or twice a week for three months to research the building they chose: an old state prison, decommissioned in 1975, that's now an apartment building.
The kids reviewed historical documents and photos. They interviewed a former warden. They learned the story behind the structure. When it was time to create the model, they got to know the building itself. They toured the grounds and took measurements. "They actually went up in the attic and took photos out of the windows to make sure they had the proportions right," Rooker recalled. They even used historical drawings to model an original building that no longer exists.
The multiage group had to work together to confront technical challenges. Team captain Vincent Moeykens, now in his junior year at Windsor High School, said his group brainstormed creative solutions to problems like not being able to print its model on the school's 3D printer. "Even at the smallest scale, it still wouldn't fit in the printer that we had at the school," he said. "We decided that the best approach would be to create connectors and cut up the building and print each part separately."
All of their hard work paid off. The team brought its models, along with a multimedia presentation on their history, to the Olympiad of Architectural History held at Vermont Technical College in March, where it competed against 29 other teams. The Windsor kids won first place — for the second time — and took home 10 Chromebooks for their school.
And there were other rewards. "Without the 3D Vermont competition," said Vincent, "I wouldn't have as great an appreciation for the area I live in, and I wouldn't have many of the valuable 3D modeling and printing skills that now I have." He plans to enter 3D Vermont again this year and strongly recommends it to others.
The 2016-17 competition kicks off at the Vermont Tech Jam on Friday, October 21. Teams of two to 10 students can participate, with help from an adult adviser. "It was a very challenging project," cautioned Rooker, but she said she was impressed by its transformative power.
"They gained pride in their community," she said of the students. "They used to just walk by these buildings every day. Now they look at them as the wonders of technology that they really are."
—C.R.
Find more information, including contest rules, at 3dvermont.org.
A Digital Community
Young Writers Project
COURTESY OF YOUNG WRITERS PROJECT
Young Writers Projectparticipants at the organization's Celebration of Writing this year
Writing is a solitary activity, but writers often seek out other wordsmiths for feedback, encouragement and inspiration. In the pre-internet era, finding literary peers was a challenge for young scribes, especially in rural Vermont.
Today, they can turn to the Young Writers Project. This web-based initiative connects kids to mentors, publishing opportunities and each other.
YWP began in 2003 as a weekly newspaper feature in the Burlington Free Press. Its founder, former Free Press managing editor Geoffrey Gevalt, conceived it as a way to give middle and high schoolers an audience for their work and highlight the importance of writing. In 2006, YWP became an independent nonprofit with a grant from the Vermont Business Roundtable. It's been evolving ever since.
Initially, Gevalt created a website to accept submissions that were then published in local newspapers, with the option for users to post work online. Immediately, kids "took on a sense of ownership," said Gevalt in an interview at YWP's Burlington office. Submissions still appear in local newspapers — 22 of them — and on Vermont Public Radio's website, but "writing online and getting reaction is part of writing now," says Gevalt.
Gevalt calls the YWP website "a sanctuary" for its users. It gives them a forum outside of school where they can share movie reviews, story snippets and reflections on being the new kid at school. Kids must be 13 or older to create an account, and before posting anything they have to agree to the terms of service, instructing them to be respectful.
Other young writers offer constructive comments online. The site also provides writing prompts as inspiration for those who need help getting started. Gevalt said the organization receives around 12,000 submissions annually.
Seventeen-year-old Ava Kendrick of Waitsfield got involved in YWP in seventh grade. "The website has given me a place to be heard when I have been in the hardest places," said Ava. "I have been able to be more outspoken about being a queer person and my road to self-discovery. I have learned to take my writing skills into real life."
Two years ago, YWP began publishing the Voice, a digital magazine featuring the best work submitted to the site each month. Because it's online, it can incorporate elements like students' audio recordings and photography, giving kids multiple creative outlets.
YWP is piloting a new tech initiative this fall: a Digital Learning Center where kids can take online courses that will help them build skills in topics like poetry, storytelling and college-essay writing. Each course will have an instructor and college-age mentor to provide support.
Fourteen-year-old Essex High School freshman Elizabeth Martell, a frequent YWP contributor, worked with the organization this summer to film and edit a digital story that highlighted the spirit of innovation and entrepreneurship in Burlington — a project done in partnership with BTV Ignite, an alliance aimed at boosting Burlington's technology ecosystem. Elizabeth says the experience helped her gain proficiency with Adobe software. She's also learned to import pictures and audio files on the YWP website.
More than that, Elizabeth says, her participation in YWP has taught her "that writing can be more than just a hobby ... In a way, we're like a community. I feel like I can connect to all these other writers across the state, country and even world."
—A.N.
Find more info at youngwritersproject.org. The Young Writers Project will host a writing conference on Saturday, November 5, at the Vermont College of Fine Arts in Montpelier.
Skill-Building Blocks
First Lego League
courtesy of MARK COLLIER
Members of the Green Mountain Gears watching as the irrobot navigates the gameboard at the FIRST LEGO League State Championships last November
From chunky, colorful Duplos to elaborate kits with thousands of pieces, Legos just draw kids in.
It's no wonder, then, that FIRST LEGO League, a program for third through eighth graders that combines teamwork, problem-solving and programmable LEGO Mindstorms robots, has amassed 255,000 participants in 88 countries since it began in 1998. In Vermont, participation has been growing steadily. In February, Doug Webster of the Vermont Agency of Education said, "We would like every Vermont child to have access to FIRST LEGO League by 2017."
Thirty teams competed at the FIRST Lego League Vermont State Championship at Norwich University in November 2015. The Champion's Award went to the Green Mountain Gears, a group of six middle-school boys from South Burlington. They've been competing at tournaments out of state since 2012. Their coach, Paul Fitzgerald — a former teacher and dad to team member Luke — describes the annual competitions as "big geeky parties with costumes and loud music."
In FLL competitions, teams must design and program an original robot to complete up to 10 challenges on a game board in two and a half minutes. Then they must explain to a panel of judges all the engineering that went into designing their robot. Participants also have to complete a project in which they research a real-world problem and design a solution. Finally, there's a spontaneous task — for example, teams might be given materials and asked to build something. They're evaluated on how well they interact rather than on the final product.
For last year's project, the Green Mountain Gears designed an app called Sorta Scrappy — it uses a game to teach kids how to sort trash. Their project was one of 20 from around the world chosen by FIRST LEGO League as a Global Innovation Award semifinalist. In June, they traveled to Alexandria, Va., where they presented their project to judges and teams from places like Nova Scotia and Spain.
One Saturday last month, the team gathered in Fitzgerald's compact condo to prepare a presentation for the Champlain Mini Maker Faire. This year's FLL theme is Animal Allies. For their projects, teams must design a solution for a problem that arises when people and animals interact.
The South Burlington boys were working on different prototypes for a device used to catch and observe bees called a bee box; they reasoned that using one would make people less fearful of the insects. They displayed the prototypes they had already built using materials from the hardware store and explained that they were hoping to 3D print a bee box, too, since teams earn project points for innovation. This year, their team is mentoring a new FLL team that Fitzgerald is coaching, made up, in part, of several of the Green Mountain Gears' younger sisters.
In October, the Gears will switch gears and focus on designing and programming their robot for the state championship in December. And though the competition is exciting, Fitzgerald says FLL is about much more than just that. The program has "created a culture that celebrates solving problems," he says, and it "promotes a sense that kids are all in this together, and it is not a zero-sum game."
—A.N.
Find general info at firstlegoleague.org and visit the Green Mountain Gears website at greenmountaingears.org. Attend the FIRST LEGO League state competition on Sunday, December 11, at Norwich University.Rising to the Challenge
Rising to the Challenge
Destination Imagination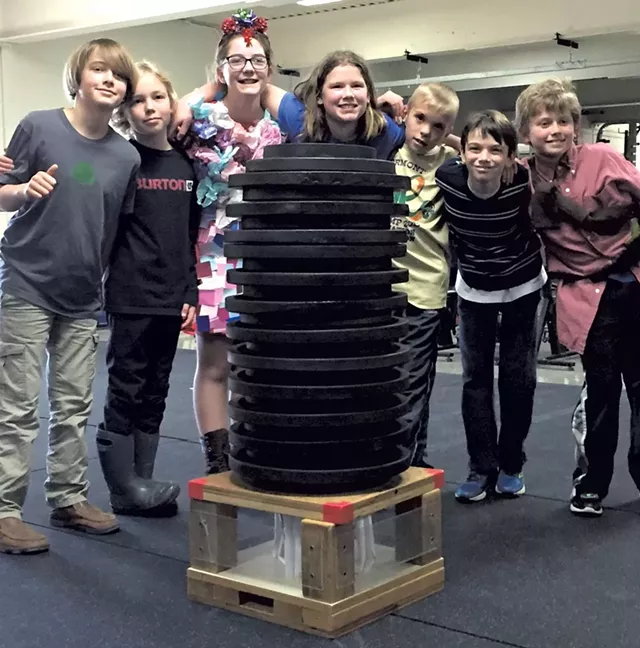 Courtesy of Carolyn Siccama
Fifth-gradeDestinationImaginationteammembersfromShelburnedisplayingtheirweight-bearingstructure
Some kids kick around balls after school. Others are busy kicking around ideas, preparing to compete in an academic Olympics called Destination Imagination.
This worldwide program aims to teach kids the creative process and give them skills to succeed in an ever-changing world. DI stages levels of competition that culminate in Global Finals, an international tournament each May that includes more than 8,000 kids from some 15 countries. DI likes to call it "the world's largest celebration of creativity."
This year, participants are writing shows to present on hand-built stages. They're imagining a world without color, engineering structures to bear as much weight as possible, and concocting stories about secret missions complete with gadgets and secret codes.
"I'm obsessed with this program," said Carolyn Siccama, a Shelburne mom who's in her third year as a DI team comanager and whose daughter is participating on a different team for the third time.
Destination Imagination is entirely kid-focused, Siccama said. Students — in preschool through college — form seven-member teams. Each team selects one of seven challenges: technical, scientific, engineering, fine arts, improvisational, service learning or early learning (a noncompetitive category for kids in preschool through second grade). Those who compete sign a "declaration of independence" verifying that students have done all of the work. "Every backdrop, every costume, every item ... they've done without anybody's help," Siccama said. "It's very empowering."
Each team is also assessed on how well it solves an instant challenge. "You have tin foil and a spoon and a straw, and you need to build a bridge in five minutes — something like that," Siccama said.
For the last two years, her team has won its age division at the state tournament to qualify for Global Finals. Last year, her kids had to build a weight-bearing structure that weighed less than 175 grams and could work like a musical instrument, then incorporate it into a story. "Can I just brag?" Siccama asked. "Their structure was made out of paper tubes. It weighed 151 grams and ... it held 650 pounds before it crushed." When the kids blew through the perforated straw they had attached, it sounded like an oboe.
A spin-off of Odyssey of the Mind, DI was created after a 1999 legal settlement split Odyssey into two separate organizations. A disagreement over whether OM should be run by a for-profit or nonprofit group led to the rift. OM, the for-profit company, is still going strong. In Vermont, between 28 and 35 schools and organizations field between 60 and 65 OM teams each year. The nonprofit DI counts about 50 Vermont schools and organizations among its participants, and about 40 teams compete.
Shelburne Community School fourth grader Zoe Richardson is hooked on DI. She has signed on for a second year. "I learned how to solve problems quickly and to see things in different ways," she said, "to think of things creatively."
—M.A.L.
Digital Documentation
What's the Story? The Vermont Young People Social Action Team
What's the Story? participant Catriona Cribb with mentor Nate Archambault in 2015
One of the state's most innovative courses has about 25 students and meets just nine times during the school year. What's the Story? The Vermont Young People Social Action Team puts state-of-the-art recording equipment into the hands of Vermont kids, grades seven through 12. Then it sends them out into the world to research the issues they care about, with the hope that their work will lead to social change.
In teams of three or four, they blog, Skype, conduct interviews, then tell their stories via films, websites, songs, photos and other media. The course, sponsored by Middlebury College, is in its third year. It's free for participants.
"I would recommend it to any student," said Ella Nagy-Benson, a junior at Middlebury Union High School, who participated last year and returned as a student mentor. "I think it's a great course. And you get to meet kids from all over the state, which is a plus."
She collaborated on a project with Jacob Parker, then a junior at Champlain Valley Union High School, and Alexa Widschwenter, then a senior at Harwood Union High School. "Our aim was to inspire administrators in public schools to become more focused on the individual learner," she said. They built a website, made a film and wrote to every Vermont public high school principal. They cited WTS as an example of what student-centered learning can look like.
The program, which was developed by Vermont teachers with master's degrees from Middlebury's Bread Loaf School of English, awards students school credit in social studies or English. Lead instructor Tim O'Leary, who also serves as the district technology innovation specialist for Addison Central Supervisory Union, calls it student-driven but proficiency-based. "I've seen just so many instances of independent study where it's like a Wild West of, Go do what you want and come back and tell me about it, and we'll kind of give you credit for it," he said.
WTS, in contrast, sets learning benchmarks and provides a network of teachers — mostly Bread Loaf students or alums — to support kids. Face-to-face meetings teach kids how to use computer programs, video cameras and microphones; how to use video editing tools; and how to develop stories, do research and conduct interviews. The kids also contribute to discussions online.
Already the program has been replicated at a high school in Louisville, Ky., and elements of it are in use at the Lyman C. Hunt Middle School in Burlington, O'Leary said.
Last year's WTS teams researched foster care, Vermont's emergency dispatch cuts, the feasibility of energy efficiency, and gender identity and expression.
The WTS film "Breaking Binary" has been shown in classrooms from Alaska to Vermont, O'Leary said. The team that created it aimed to cultivate awareness around gender identity and expression to make safer, more inclusive schools. Their film won the Vermont Folklife Center Ethnographic Film Award from Freedom & Unity TV, and all three students — Becca Cottrell and Eva Rocheleau from Champlain Valley Union High School, and Fiona Nelson, a homeschooler from South Burlington — are back at WTS this year to continue to help teachers and administrators understand the difficulties that a gender binary system — the practice of classifying people as strictly male or strictly female — can cause.
The 2016-17 WTS teams met for the first time in September. Kids can start applying for the 2017-18 program in February.
—M.A.L.