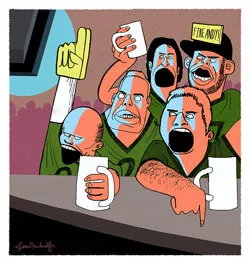 I am a die-hard New England Patriots fan. I have been since January 26, 1986, when my father, then a minister at a tiny church in Downeast Maine, concluded his sermon on Super Bowl Sunday with this holy benediction: "Go, Pats." Amen.
The Patriots would go on to lose in gruesome fashion that day to Mike Ditka's 1985 Chicago Bears. But I was hooked. I became a member of a very particular subset of Americans: the Football Fan. From September through December — and, God willing, into January — watching the Pats play on Sunday became nonnegotiable. I once told an employer I couldn't work on Sundays for "religious reasons." Not because I went to church (sorry, Dad!), but because I religiously watched my beloved Patriots (thanks, Dad!).
As a lifelong New Englander, I take for granted that I will always be able to tune in to Patriots games. I don't need to make special plans to be at a bar or buy an expensive satellite-cable package or illegally stream games to follow my team. I just turn on the TV.
But what if I were a fan of some other team whose games are rarely televised locally? Say, the San Francisco 49ers or the Denver Broncos or, God forbid, the Cleveland Browns?
If I were a Philadelphia Eagles fan, I would go to Finnigan's Pub. Because, every Sunday — and the occasional Thursday, Saturday or Monday night — during football season, the College Street haunt transforms into Philly north, an unlikely slice of Brotherly Love in the Queen City. It is ground zero, as I found out recently, for Iggles fanatics in Burlington.
It is an unseasonably mild Sunday in early November. Along the Church Street Marketplace, people are basking in a warm afternoon sun that likely won't return for several months. But just around the corner on College Street, Finnigan's — ever dark and pleasantly dank — is crammed with Eagles fans clad in green-and-white jerseys and hats, ignoring the bright light leaking in through the front windows.
The scene isn't unusual for a Sunday at this bar, but still, it's a special day for local Eagles fans. First, because the divisional showdown with the rival Dallas Cowboys could be a turning point in what has been, to this point, a disastrous Eagles season. Second, it is the annual Eagles Tailgate Party. Chips, dip, cheese, dip, crackers and still more dip dominate the pool table in the back of the bar. Outside the back door, burgers and dogs cook on a smoking grill. In the adjacent alleyway, fans play cornhole in increasingly competitive fashion.
Inside and out, Finnigan's mirrors the pregame scene played out in the parking lots of NFL stadiums around the country every Sunday.
The bar's numerous flat-screen TVs reveal that the third quarter has just begun in most of the day's one o'clock games. The Eagles and Cowboys are slated for a 4 p.m. start, so many in the Finnigan's crowd mill about, their eyes on various games or checking their fantasy-football scores on smartphones. On one screen, other Eagles rivals, the New York Giants, are throwing up all over themselves against the lowly Cincinnati Bengals — a development that delights the Eagles contingent, who gleefully mock Giants quarterback Eli Manning. After an ugly Manning interception, one fan starts a sarcastic slow-clap from the back of the room. I smile, wondering where the hell that Eli Manning was in the Super Bowl last February against the Pats.
Decked out in an oversize Eagles jersey and shorts, Joe Manley — I know, right? — stands by the bar, chatting with Finnigan's owner Terry Suskin, a Giants fan. Suskin is clearly chagrined by his team's performance, but takes the Eagles fans' gentle ribbing in stride.
"Terry, I'm surprised you let these guys hang out here," I say, nodding toward Manley.
"Oh, they're not so bad," Suskin says. "At least they're not Redskins fans."
That line elicits a smile from Manley. Even Eagles and Giants fans can find common ground when it comes to hating the Washington Redskins.
Manley, a Philly-area transplant, organized the tailgate party. A professor of video-game design at Champlain College, he's been watching Eagles games at Finnigan's since 1999. It's not unusual for local bars to have loose fan affiliations. Ruben James on Main Street is known as home to a modest — and, generally, sad — group of Buffalo Bills fans. Manley says that when he first started showing up more than a decade ago, Finnigan's was populated by Pittsburgh Steelers fans. So how did it become the Eagles bar?
The fans organized.
Manley says a small but dedicated crew of displaced Eagles fans began showing up for games every week and soon outnumbered their Steelers counterparts. Over time, they got to know each other and exchanged email addresses to discuss the team. As the virtual list expanded from 30 to more than 100 people, the crowd at Finnigan's swelled.
"We get people who have been told by bartenders at other bars that this is the Eagles bar," Manley explains. "A lot of them keep coming back."
The tailgate party, now in its fifth year, is the culmination of that social network. For important games — and especially when the Eagles aren't on broadcast television — Manley says more than 50 Eagles fans will descend on the bar. Even for lesser games, some 30 regulars show up. Manley, to his wife's "mild displeasure," almost never misses a game.
"It's really only about 16 days a year," he says. "That's not a huge commitment."
On this day, he's brought his two young sons along, both clad in Eagles gear. He greets another semiregular, local author and attorney Tom Simon.
"No kids today, Tom?" he says.
"No, the wife took them hiking," Simon responds, nodding to the brilliant sunshine just beyond the bar's façade.
"That's practically un-American," jokes Manley, grimacing.
When the game starts, the entire Eagles contingent huddles around a single TV at the front of the room — a tradition dating back years, according to Manley.
Philly gets off to a good start as beleaguered QB Michael Vick leads the team to a score on the opening drive. But, as has been the case most of the year, things turn sour quickly.
Vick, a lightning rod for criticism — these days more for his poor play than his dog-fighting ring — is knocked out of the game, literally. He's sidelined by a concussion, forcing the team to turn to untested rookie Nick Foles.
"Hey, maybe this will be our Mo Lewis moment," offers one optimistic fan to the suddenly quiet bar. He's referring to the New York Jets linebacker who knocked the Patriots' starting QB, Drew Bledsoe, out of a game in 2001. Bledsoe's backup was an unknown sixth-round draft pick named Tom Brady. If Lewis hadn't nearly killed Bledsoe on that play, Brady, now in the midst of a Hall of Fame career that includes three Super Bowl wins, would likely never have played.
The Mo Lewis moment never comes. Foles plays poorly, surrendering a late interception and losing a fumble, both returned for touchdowns by the Cowboys. The Eagles lose, effectively ending any hope of salvaging their season.
As fans file out of the bar, the mood is somber, though not without a few light moments that any downtrodden sports fan can understand.
"Ah, fucking Eagles," says one fan to another, placing a hand on his friend's shoulder.
"Yeah," the friend replies, shaking his head. Then he looks up, smiling. "See you next week?"
"Well, of course."