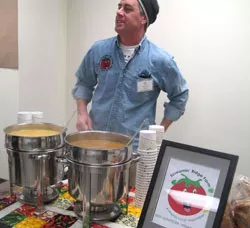 Joe Buley's soups have won him many devotees at the Capital City Farmers Market in Montpelier. The owner of East Montpelier's Screamin' Ridge Farm has culinary chops — he's a Parisian-trained former chef-instructor at the New England Culinary Institute, which he left three years ago to tend his expanding farm business.
Starting this week, soup fans won't have to wait until Saturday to fill up. On Tuesday, Buley headed to the Mad River Food Hub in Waitsfield to package his first batches of pork-and-beef-black-bean chili and chicken noodle soup.
Along with Buley's marinara sauce, pesto and salsa, that soup will be sold in freezable packages at the farmers market and through the Central Vermont Food Hub, a CSA specializing in Washington County products that Buley runs with Dog River Farm. Another destination is Hunger Mountain Co-op, where Buley started selling some of his soups last year before pulling the line to retool. Now he'll have better packaging and locally farmed meat. Thanks to the Food Hub kitchen's license from the Vermont Agency of Agriculture, Food & Markets, Buley's chicken soup is now "legal."
The next step? Buley says he plans to sell to City Market, Healthy Living Market and other Vermont specialty markets. In the next few months, after the Food Hub gets FDA licensing, the former restaurateur hopes to take his soup business national. Watch out, Mr. Campbell.