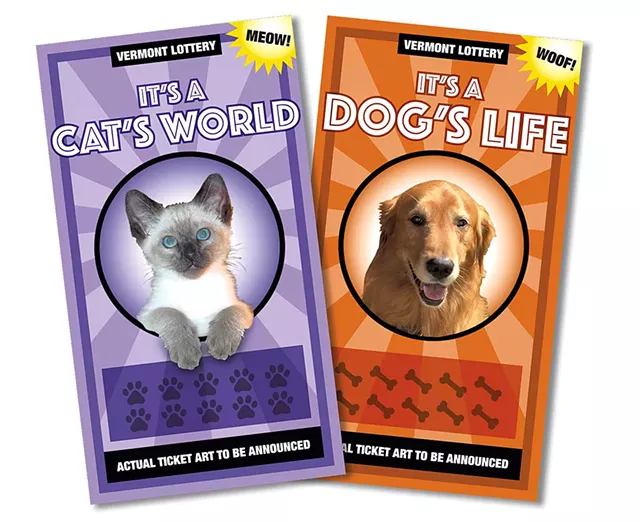 photos courtesy of Karen Pike/vt Lottery Commission
Amelia
Would you be more likely to buy a lottery ticket if it bore the picture of your pet or the pet of someone you knew? Now under way, Vermont Lottery's "It's a Dog's Life and It's a Cat's World" photo contest seeks to designate local cover cats and cover dogs for a promotional run of scratchers. Whatever your opinions on gambling, it's hard to argue that furry friends aren't a heck of a lot cuter than the generic flashy gemstones, suits and stacks of cash that usually appear emblazoned on game cards.
On April 18, two cats and two dogs will be officially crowned in Scratcher Court. The lucky critters will show up on a limited run of 500,000 tickets, priced at $2 apiece and available beginning August 4. That's just in time for the dog days of summer, noted lottery representative Kelsey Hall. The ticket jackpots are still being decided on, she said.
In late February, the state-run lottery, which benefits Vermont's Education Fund, put out a call on social media for pet photos — and received 273 entries. Members of the public voted on their favorites using Facebook likes. Twenty semifinalists were selected. (Disclosure: They include Seven Days production manager John James' white-haired terrier, Rufus.)
17 slides
The honored beasts posed for a professional shoot with Burlington photographer
Karen Pike
prior to a second round of voting, which will begin on Monday, April 10. Though not all of the pets will achieve lottery fame and glory, their humans will receive a framed portrait of their canine or feline competitor.
This isn't the first time Vermont Lottery has crowdsourced content. Hall offered the "Ravager Hunt (Zombie Patrol)" and an ugly holiday sweater contest as previous examples. Both contests required users to submit photos and vote on Facebook.
If YouTube videos and LOLcat memes are any indication, a cute pet may be the secret to engaging folks on the internet, as well as IRL. Indeed, Hall wrote in an email, the lottery team "thought [the contest] would be a great way to involve players and non-players alike."
Because who can resist our cuddly counterparts — or, for that matter, a game of chance? Just remember, as Vermont Lottery always cautions, "Please play responsibly."
Correction, April 7, 2017: An earlier version of this story referred to a "dog days of summer" event, rather than in the term's more general sense.