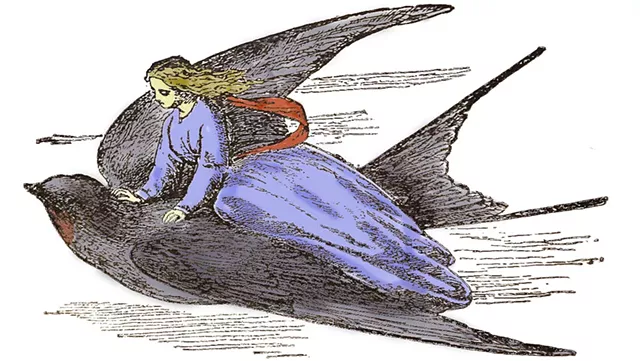 Courtesy Of Scrag Mountain Music
Thumbelina illustration from Hans Christian Andersen fairy tale book, 1884
Scrag Mountain Music founders Evan Premo, a composer and double bassist, and Mary Bonhag, a soprano, are offering 35 minutes of pure escape on their website. Technically, the free recording they've posted there is meant for children's ears: It's Thumbelina, the Hans Christian Andersen fairy tale set to music by Premo.
But, really, who couldn't use a dose of fantasy these days, as the real-world effects of the coronavirus extend into the bleary future? For adults and children alike, Premo's musical storytelling vividly conjures the inch-high girl and her series of adventures in giant-scale nature before becoming queen of the fairies. It's a temporary entrée into another world (virus-free!) created entirely in sound.
Bonhag narrates the story in a speaking voice and breaks into song for each character's speech. She uses a different singing voice for each, from the vibrato-free Thumbelina to the nasally mother toad who abducts her.
Wind instruments conjure the essence of each creature the miniature girl encounters — clarinet for the white butterfly, alto flute for the june bug, bass clarinet for the mole and so on. Though flutes typically represent birds, a low-toned bassoon plays the swallow to convey how large it is from Thumbelina's perspective. Premo's double bass playing underlies and unites the story.
Premo composed the piece in the fall of 2019 with help from a Vermont Arts Council Creation Grant.
"It's the first piece I've composed in this style, using the model of Prokofiev's Peter and the Wolf," he says during a phone call from the couple's Marshfield home.
"The composition process was fun," Premo recalls. "I was taking inspiration from actual nature sounds but also getting more metaphorical and creating sounds about the character of the animal. It was fun to go back and forth between those."
To evoke the toad mom and her son, for instance, Premo had the bassoon play croaky-sounding multiphonics — a technique that imitates a chord. He also used piccolo tremolos to directly imitate toad calls during breeding season. "I listened to different recordings [of breeding calls] so I could find the actual pitch," he says.
Bonhag participated in the composition process, too. "The character voices are one of the last things we did," Premo explains. "Mary had great ideas, and she really brought them to life. She's just an amazing storyteller. When she's reading to the kids, I love listening."
During composition, Premo would play computer renderings of each character's music for the couple's boys, who are 5 and 7, to get their input. "Glenn [7] really liked the toad music — it's low-pitched, floppy music," he recalls.
Thumbelina was a central part of Scrag's planned program for its Musical Storytelling for All Ages concerts in February, along with The Three Billy Goats Gruff by James Scott Balentine, The Ugly Duckling by Jon Deak, and other works in the genre. The couple and their visiting musician friends from New York City planned on performing the program in several towns and for some 2,000 schoolchildren — until a large snowstorm forced cancellation of most of the concerts.
"All the New York City musicians were already here," Premo says, referring to Catherine Gregory, who plays two flutes and the piccolo on the Thumbelina recording; Paul Wonjin Cho, who plays two clarinets; and bassoonist Brad Balliett. So the group filled the time by making a professional recording at singer-songwriter and audio engineer Colin McCaffrey's nearby home studio, the Greenroom.
The recording is bookended with Premo's spoken introduction — modeled on Leonard Bernstein's introduction to Peter and the Wolf, minus the condescending quiz format — and a "challenge" in which Premo asks young listeners to think of their favorite character from another story and which instrument might best represent it.
"We're hoping by the end of the summer to get a bunch of submissions, choose three and pair up those ideas with some of our musician friends around the country," Premo says. These kid-inspired characters in music will then be posted on the website.
While the Thumbelina recording has lived on Scrag's website for a while, Premo and Bonhag have waited until Wednesday, June 17, to announce its release on social media in order to "honor the Black Lives Matter movement," says Premo. Now the piece is there for the taking — just as Scrag's concerts follow a "pay as you can" model.
"We're basically giving this away, at least for the time being," says the composer. "We wanted it to be a free gift offering, especially for this time, so parents can play it for their kids. We wanted to come at this from a place of generosity."