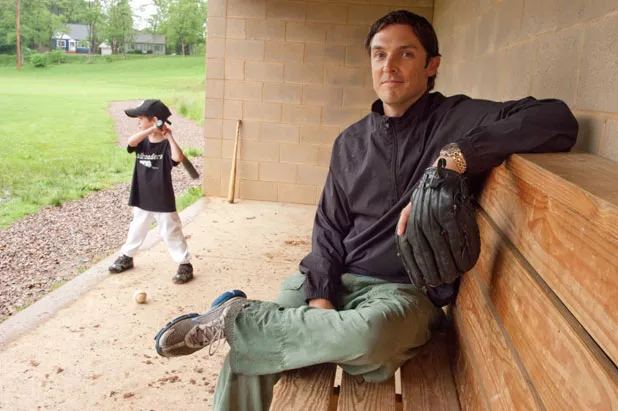 Matthew Thorsen
Galen Carr
Boston Red Sox fans have had it pretty good in recent years. Their beloved, once woebegone franchise ended an 86-year championship drought — some called it a curse — by winning a World Series in 2004. The team followed that up with another ring in 2007, becoming the first — and so far only — Major League Baseball team to win multiple titles in the 21st century. The Sox have made the playoffs six times since 2003 and generally have been among the most successful teams in professional sports. Indeed, it has been a prosperous time in Red Sox Nation.
Credit for the club's transformation from snake-bitten also-ran to perennial powerhouse rests in any number of hands. Some fans will tell you it was a new ownership group led by billionaire John Henry that changed the organization's culture when it purchased the club in 2002. Others may point to wunderkind general manager Theo Epstein, widely credited as the architect of that 2004 club — though his predecessor, Dan Duquette, put many of the major pieces in place in previous years. Still others will simply point to the players themselves.
Yet none of what the Red Sox have accomplished would have been possible without the contributions of a largely unseen but key part of the organization: scouts. As former MLB scouting bureau director Don Pries was quoted saying in a 2001 column for BaseballAmerica.com, "Scouting is the most important part of baseball. We decide who can play and who can't."
Galen Carr, 35, is a major-league scout for the Boston Red Sox who lives in Burlington, Vt., with his wife and 5-year-old son — at least when he's not at a baseball game, which he usually is. During the season, Carr spends upward of 25 days per month on the road, attending games and scouting players on every team in the National League East, as well as three NL Central clubs: the Chicago Cubs, St. Louis Cardinals and Pittsburgh Pirates. For most fans, the national pastime is just that: a pastime. For Carr, baseball is, quite literally, his life.
Carr grew up a Sox fan in Walpole, N.H. — or, as it's known in the Nation, "Carlton Fisk country." He started playing ball at an early age and continued through college. Indeed, he still maintains a ballplayer's athletic physique. Carr went to Northfield Mount Hermon in Massachusetts, the same boarding school that Buster Olney, now a senior baseball writer for ESPN The Magazine, had attended several years earlier. Olney and Carr now cohost an annual baseball discussion at the school each January.
Before his senior year at Colby College in Maine, Carr was looking into spending the summer in Burlington with his mother and stepfather when he discovered the city had a minor-league baseball team, the Vermont Expos.
"I thought, How sweet would it be to try and get an internship?" he recalls.
When he got into town, Carr walked to the Expos offices at the Champlain Mill in Winooski.
"I was kind of nervous," he says. He needn't have been. Carr introduced himself to the team's general manager, Kyle Bostwick. Bostwick's reply: "Cool. When can you start?"
Carr spent that summer immersing himself in as many aspects of the team as he could, from on-field promotions to running the ticket window. He also took the opportunity to introduce himself to the team's baseball operations staff.
"The first person I met was the assistant farm director at the time, Neal Huntington," says Carr. Huntington is now the general manager of the Pittsburgh Pirates — just one of several connections Carr made while interning with the Expos.
"It became clear right away that Galen was most interested in what was happening on the field, as opposed to the business end of things," says Bostwick, who now works with the Vermont Lake Monsters as the director of "boats, beer and baseball," as he puts it. Carr "was looking at things differently, asking different questions and seeking different information than a typical fan would," Bostwick recalls, and adds that it was obvious Carr's path lay in player development. "And I like to think it started, accidentally, here in Burlington," he says.
After college, Carr spent a year teaching humanities and coaching baseball at Northfield Mount Hermon. In 1999, he moved to Boston and worked for Smith Barney for a year. Around the same time, the Red Sox hired Ben Cherington, a mutual acquaintance through Huntington. Carr recalls meeting Cherington, now the vice president of player personnel, for lunch.
"Unbeknownst to me, it turned into an interview," says Carr. Six months later he was hired as an intern.
Carr is somewhat unusual in scouting circles in that he was hired with no previous professional baseball experience. At least historically, scouts have tended to be former players or coaches — "baseball guys."
But Carr embodies a philosophical shift within front offices and baseball-operations departments around the league that places a premium on intellectual ability to process the game, as opposed to the ingrained baseball DNA that comes from playing professionally. It's akin to Oakland A's general manager Billy Beane's game-changing approach to team building, often called "Moneyball." That theory of player development values newer, alternative statistics, such as on-base and slugging percentages, over more traditional performance measures, such as runs batted in or batting averages. Carr's bosses could be the poster boys for this movement. Sox GM Theo Epstein never played pro ball, nor did Ben Cherington.
"Instead of looking for a guy with baseball experience, they're looking for guys with a passion for the game," explains Carr.
Carr spent his first six years with the Red Sox breaking down game tape and managing the team's advance scouting department. He was charged with composing reports on every player on the entire 25-man roster for every upcoming Red Sox opponent to identify each team's potential weaknesses.
"It was a serious grind," Carr says. "But it definitely helped me become comfortable breaking down and evaluating players."
As a major-league scout, his job is to evaluate talent on other ball clubs, with an eye toward identifying players the Red Sox might want to acquire. That can happen via trade; through the waiver wire (players who have been waived by their previous clubs while under contract can be claimed by teams willing to absorb the existing contract); or in free agency (players whose contracts have expired can be signed by any team). It is an essential part of building a championship-caliber team.
In addition to a strong minor-league system and deep pockets, the Red Sox's success depends on a knack for unearthing players who can fill needs at relatively low cost and complement the team's wealth of higher-priced talent. Any armchair GM could tell you superstars such as Josh Beckett or Adrian Gonzalez would probably look good in a Sox uniform. But who knew that David Ortiz, a bench player for the Minnesota Twins before he joined the Red Sox in 2003, would develop into one of the game's most feared sluggers?
Who knew that third baseman Bill Mueller, an unspectacular player with a modest .290 career average, could win a batting title and be a key piece of a championship club? Or that the trio of relative unknowns who came over when the team traded franchise icon Nomar Garciaparra — Orlando Cabrera, Dave Roberts and Doug Mientkiewicz — would each play a vital role for that 2004 team? Credit Epstein for making each of those moves, and dozens since. But he did so based on information provided by the team's scouts.
"You're trying to figure out how these guys might fit in on our 25-man roster," says Carr. "Maybe this guy is a platoon outfielder for Philadelphia. If we were to take a shot on him, how does he fit into our lineup? Will he hit more with better protection in our lineup, or will he struggle because of better pitching in our division?
"Vice versa, if it's a pitcher in the NL East coming to the [American League] East, how is he going to adjust to stronger lineups?" Carr continues.
A scout must weigh an array of other factors. Will a hot player sustain his performance? Could he decline? What is his injury history? Could a slumping player benefit from a change of scenery, or are his struggles more deeply rooted? And, most importantly, does the potential benefit of acquiring a player outweigh the potential risk? In other words, it comes down to a cost-benefit analysis.
Carr would be the first to tell you that scouting is an inexact science. For as many home runs as the Sox have hit in adding new players, they've had their share of swings and misses, including pitchers such as Joel Pinero, Ramiro Mendoza and John Smoltz. Then there is the revolving door at shortstop, through which players such as Edgar Renteria and Julio Lugo have passed with underwhelming results.
Carr recalls scouting reliever Eric Gagne in 2007. The former Cy Young Award winner was working his way back from injury as a closer for the Texas Rangers. As the trading deadline neared, Carr was pulled off his usual beat to aid the team's AL West scout, who had watched Gagne all season.
"I liked what I saw. I saw him pitch both ends of a doubleheader; his fastball was 94, 95 [mph]. His change-up was still there," Carr says. "Everything you wanted to see was there."
The Red Sox acquired Gagne in a trade that season, sending a trio of prospects to the Rangers. But the pitcher's stay in Boston was a disaster. As a setup man, he finished the season with a gaudy 6.75 ERA in 20 appearances. He was not re-signed after the season.
"The funny thing is that, if I went in again and saw exactly what I saw [from Gagne], I would still support the decision," Carr says. He stresses that acquisitions, good or bad, are never based solely on the recommendation of a single scout.
"From top to bottom, it is a team effort," he says.
During the season, Carr's role on the team is to spend as much time on the road as he can, scouting players and reporting back to Cherington. Over the course of an entire year, he estimates he sees around 170 games, including spring training and winter league.
"It's pretty intense," he says, adding that it is difficult for him to be away from his family, sometimes for weeks at a time. "It doesn't detract from the enjoyment of the job. But it's the one major downside. It's hard."
Such is the life of a major-league scout. Carr describes his scouting colleagues around the league almost as a fraternity. He says that camaraderie makes it easier to be on the road.
"Everyone is very sensitive to the fact that we're all away from our families," he says. "But we all take solace in the fact that we can see someone familiar at the ballpark. And guys who have been in the game a long time, that's a really big part of their lives."
You might think that, between the grind of the road and eating, sleeping and breathing baseball — he watches more than 1500 innings per year live, and countless more on tape — Carr would tire of the game. You'd be wrong.
"Honestly, I don't," Carr says. "Sure, when it's 100 degrees out and neither pitcher can throw strikes and the game lasts four and a half hours, I'd rather be somewhere cool and comfortable," he continues. "But you're still watching baseball. Every game is so different; there is a different narrative every day, and you're almost guaranteed to see something you've never seen before. How can that get boring?"