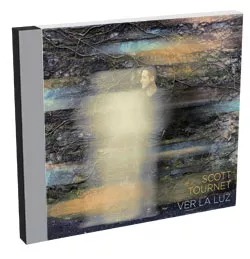 (Self-released, CD, digital download)
Being an active member of the Nocturnals — as in Grace Potter & the Nocturnals — has got to be a principally demanding and time-consuming gig. Burlington sometimes seems to have a hard time comprehending the level of recognition that this band has achieved. Releasing a record just about every other year and touring relentlessly could easily come between a Nocturnal and his solo endeavors. However, this does not seem to be the case. See Benny Yurco's beautifully crafted solo debut, This is a Future, from last year. See Scott Tournet's second and most recent solo outing, Ver La Luz — now.
"Lights Go Down," the theme-establishing jump-off point for Ver La Luz, opens with a from-the-depths brand of reverbed drums, bass, acoustic guitar and keyboard that suggests a more organic take on the Flaming Lips' monumental Yoshimi Battles the Pink Robots. The key difference between the two is that Tournet is writing, singing and performing as an unabashed human being — i.e., with feeling — about human being things — i.e., feelings.
"Treasure," a 1980s-vibed jam co-written by Grace Potter, delves even further into Tournet's seemingly compulsive search for meaning in shades of emotion — ver la luz means "see the light" in Spanish — and does so with great pop competency. Vocal harmonies spring up and the lyrics tell it like it is without telling exactly how it is: "When you're gone the sun is always going down / I can only feel the light when you're around."
Back-to-back stripped-down folk ballads "Ex Lover" and "The Longing" provide a little respite from Tournet's bouncier inclinations — and they're both heartbreakers. "Ex Lover" is perhaps the sweetest breakup song you could imagine ("Ex lover, I've found somebody new / Ex lover, heard you found somebody too … If you keep me in your heart, I'll keep you in mine"). "The Longing" is a weary, melancholy duet with … yup, Grace Potter.
For an album recorded partially in hotel rooms (shocker), Ver La Luz is surprisingly cohesive. There is an essence running through these songs — perhaps it's the road — which embodies the varying emotional shades of life. It's a helluva record.
Scott Tournet plays an album-release party at the Higher Ground Showcase Lounge this Thursday, May 16. Ver La Luz is available at scotttournetmusic.com.