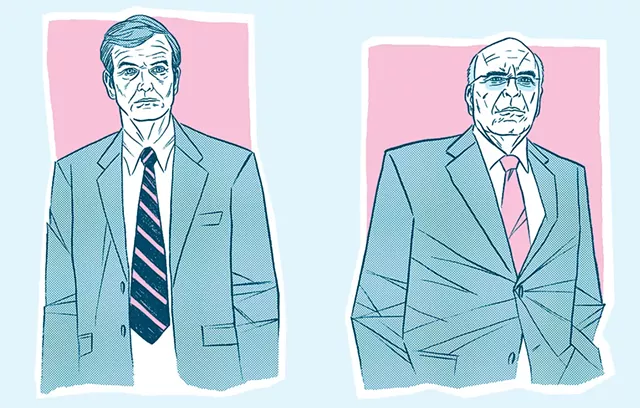 Aaron Shrewsbury
Scott Milne and Sen. Patrick Leahy (D-Vt.)
Scott Milne was on the stage behind John Kasich when the Republican presidential candidate stumped in Vermont last month. After the speech, as Milne mingled with the crowd in the lobby at Colchester High School, a woman recognized the tall, casually dressed man as the Republican candidate who nearly defeated incumbent Democrat Peter Shumlin in the 2014 governor's race.
"What do you think of Patrick Leahy?" Milne asked the woman, switching the subject to the Democratic U.S. senator who Vermont voters have sent to Washington for 42 years.
Leahy's been pretty good for Vermont, she replied. When a reporter asked whether Milne should challenge Leahy in the 2016 election, the woman shrugged.
Milne didn't question her reaction, nor did he seem surprised or disappointed by it. Weeks later, over lunch at a Hartford diner, he confirmed that he's still considering a run. "I am very seriously taking a look at it," Milne said.
While he said he won't make an announcement until May, all indications are that Milne is running. Last week, he sold a majority interest in the company his parents founded, Milne Travel — a move he said will "coincidentally" give him more time to focus on a campaign. A week earlier, he posted a Facebook message noting that he was leaning toward a Senate run and seeking invitations to speak at community events.
Challenging an entrenched incumbent almost worked once for the 57-year-old travel agent who has never held public office. But why would Milne stretch his luck? Leahy is, after all, the Senate's longest-tenured member and enjoys 65 percent favorability among Vermont voters, according to a Castleton Polling Institute survey conducted last month.
"I disagree with 65 percent of Vermonters. I think it's time for a change," Milne said. "He's stood idly by while Washington's become a partisan gridlock. I would argue he gets more credit for that than anybody."
Milne doesn't disagree with Leahy's embrace of Merrick Garland as President Barack Obama's Supreme Court nominee, his decision to visit Cuba this week with Obama or his vote last week to defend Vermont's genetically modified food labeling law. Milne's beef with Leahy is broader. He is poised to argue that the mild-mannered man who speaks so fondly of his farm in Middlesex is actually among the most partisan players in Washington.
"I'll be better for America than him," Milne said.
The Pomfret businessman decided against running again for governor in deference to Lt. Gov. Phil Scott, a fellow moderate Republican who is in the race for the open seat.
Lieutenant governor? Milne said he opted against a bid for the No. 2 job because "I can make a bigger impact on changing things in the U.S. Senate."
In Leahy, he is apt to find a tougher, more battle-ready foe than Shumlin, who went into the 2014 election with just 49 percent favorability. Further, Vermonters have never ousted an incumbent U.S. senator.
Leahy, who turns 76 this month, does not want to be the first. "I never take any election for granted," he said in a phone interview Thursday, shortly after meeting with Garland in his Capitol Hill office.
Asked if he's running for an eighth term, Leahy said, "Of course. Somebody's got to be here and protect Vermont ... With my seniority, I'm in the best position to do that."
Could Milne knock out Vermont's — and the nation's — most senior senator?
"I think he's got the tallest of mountains to climb," said Bradford Broyles of Mendon, an adviser to Leahy's last Republican opponent, Len Britton, in 2010. "People know Sen. Leahy's done a lot for Vermont."
Britton, who lost that race 64 to 31 percent, quickly discovered Leahy "is the most daunting of senators to beat," Broyles said. Vermonters didn't buy the argument that their senator was the problem, he added.
Will 2016, the year of our nation's discontent, be tougher for Leahy? He has already ticked off legions of Sen. Bernie Sanders (I-Vt.) fans by backing rival Hillary Clinton in the Democratic presidential primary.
"I suspect he's probably more vulnerable than he's been in a while, but that's not saying much," said Matthew Dickinson, a Middlebury College political science professor.
No candidate has given Leahy a real race in more than three decades. Britton was a former lumber-store owner from Woodstock who had never sought public office. He wound up getting sued by two former campaign managers.
And who could forget 1998? As part of a publicity stunt, Tunbridge farmer and Man with a Plan film star Fred Tuttle defeated multimillionaire Jack McMullen in the Republican primary; then Tuttle endorsed Leahy in what became a tongue-in-cheek general election. Leahy won 72 to 23 percent.
The margin was closer in 1992, when Leahy defeated then-secretary of state Jim Douglas, 54 to 43 percent. Douglas went on to become Vermont's governor.
You have to go back 12 years before that, to 1980, to find Leahy in a tight race for his second term against banking and insurance commissioner Stewart Ledbetter — the father of the WPTZ-TV reporter. Leahy won that race 49 to 48 percent.
Milne might do better than Britton, Dickinson predicted, because of the name recognition from his gubernatorial bid. "Milne is not Len Britton," he said. "I think he's a strong candidate."
Douglas, who now also teaches political science at Middlebury, agreed that Milne's 2014 campaign experience elevates his prospects. "He's been on the statewide ballot and done well," Douglas said. "He has a Rolodex."
Still, Dickinson and Douglas both acknowledged that Milne, who famously got his own birthplace wrong in a televised debate, was not the smoothest campaigner in 2014.
"He's about as laconic as you can get," Dickinson said.
It helped Milne that Shumlin was weaker than most people realized. The state's health insurance exchange, Vermont Health Connect, was struggling. Doubts were growing about Shumlin's ability to pull off promised universal health coverage — a plan he dropped a month after the election. And Shumlin's controversial 2013 purchase of a down-and-out neighbor's property cast a shadow over his candidacy.
But looking back on Milne's performance, he "didn't knock your socks off, but he didn't make any big mistakes," Dickinson pointed out. "I don't think it's revisionist history to say he was a credible candidate."
Milne's main message as he discussed his campaign-in-waiting at the Crossroads Country Café was that Congress is dysfunctional and the Senate's longest-serving member deserves blame.
"We're going to point out that Patrick Leahy is funded by national partisan interests and has been since 1974," Milne said, citing large entertainment industry contributions to Leahy's $2.7 million war chest.
Leahy's out-of-state campaign cash is a vulnerability, Broyles agreed, but it's also a strength: "He's able to raise big gobs of money at the touch of a keystroke."
Asked for examples of Leahy's partisan play, Milne said that he had changed his tune on whether the Senate should approve a president's late-term court appointments. In December 2006, according to the Washington Post, Leahy argued that, "in a presidential election year ... no judges would go through except by consent of both the Republican and Democratic [leaders]." The Post characterized Leahy's comments then and now as "clearly contradictory."
Leahy discounted that, saying a Democrat-controlled Senate acted on Republican President Ronald Reagan's late-career nominee, Anthony Kennedy, in 1988.
A day after Leahy spoke to Seven Days, his Senate spokesman, David Carle, responded to an inquiry by whipping up a list of dozens of bills on which Leahy worked closely with Republicans. In easing relations with Cuba, Carle said, Leahy teamed with Sen. Jeff Flake (R-Ariz.). A bill that would update the federal open-records law passed the Senate last week after months of work with Sen. John Cornyn (R-Texas), Carle said.
"Bipartisanship is the key to his success," Carle said. "That's how he gets things done." The spokesman's prompt reaction is a sign the senator won't take a challenge lightly.
Milne reached back three decades for more examples of partisan politics, citing stories about the release of intelligence documents in the 1980s that earned the senator the nickname "Leaky Leahy."
"He was putting partisan interests ahead of national interests," Milne said.
Leahy did step down from the Senate Intelligence Committee in 1986 after improperly sharing unclassified documents related to the Iran-Contra scandal with NBC News. But as he spoke last week, Milne couldn't come up with specific details of that or other alleged incidents, suggesting that voters have likely forgotten them, too.
Douglas said he doesn't recall the intelligence documents being relevant in his 1992 race. At the time, he emphasized Leahy's voting record. "He was more partisan than Ted Kennedy," Douglas recalled saying during that campaign.
Milne and Douglas are not alone in calling Leahy one of the most partisan players in Washington. A 2001 National Review story called Leahy the "meanest, most partisan, most ruthless Democrat in the Senate," citing as one example the way he grilled then-senator Strom Thurmond (R-S.C.) in a Senate Judiciary Committee hearing. Thurmond was nearly 100 years old at the time.
Leahy argued that he's worked with both sides of the political aisle to pass more legislation than any other senator Vermont has elected. And his 42-year tenure pays dividends for the state, he said, giving him senior status on the Senate Appropriations, Agriculture and Judiciary committees. When Tropical Storm Irene ripped through Vermont in 2011, Leahy helped deliver federal aid.
"People will return my phone calls," the senator said.
Milne dismissed Leahy's seniority.
"If you're a Vermonter who is on the Patrick Leahy dole and believes the most important thing in America is to keep your lifeline of money from Pat Leahy, you should probably vote for Pat Leahy and look yourself in the mirror and realize you're bad for America," Milne said.
Milne, who said he voted for Kasich in the March 1 Republican presidential primary, argued that Congress needs more moderates. He said he would work across the aisle in the mold of former U.S. senator George Aiken, a Republican who preceded Leahy in representing Vermont from 1941 to 1975.
While acknowledging that former Vermont senator Jim Jeffords left the Republican Party in 2000 because moderates had been marginalized, Milne insisted they can still find a voice in Congress. "Maybe there will be a growing corps of us," he said.
Despite his call for bipartisan moderation, Milne declined to condemn Republican presidential front-runner Donald Trump, who many GOP moderates reject. "He's been disappointing, a little bit," Milne said. "He said some things that I believe are not in tune with what I believe is best about America."
But Milne said that the media has overreacted to Trump — in particular to his statement that Muslims should be temporarily banned from entering the country. Milne said he doesn't support singling out Muslims but claimed many others made the same argument following the December shooting deaths of 14 in California. "I'm not ready to say he's the worst thing since Adolf Hitler," Milne said.
And the wall Trump wants to build between the U.S. and Mexico?
"It would help secure the border," Milne said. "I think there are some legitimate concerns about having a secure border. Whether we need a wall for that or not is something to look at."
Leahy dismisses Trump's wall as simplistic and has been working on an immigration bill that includes more diverse border security measures, Carle said. House Republican leaders have refused to vote on it.
Sounds like fodder for a lively debate, months down the road, between candidate Milne and incumbent Leahy.