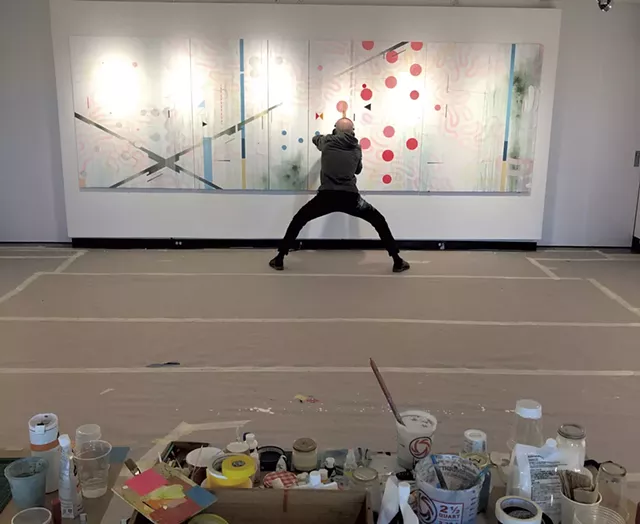 Photos Courtesy Of Dana Heffern/champlain College Art Gallery
Scott André Campbell
Champlain College's current artist-in-residence, Scott André Campbell, has been working on "Submission" every day this month. The abstract work is a large triptych of 16-by-5-foot panels; each panel consists of four 4-by-5-foot sections bolted together, with precisely measured gaps in between. It hangs on the side and back walls of the college's art gallery; the fourth side is open to a hallway thoroughfare.
Passing students have witnessed the work progress from blank white panels layered with acrylic primer and gesso to an intricate, mixed-media composition of curvy platelet-like shapes, orthogonal slashes, organic graphite lines, cloudy stains of color, and crisply stenciled plus signs, targets and wedges.
When Seven Days visited, Campbell was using a wide brush to apply long, steady, vertical strokes of a grayish matte medium, which partly smeared the graphite while also protecting it from future smears. He will likely be executing finishing touches until the work opens to the public on the evening of Thursday, February 14.
Campbell, 46, graduated in 1995 from Whitman College in Washington State with a degree in studio art but spent the subsequent 15 years in commercial graphic design. After graduation, he moved to Vermont — the countryside reminded him of the Normandy region of France, where his mother is from — and began making maps for the Vermont Department of Tourism and Marketing.
Soon he was designing posters and other merchandise for local rock bands, including Phish, as well as for the South Burlington nightclub Higher Ground and the international record label EMI. Campbell followed that with a five-year stint as web designer for the Yale School of Medicine.
But by 2014, he said, "I was starting to feel that I was getting too comfortable on a stylistic level" and rededicated himself to making art. Speaking of his process, Campbell noted, "Unlike a design project, where you have an idea and a fixed set of requirements and the rest is just execution, [an artwork] is a dialogue with one's creative reflexes. You do one thing, then take a step back and say, 'How does this affect the relationships between everything else?'"
Fully aware of the precariousness of life as an artist, Campbell said the move was "a hundred percent self-imposed." (It's also enviable. He was gratified to overhear one passing student comment, "This is so dope. This is everything I want.") It took him three years to build up enough inventory for a show; his first was in August 2018 at the Karma Bird House Gallery in Burlington. The Champlain College residency has allowed Campbell to explore a new element in his work, as he explained in a phone interview.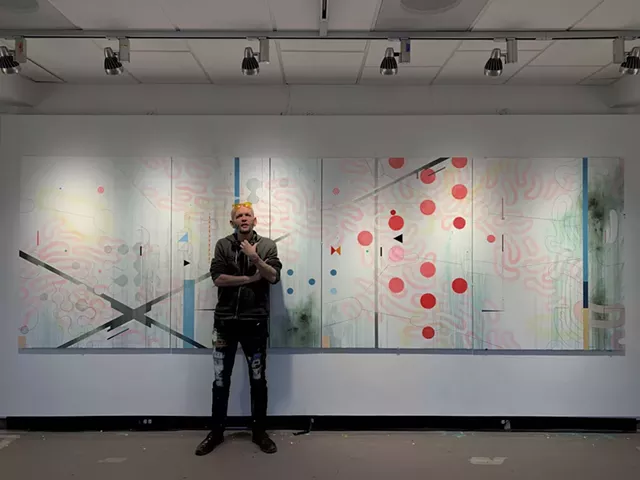 Amy Lilly
Scott André Campbell
SEVEN DAYS: One of the salient aspects of your work is composition, which is both highly controlled and a seemingly random collection of disparate shapes and applications of media. Do you experience any struggle between the two when you conceive of a piece or while you're executing it?
SCOTT ANDRÉ CAMPBELL: Order is very important to me. My work is a kind of weaving of disparate components that are simultaneously mutually dependent. It's all about building relationships between things.
But your question is very apropos. The reason that this show and piece is called "Submission" is that I've allowed myself to lose some of that control, to open up that structural agenda and allow for a more organic, messier approach. Because if I look back at the work from the previous year, it's controlled to the point of being schematic. This is much more erratic and essential. I'm exploring more so I can understand those parts of myself.
SD: Your work uses only white backgrounds, which seem well suited to showing off your choices of color. Can you talk about color (and white) in your work?
SAC: The colors are purposefully gregarious. I like punchy color; I like the image of red berries against a snowy background. There's something culinary about the color choices; I want people to think they can eat them. The white is paper-white. From a very young age, I've drawn. That's why I don't label myself a painter; drawing is immensely important to me. The majority of my work is on paper laminated onto a substrate. I find the blankness of that page to be excruciatingly empowering.
SD: "Submission" explores depth differentiation using overlapping and other techniques — such as the contrast between clean lines and amorphous clouds of color. This is partly tongue in cheek, but do you find the two-dimensionality of art to be a frustrating or a welcome challenge?
SAC: Definitely a welcome one. I very much appreciate [sculptor and mobile maker Alexander] Calder because of his design sense — that type of relaxed and playful sense of space. Working in 2D has its limitations, but I don't need more to have the conversation that I want to have. I'm less interested in the individual layers of depth and more in the interaction between the layers.
SD: I noticed that Colchester art collector Rich Cook, whose collection I admire, purchased one of your works.
SAC: I'm moved. To have someone with that aesthetic acumen respond to the work has been really flattering. That demographic is who I'm after — people who like my work and know why. I'm hoping for an intimate response, as opposed to "Oh, that's cool, I can throw that on the wall." I make works that I want people to live with for a long time.