Nothing smartens up a birthday party like a little science-project action. In frozen February, beaker-free fun awaits in the warm interiors of two of Vermont's coolest museums.
ECHO Lake Aquarium and Science Center, echovermont.org
Whether your partygoers want to explore the power of weather patterns, or learn about the aquatic creatures living in the Lake Champlain basin, ECHO offers hands-on answers. The museum rents a private room for two-hour periods. The price includes admission for up to 14 guests, as well as plates, cups and utensils. Bring your own cake and munchies, or have ECHO's on site caterer, Sugarsnap, take the lead. For added fun, invite NEWTon, ECHO's spotted newt mascot, to the celebration. Member: $175; Non-Member: $250. More guests can be added for an extra fee. NEWTon: $50, $75.
Montshire Museum Of Science, montshire.org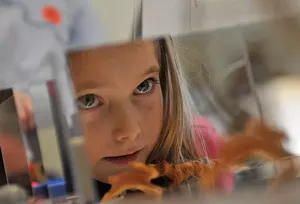 Courtesy of Montshire Museum of Science
There is a lot see, hear and touch at the Montshire. The leafcutter ant exhibit is a must-see, as well as the various bubble-making stations. Try timing your visit to coincide with an activity at the Science Discovery Lab. My daughters learned all about magnets and magnetism at our recent visit — and loved it. The facility has a community room that can be used for your party. Call ahead to arrange a group visit. You have to bring your own snacks, plates and utensils. Group rates for groups of 10+: $9.60 adults, $8 ages 2-17, free admission for children under 2.