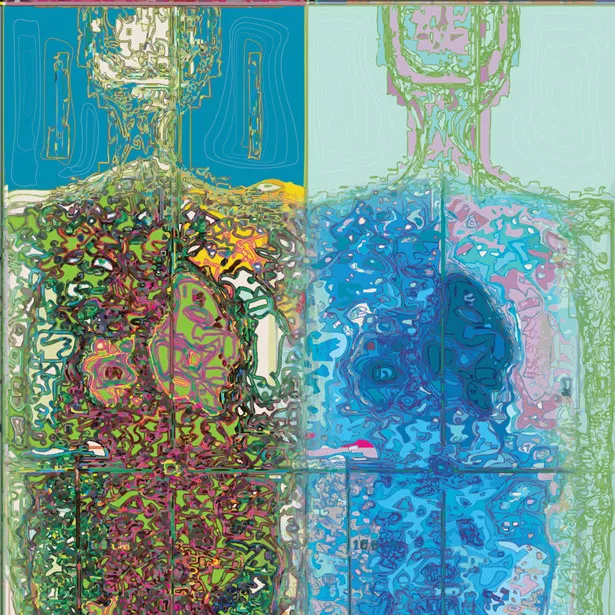 Mapping Mankind B (detail) by W. David Powell
Between Soft Machines and Hard Science" is the provocative title of an exhibit by SUNY-Plattsburgh professor W. David Powell, currently on view in the Wilbur Room of the Fleming Museum. It juxtaposes giclée prints with pseudoscientific apparati from the 19th and early 20th centuries. Humans are the "soft machines" that Powell examines; the "hard science" noted is a blend of quackery artifacts and contemporary diagnostic imagery.
As a digital collagist, Powell freely appropriates images for his own use, and his modestly scaled prints are colorful, fascinating and sometimes humorous. His "Mapping Mankind" series includes take-offs of MRIs of the head and torso that have been scrambled and injected with a crazy quilt of hues.
The three pieces - labeled A, B and C - are 18-by-12-inch vertical diptychs of the figure. "Mapping Mankind A" incorporates the green-and-beige scheme of topographical maps in its human figure on the left half of the page, while the right-hand image encompasses red and orange. "Mapping Mankind B" contains even more complex layers of faux MRI typology, and ranges from the dark browns usually reserved for mountain peaks in the left figure to oceanic blues and white on the right side. Powell imparts just enough real information, such as outlines of lungs and heart, to make the "maps" seem believable.
"Mentational Cartography A" and "Mentational Cartography B" are circular, like world maps, yet also read vaguely like brain scans as seen from the top of the cranium. Rings of fiery red, yellow and orange along the circles' edges - such as may be seen on some medieval world maps - allude to the early map makers' tendency to take mythology as fact.
The title of "Mechanical Golem" references the golem legend of Jewish folklore: a Frankenstein-like creature artificially brought to life. Powell's print is broken into nine images of a strange, spoke-wheeled machine from a 19th-century print. It seems like a gravity-powered automobile festooned with pulleys and wires. Powell created variations on the line-drawing original, including four silhouettes of the machine in different Warhol-like color harmonies - orange on green, electric blue on red, purple on orange, and red on yellow.
"Resonating Vessels" is a hybrid of graphic elements and an intricately convoluted human interior. The human image is another head and torso, but with strange, chakra-type circles mapping out key organs. (These are restated along the sides of the panel.) Symbols appear at the borders of the panel, and a row of five different-colored targets runs along the bottom.
Phrenology is a dominant theme among the wacky theories of yesteryear represented here. Publications from the Bailey/Howe Library collection, selected by Powell for inclusion in the show, appear along with the prints. "Contemporary Celebrity Phrenology for the People" is a grid of 12 right-facing heads - probably of a male movie star - progressing from a child's head at upper left to a three-quarter-profile head wearing sunglasses at lower right. The subject is rendered in greater and lesser degrees of dimensionality, and his brain is mapped in a phrenological manner with patches of yellow, turquoise and white.
Among the pseudoscientific devices on display, the largest and most absurd is the 1878 "Etheric force machine" attributed to John Worrell Keely (1827-1898). It's the first thing viewers see upon entering the show, and it looks something like the wheel of a ship's helm: It's made of brass and polished steel and is about 3 feet in diameter. Keely claimed to have harnessed a nonexistent element known as ether, allegedly creating power from thin air. His thoroughly debunked theory is enjoying a renaissance today on the Internet.
Powell's artistic linkage of old-fashioned humbuggery with contemporary magnetic resonance imaging, chakras and pop-culture references draws a simple comparison between sheer belief and theories based on empirical data. "Between Soft Machines and Hard Science" seems to imply that empiricism is the rarer commodity.