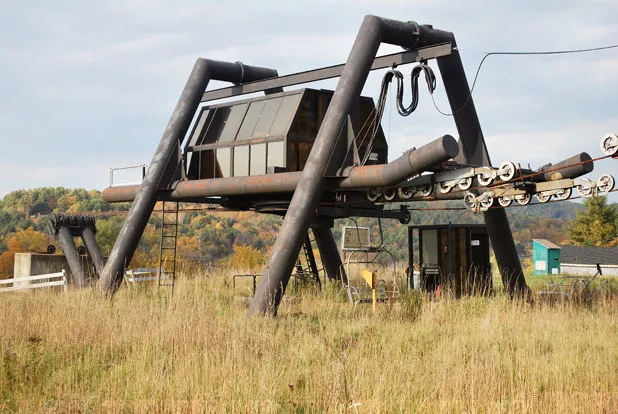 One of two remaining lifts at Ascutney Mountain Resort
The slopes of Mount Ascutney probably don't look much different right now than they have for dozens of Octobers: woods awash in gold and burgundy, wide trails grassy and overgrown, ski lifts frozen in the air.
A visitor who wanders to the grayish-blue base lodge, though, will find a stillness deeper than the usual off-season lull. The driveway to the lodge is rutted, and its windows are boarded with plywood; a nearby wooden walkway leans and looks ready to topple. The lift chairs are rusting, and a row of 15-foot-tall metal pipes that jut from the ground are all that remains of the quad lift that once spirited skiers to the top of this 1800-foot slope.
This is the third winter that Ascutney Mountain Resort, one of Vermont's oldest ski areas, will remain closed. In the summer of 2010, owners Steven and Susan Plausteiner — who had bought the mountain in 1993 out of an earlier bankruptcy — began defaulting on loans they were using to keep the resort running. By fall, it was clear Ascutney would not reopen.
It was not the resort's first hiatus. Since the initial rope tows were installed in 1947, it's been shuttered a handful of times. Yet for Ascutney's employees, hundreds of nearby homeowners and residents of Brownsville, this latest closure was "disappointing," "devastating" or downright "shady," depending on whom you ask.
Some blame this former volcano's steep, challenging terrain for the resort's problems (a high percentage of Ascutney's 57 trails were intermediate or advanced). Others point to the sporadic lack of snow; still others blame chronic mismanagement or what they see as a tangled financial arrangement.
The Plausteiners ceded ownership of the resort from their company, Snowdance LLC, to a guarantor of one loan, an investment banker named Dan Purjes, who forced Snowdance into foreclosure and formed a liquidation trust to sell off the mountain's infrastructure. (Calls to Snowdance, now under different leadership, were not returned.) Hopes that the mountain might soon reopen were dashed when the trust sold Ascutney's high-speed quad lift to Crotched Mountain in New Hampshire.
In nearby Brownsville — a hilly, picturesque village of barely more than 1000 people — the closure still stings two years later. Amy Yates, who has owned the Brownsville General Store for 20 years, came close to foreclosure herself in the spring of 2011.
With its curved lunch counter, fresh pastries and laid-back vibe, the store is the nerve center of the town. Yet Yates has been struggling. "It's just a constant juggle. You get smart real quick," she says. That means slimming down staff, watching every order "and working your little butt off."
A few eateries near the mountain, such as Casa Del Sol in Ascutney and Windsor Station in Windsor, have closed. West of the resort on Route 44, the Sitzmark Ski Shop looks caught in limbo: An assortment of skis and boots remains in its darkened window. A dog-eared, handwritten sign on the door urges potential customers to call "Tom" for service.
In 1961, Sitzmark owner Tom Tomasi was working as a school principal when he built and opened the shop, and he's operated it on the side ever since. "I live just across the road, like a doctor on call," he says. Business has practically ground to a halt since last winter, with skiers forced to travel farther afield to Okemo and Mount Sunapee.
Tomasi, 77, has seen Ascutney Mountain close several times, including a three-year closure beginning in 1990. "It's always been mismanaged. The bottom line is, they never made enough snow, and they kept some of the unnecessary terrain open," he says. "Now the community is suffering."
As a kid, Tomasi remembers, he heard an older neighbor kvetching about then-new Mount Ascutney. "'Those damned fools bought the mountain and think they can put a ski area there,'" he recalls the farmer saying, alluding to the intermittent lack of snow. "Of course, this was before the interstate and everything else … But we [kids] were so excited that a ski area was coming in."
Ascutney stayed afloat for most of its first 30 years, when Route 5 was the only way to reach it from points south. When Interstate 91 was completed in the 1970s, it opened the door for expansion, and hundreds of condos were built in the area from the 1980s on.
A few years ago, Mike Anderson of Nashua, N.H., and his family bought a second home about two miles from Ascutney, even though they knew, he says, that the mountain "had a history of closing that predates us."
Anderson wasn't caught unawares when the resort closed again. "It was never really crowded. The place was empty, mismanaged and poorly run," he says. "While it was sad to see it close, it wasn't really a surprise. There's a dark history to it."
Jeremy Davis, a meteorologist and author in Glens Falls, N.Y., is familiar with that history. He runs the website New England Lost Ski Areas Project (NELSAP), which lists 679 lost ski areas worldwide — including 116 in Vermont. Davis seems intimately acquainted with Ascutney from both a skiing and a meteorological perspective.
"It has a good mix of trails, just the right amount of vertical to keep it interesting," he notes. But Davis says Ascutney is an "odd-sized mountain," as ski areas go. "Pretty much everything over 2000 feet (vertical) will never close. Yet [Ascutney's] not that big and also not small enough to be run leanly."
Davis doesn't buy the theory that snowfall in Vermont overall, or specifically in Ascutney, is decreasing over time, but he does believe that ski areas remote from the snowy spine of the Green Mountains need to work harder to survive erratic winters. "If ski areas are on good financial footing and able to invest in snowmaking, they can counteract those effects," he says. "But if you don't have the money to make snow, or for groomers, it can be tough."
As the town waits with bated breath to learn Ascutney's future, West Windsor selectboard chair Glenn Seward remains hopeful. He keeps close tabs on the foreclosure proceedings dragging out in Windsor Superior Court. "All indications are that the foreclosure will be consummated this fall," he notes. That would leave the door open for a sale. A few buyers have already expressed interest, Seward says. "Once the legalities are taken care of, I'm confident that [the mountain] will be open again."
That would make people like Yates ecstatic. "We hear all kinds of things. I can only hope that something happens," she says.
Despite Ascutney's uncertain future, signs of life still abound in the resort village. In 2006, a Florida-based company called Orange Lake Resorts — also known as Holiday Inn Club Vacations — purchased a portion of the resort's lodgings and sold time-shares on its two- and three-bedroom units. It remains open and busy — business travelers frequently take advantage of daily rates that can be lower than those of nearby hotels. Also hanging on is the hotel's restaurant, Brown's Tavern. (A spokeswoman for the resort group, Brooke Doucha, says the resort has been "over projected occupancy for the year.")
Holiday Inn has been a saving grace, says homeowner Anderson. "They [Orange Lake Resorts] have been able to sell tons and tons of time-shares, and that's keeping a good influx of people through. If not for that, this might be a slow-moving, lonely place."
Though his property's value and rental capacity have faltered, Anderson is also grateful for the action that mountain bikers bring to Ascutney in the nonsnowy months. Since 2006, trails built and maintained there by a group called Sport Trails of the Ascutney Basin (STAB) have drawn thousands of bikers, according to spokesperson Erik Schutz. "[Ascutney's] not super steep, and there's plenty of vistas, woods and interesting rock formations. It has a lot of options, from a ride as short as half an hour to an entire day," says Schutz, who says he sees a heavy influx of riders from Québec.
While mountain bikers slowly energize the off-season, lifelong skiers in the area still hope for the best. "It's too big of an investment to let it sit there," says Tomasi, who has a few ideas about how Ascutney should be run. "I would hire a manager for what's left of the place, scale it back and really take care of it."
He thinks punch lift cards could help the resort work in tandem with other nearby mountains. "It's a challenging and interesting little mountain, and close to the interstate. It's sad that it's just sitting there," Tomasi says.
Davis notes that if Ascutney stays closed, it will be in a class all its own: the biggest mountain resort in Vermont to fold for good. There is still hope, though, for those rusty lifts. "Lifts can be revitalized up to 10 years after closing," Davis says. "But if it doesn't start happening soon, the longer it goes, the tougher it will be. You need a white knight to come in with a lot of money, or some grand vision."
Given Ascutney's checkered history, the most effective vision could be a back-to-basics