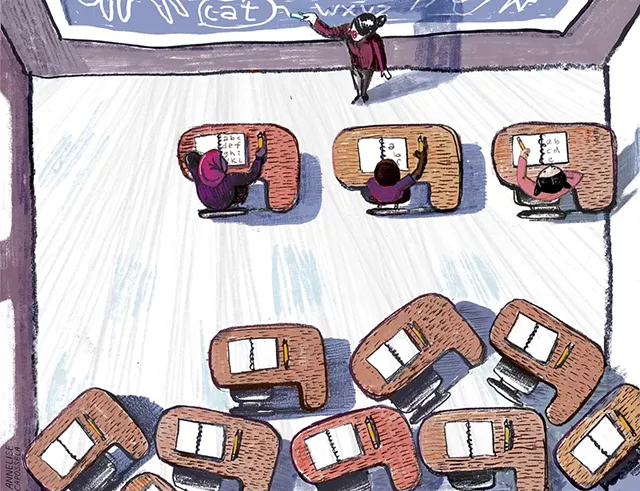 Elementary school teacher Lynda Siegel collects bathing suits, winter wear and stuffed toys all year round for her students at the Integrated Arts Academy at H.O. Wheeler in Burlington. "They're great, but they just take up a lot of room," said Siegel last Friday, as she packed the items into a small closet outside her classroom.
"We're making sure they're all nice," chimed in paraeducator Ellen Wollensack, as she inspected a pair of bright-pink snow pants.
"I give [the toys] to the kids as reading prizes," Siegel added.
In an adjacent classroom, Mary Neudecker was also getting her class ready for her students. She had already made a name chart of her first and second graders.
Neudecker, Siegel and Wollensack work with children in the Studying Toward English Proficiency program. It's catered to English-language learners in grades 1 through 5, most of them typically newly arrived refugees.
"Usually, I start with between seven and 10 students, and there's room for more students to come throughout the year," explained Siegel, who works with children in grades 3 to 5.
"This year, I only have three kids enrolled," she continued. Those students had joined her class midway through last year and will benefit from another year of being in the STEP program, she said. "As far as I know, no new students have arrived," she added.
On January 27, President Donald Trump issued an executive order that temporarily suspended the refugee resettlement program and closed the door to citizens from seven majority-Muslim countries. He also capped refugee arrivals at 50,000. That was a drastic reduction from the 110,000 allowed by his predecessor Barack Obama.
Although it wasn't until June 26 that the U.S. Supreme Court partially lifted injunctions of the bans, refugee resettlement has been derailed since January, admitted Amila Merdzanovic, director of the Vermont Refugee Resettlement Program.
"We felt the halt pretty quickly and drastically," she said.
Typically, the resettlement agency receives two-thirds of its total arrivals during the summer, explained Merdzanovic. Last year, 204 refugees arrived in Vermont between June 1 and September 30, according to data from the Worldwide Refugee Admissions Processing System.
That's not the case this year. Between June 1 and August 26, only 34 individuals have been resettled in Vermont. Merdzanovic said that only four people are expected to arrive in Chittenden County in September. "It's just been absolutely devastating," she lamented.
When the new fiscal year begins on October 1 and the cap is reset, it's possible that more refugees will come to Vermont. "We're just waiting to see," said Merdzanovic.
Siegel is not the only ELL teacher who has seen the impact of the refugee cap on the Burlington community. Although seven students are enrolled in Neudecker's STEP 1 class this year, none is newly arrived. Half of the children are holdovers from the previous year, while the others are moving up from kindergarten.
Last year Neudecker started with four students, but more came through her door from the third week of school onward. "It makes me sad," she said of the cap. "That's so wrong to me."
At Burlington High School, after three years of programming, Beth Evans and Suzy King will not hold their Excellence for English Language Learners class. Evans said the ELL students at BHS are almost entirely from refugee families.
According to the program's brochure, "Excell" provides a "soft-landing orientation course for students to show what they know ... and for ELL teachers to help prepare students to enter the U.S. educational system, which may be vastly different from their own." Generally, students receive quarterly assessments and can exit the class once they have a grasp of "survival English," said Evans. She usually has a class size of six to eight.
"This year, we're not offering Excell because of the changed political climate," said Evans. "We don't have as many people. Trump — it's all Trump."
Across Vermont, schools have been shrinking, she pointed out. Although Burlington has been bucking the trend, Evans noted, "If you shut off the flow of refugees, the school population, I believe, will shrink."
The refugee cap doesn't only preclude children from getting an education and their families from taking jobs that many U.S.-born residents avoid, Evans observed. "It's not good for Burlington; it's not good for the high school," she said. "We are just beginning our journey as a culturally competent community."
The Winooski School District is also seeing fewer ELL enrollments, though a slightly less drastic reduction than that in Burlington. Twenty-three languages are spoken in Winooski schools, and New Americans make up a third of the school's student body. The newcomer classes at the elementary and middle schools have 14 and 19 students, respectively. The high school, however, has only 11 students in its newcomer program, which has capacity for 20. The majority of students in all three classes are holdovers from the last school year.
"Last year saw the biggest number of students," noted Kirsten Kollgaard, director of ELL and curriculum. Over the course of the year, 63 students were enrolled in the newcomer programs; four more were on a wait list. The district typically has the highest registration at the beginning of the school year, though Kollgaard doesn't anticipate "a big surge" this year. "We have had four newcomer refugee students register in the district this fall," she said.
Colchester typically receives two to five ELL students from refugee or immigrant families each year. That number will likely remain the same this year, said ELL teacher Susan Rosato.
Despite the lower ELL enrollment in Burlington schools, there will be no reductions in teachers, paraeducators or multilingual liaisons, according to Miriam Ehtesham-Cating, director of programs for English learners in the district. "This is based not only on my belief that more students will come but also on my commitment to adequately addressing the needs of the English learners we already have," she wrote in an email. "A few things are being moved or strengthened, but there are no reductions at all."
At the high school, Evans will lead a new technology class. Her goals, she said, will include teaching her ELL students how to touch-type and use the internet in a safe and responsible manner.
Neudecker said she wants to give her second graders more responsibilities and will look to them to help their younger peers. She has also created a new literary unit, because she anticipates being able to move through the curriculum a little faster with fewer students.
Siegel wants to take her students on a field trip to Burlington's ECHO Leahy Center for Lake Champlain on the second day of school. "When the class is so small, we often are able to do things that we couldn't do at other times," she said.
All three Burlington-based ELL teachers are hopeful that there will be new students in January. "My class has an open door," said Siegel. "We often have a rolling curriculum."
The students, too, welcome newcomers, Neudecker said: "The kids get excited when a new child comes."
Updated Aug, 31, 2017: Lynda Siegel now has 10 students in her class. Only two are newcomers who arrived in the country in June and August. The others are either holdover or transfer students.