The atmosphere is jovial at the open house for Mount Saint Joseph Academy — Rutland's Catholic high school. Feisty, white-haired alumni tend the grills inside the athletic association hut. The new principal, Sandra Wilkes, glad-hands with parents and teachers. Meanwhile, a volunteer is playing matchmaker with some of the new students. She steers one long-legged, wide-eyed teenager over to a pack of four veteran classmates, and a few moments later the five girls lope off across the outfield of Saint Peter's Field.
But the lightheartedness of the summer open house is balanced by a weighty reality: MSJ is desperate to attract more students. In its heyday, the high school educated as many as 600 students a year and earned more Division I football championships than any other school in the state, including rival Rutland High.
Three years ago, enrollment had sunk to a mere 65 students, almost a tenth of what it once was. The numbers have inched back up slightly as a result of recruitment efforts, such as this one, on the part of parents, teachers and alumni. Around 80 "Mounties" were scheduled to show up for the first day of school on Thursday — which has MSJ boosters breathing a bit easier than they were a few years back, when a letter from the diocese handed down an ultimatum: Cut the budget or close the school.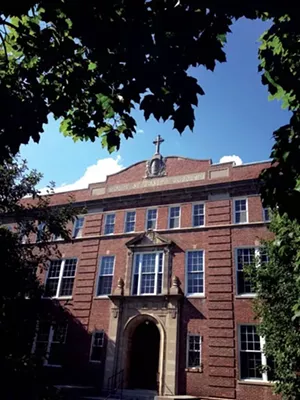 Mount Saint Joseph Academy in Rutland
School board chair Peter Giancola admits the looming threat "lit a fire under us." The school board slashed $100,000 from the school's operating expenses, and today MSJ is still fighting tooth and nail to stay in the game. In a state where declining student enrollments threaten the future of both public and private schools, the Catholic high school faces the added challenge of convincing families that a faith-based education — to the tune of $5900 a year — is a worthwhile investment.
"I wish we could get the enrollment up," says Chris Thraska, a mother manning the refreshments table at the cook out. She frowns slightly. "It's a wonderful place, and I think if people gave it a chance they'd see what I do."
That would include college scholarships to the tune of $1.3 million bagged by the 24 graduates in the class of 2012. For three out of the last four years, 25 percent of the senior class at MSJ passed the college-level Advanced Placement calculus exam.
Harder to quantify: MSJ appears to be a closeknit community, in which everyone's related, or darn close to it. The August barbecue feels more like a family reunion than a school function. Instead of the usual bellyaching about small towns and smaller schools, the students talk up their tiny classes and many friendships.
"I love it," says junior Grace Giancola, the daughter of school board chair Peter Giancola.
"You've got to be friends with everyone because you can't avoid anyone," says her pal, senior Shea McGee.
"Sign of the times"
MSJ is nestled in a residential neighborhood southwest of downtown Rutland, surrounded by streets dotted with large, rambling old homes. Some blocks are in better shape than others. The brick high school, in the shadow of the hulking St. Peter Church, also neighbors two of the Catholic Church's four eldercare facilities in the state. The Sisters of St. Joseph started MSJ as an all-girls academy in 1882. They built a larger facility in 1927 and began educating boys as well.
Jim Reardon, class of 1943, was one of 13 siblings to attend MSJ. Just look around, he says, at those big homes lining the nearby streets: They used to house the large Irish and Italian Catholic families — many of whom migrated to Rutland following the discovery of rich marble deposits in the region — that swelled the high school's ranks. There are fewer Rutland residents today than there were in 1930.
Talk to enough MSJ parents, and you start to get the feeling that everyone's grandparents went to school here, that everyone's kids and grandkids will come up through the ranks.
Dwindling enrollment is a "sign of the times," says alum David Fucci, class of 1977, who paid $325 a year to attend MSJ as did each of his four siblings.
"Today you can't afford to have five kids," Fucci says, let alone pay private school tuition for all of them. At one point in recent years, Rutland had the highest unemployment rate in the state.
Vermont's other Catholic secondary school, Rice Memorial High School, is located in more prosperous Burlington, and draws most of its students from Chittenden County. Times aren't quite so tough there. Rice's student body will grow this year from 364 students to 377, despite the school's yearly $8500 tuition fee.
In a perfect world, says Giancola, MSJ would enroll at least 100 students — but for the time being "we'll take what we have," he says. Some "local" students travel from as far away as Granville and Whitehall, N.Y., to attend the high school. In the 1990s, the school began actively recruiting international students from China, Taiwan, Germany, France, Mexico and a host of other countries.
They also attracted a handful of students from the Bronx — a number of them talented basketball players who helped the Mounties bag a Division II basketball championship last year. Hailing from a notoriously crime-ridden housing project, the students arrived in September 2010 and stayed with host families in the area. Their recruitment stirred some controversy — parents and students complained of losing out on playing time; outsiders accused the school of stacking the deck. Those unpopular sentiments — including nasty remarks traded on Facebook and directed at the host families of the Bronx students — landed the school in a New York Times story, headlined: "In Vermont, Bronx Players Help Team, but Stir Outcry."
The Mount Saint Joseph's basketball team plays a home game against Brattleboro High School.
Senior Matthew Sanborn, the tall, shaggy-headed captain of last year's championship team, focuses on the positive. He says the team's success sent a welcome jolt through the school. Having more talented players on the team "made everyone better," he says.
"After the Rutland game," he says, referring to the school's triumph over their one-time rivals, "I could see kids who were proud to put on an MSJ shirt. I saw a good sense of pride."
It was a galvanizing moment for a school that, for decades, was renowned for its athletic prowess. "My grandfather talks about it all the time," says McGee, a fourth-generation Mountie. She drops her voice an octave in imitation: "'Back when I went to MSJ, we used to win football games.'" Matchups against their hometown rivals were especially infamous. Kathy Aicher, class of 1977, remembers those cross-town games as a "huge deal" — great pep rallies, cheerleaders, games that brought the town to a standstill. "It was the red and the green," she recalls. "The rivalry was intense and fabulous and extreme."
Those days are over. The football team dropped down to Division III three years ago. Athletic Director Marty McDonough — who has worked at MSJ for 43 years — says the school just reached a point where it couldn't compete anymore against larger schools with deeper teams. "There was a lot of emotion about it," he admits. "Football has always been a draw for MSJ."
Last year's basketball bonanza was a shot in the arm. McDonough describes MSJ's victory as a "big bonus, a big plus" that brought a lot of old alumni back into the fold. Still, he's reluctant to pin too many hopes on hoops. A few of the Bronx students graduated last year, and, while the school hopes to attract more, officials say that decision is less about athletics than it is about realizing its Catholic mission.
Higher Expectations
When the economy started declining four years ago, Vermont's 13 Catholic schools felt the impact almost immediately. Hardest hit was MSJ, according to Mona Faulkner, the superintendent of Catholic schools for the Roman Catholic Diocese of Burlington.
It's not because people don't want a parochial education in Vermont, which ties New Hampshire as the least religious state in the nation.
"It's because they can't afford it," Faulkner says.
In some ways, Catholic schools were better prepared for the crisis, because they had already gone through the process of consolidating and regionalizing — a prospect public schools could face in the years ahead. The last consolidation came in 2009, when schools in Barre and Montpelier combined. Faulkner hopes the remaining schools are well positioned for the years ahead.
Religion aside, "More and more parents are looking very closely at their public schools ... and they have much higher expectations. The more they look at us, the better we're going to seem, the better choice we're going to be," Faulkner says. "I think they're going to want their children to say a prayer now and again."
According to administrators, downsizing and adapting to other changes has made Vermont's Catholic schools more nimble than their public counterparts. "As a Catholic school, we're able to make change happen very, very quickly," says Paulette Thibault, the principal of Christ the King School in Burlington. There aren't as many administrative hoops to jump through or state or federal restrictions to consider. No teacher unions, school boards or budget votes, either. Catholic school teachers tend to make less money than their public counterparts.
"You just get more stuff done," says Faulkner, adding that the flexibility extends to individualized learning. "We personalize that instruction as much as we possibly can with the resources that we have," says Faulkner. "It's always a great loss to us when we have a child we cannot serve."
Ultimately, though, there's a tuition bill. Faulkner wagers that MSJ's price tag may be among the cheapest in the nation for a Catholic high school education — but at nearly $6000 a year over 10 monthly payments, she concedes "that's a house payment every month." Parishes chip in, and fundraising and scholarships can help, but that money only goes so far.
Parent Jill Loeber isn't complaining. When her daughter wanted to transfer to MSJ after two years at Mill River Union High School, she admits she was anxious — about the change, but mostly about the cost. Now, a year after that decision, she's singing MSJ's praises.
"I don't think people realize how generous the school really is," says Loeber. About 40 percent of the student body receives some form of financial aid. Last year the school drummed up nearly $250,000 in donations for the annual fund. The volunteer-staffed athletic association raised more than $100,000.
This summer's "Honor Our Past" fundraiser brought in more cash. At $75 a head, about 300 diners, mostly alumni, packed into the conference hall at Rutland's Holiday Inn. The boisterous B.J. Costello III, chair of the development committee, played MC for the night, ribbing his old classmates from the podium and talking up the school's recent achievements: that beloved basketball championship, the scholarship numbers, and the recent award from the "small and inspiring" grant program at the Vermont Community Foundation.
By the time John Casella, class of 1968, stepped up to the podium to receive a distinguished award on behalf of himself and brother Doug Casella, spirits were high. At MSJ, the school community is hoping that it's not the size of the dog in the fight but the size of the fight in the dog.
"It doesn't matter whether there's 600 students on Convent Avenue, or 80," Casella told the crowd. "The values are alive and well."
Of course, the numbers do matter — but for now, on the razor's edge of break-even, MSJ's biggest supporters are cautiously optimistic.
They're hoping the rebound lasts.