Zachary P. Stephens
School nutrition director Harley Sterling smiling at students as they come into the Farm to School Café for lunch at Bellows Falls Union High School
W
hen Harley Sterling was growing up, the mac and cheese he ate at school came from a can. Now the school nutrition director for Windham Northeast Supervisory Union, Sterling oversees food service programs serving seven schools and 1,200 students. He ensures that the meals those children eat are a bit more elaborate.
Mac and cheese, for example, is always made from scratch. The recipe Sterling's kitchens use calls for starting with a carrot purée and making a "roux" — mixing butter with flour to create the base for the sauce. When the temperature is just right, the chef starts adding cheese.
"We have our staff, aka lunch ladies, using techniques you would see in the fanciest restaurant in the state," he said. They're cooking with fresh ingredients, including Vermont-made butter, milk and cheese. But instead of high-end dishes, they're making approachable, kid-friendly foods like mac and cheese.
The best part of this mouthwatering meal? Every child in the cafeteria will be able to eat it for free thanks to Vermont's universal school meals program. Schools started providing free meals for all during the pandemic using federal waivers approved by Congress. Last spring, the Vermont legislature created a state Universal School Meals Program and funded it for the 2022-2023 school year from the education fund.
Before meals were free, Sterling said, there were students who wanted the food but couldn't afford it.
Zachary P. Stephens
School nutrition director Harley Sterling, middle, standing with site manager Thirstan Coke in the Farm to School Café at Bellows Falls Union High School
He's seen this himself. A few years ago, he said, a young boy came through the breakfast line, loaded up his tray with fresh berries, grabbed a banana — and suddenly turned pale. "I asked him, 'Hey, what's up, bud?' He said, 'I just remembered that I'm not supposed to get this anymore because my mom is working.'"
In other words: Because his mom got a job, he no longer qualified for free meals and realized he couldn't afford the food on his tray.
Gut-wrenching scenes like that were once common in schools around the state, Sterling said. They caused what he calls a "moral injury" to food service professionals. Seeing hungry kids skip meals because they couldn't pay "put us in a really tricky moral space."
They're not in that place anymore. Providing free meals to all students not only made lunchtime easier and less stressful for the kids who would qualify for free meals — about 50 percent of Sterling's student population — it also gave relief to the families in the middle who
don't
qualify but can't necessarily afford to pay for school meals, either. "It's those kids in the middle who suffer most," he said.
This legislative session, Vermont lawmakers have a chance to make universal school meals a permanent part of the public school experience. The idea has broad support from nutrition professionals such as Sterling, as well as administrators, parents and farmers, who say it also reduces the administrative burden on school staff and helps kids develop healthy eating habits that will follow them through the rest of their lives.
Here's how you can help:
Visit UniversalSchoolMealsVT.org to learn more about the campaign and sign up for email alerts.
Call or email your legislators to express your support for universal school meals.
Share your story about why you support universal school meals.
Hunger Free Vermont has been campaigning for this change
. Last year, the organization collected more than 1,500 comment cards from people who support making universal school meals permanent and this year organized testimony before House and Senate committees dealing with the issue. Sterling, who also serves as president of the School Nutrition Association of Vermont, was one of those who testified.
"My whole career in child nutrition, I believed this was the best slam-dunk investment we could make in our kids' education," he told members of the House Committee on Education. "Now that we've seen universal school meals in action for the last three years, I don't just believe it, I know it."
Reducing bureaucracy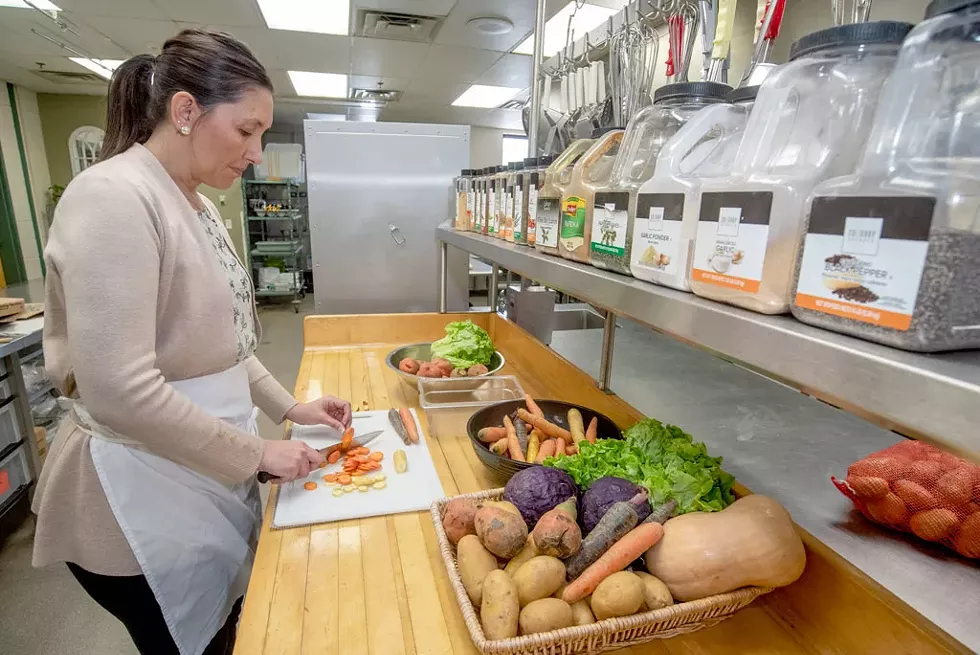 Jeb Wallace-Brodeur
Erika Dolan HUUSD food and nutrition codirector, at Crossett Brook Middle School in Duxbury
Erika Dolan also testified in Montpelier. As the school food and nutrition codirector of the Harwood Unified Union School District, it used to be her job to collect the money for school meals.
Dolan, who grew up in Brazil, originally trained as an architect and spent most of her early career in an urban office setting. After the mortgage crisis in 2007, demand for architects plummeted.
When she and her husband moved to Vermont in 2008, she saw an ad for a food service job at a school in Duxbury. She had worked in a kitchen for a former employer and had a couple years' experience supervising kitchen staff, so she applied. She's been in the field ever since.
Courtesy of Finn Yarborough
One of the first things she did, early on, was change how families paid for meals. When she started there, students at the middle school would be given a red piece of paper to take home to their parents if they had a negative account balance.
The practice seemed cruel to her. The middle school lunchroom is stressful enough, she said. "That was just altogether wrong."
So Dolan started sending bills home. For the first two years, she spent Wednesdays running reports, printing bills, folding them in three, stuffing them in envelopes and sending them off to parents — a time-consuming process. In 2010, to save time and money, they started emailing parents and caregivers about unpaid balances.
Each Wednesday at 4 a.m., the school would send 400 emails to parents about students' food accounts. As a result, "Wednesday became my email day," Dolan explained.
Even if just 50 people responded, she'd have to answer each message. She'd do email triage, figuring out which ones she needed to deal with right away, which could wait a few hours, which she'd have to investigate.
Despite all of her work, there were still many people who didn't pay their bills. Dolan's district has a low percentage of kids who qualify for free or reduced lunch. But still there were families that owed hundreds of dollars and couldn't or wouldn't pay. Sometimes she had to involve school principals or a debt collection agency.
The New York Times
noted this in an article on January 22. The headline: "Families Struggle as Pandemic Program Offering Free School Meals Ends." In it, Keri Rodrigues, cofounder and president of the National Parents Union network, argues that chasing down parents to pay the bills is stressful for parents, too.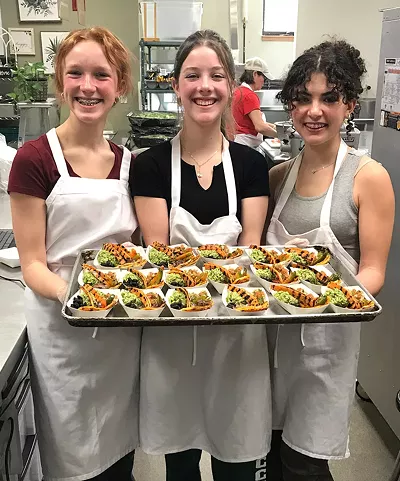 Erika Dolan
Julia Cisz, Charlotte Burks and Sophia DeSanto — Harwood Union's "Cougars" — show off their Tiger Tail Burrito Bowls at a team practice for the Vermont Junior Iron Chef competition
"It's just making things a hell of a lot harder at the most difficult moment that I think American families have seen in a generation," Rodrigues said. "The effort it takes to make sure these resources actually hit those kids, for what that costs, it's a hell of a lot easier to just say, listen, food is free."
Dolan could not agree more. Though some districts still choose to sell items à la carte, hers decided to eliminate payments altogether. All the food is free to all students.
"There are no registers in our kitchen. Done. There are no negative balances. Done. Nobody gets a Wednesday email. Done," she said.
Now Dolan spends her Wednesdays finding ways to improve food and nutrition services. This spring, she's been spending an hour or more a day cooking alongside students from the school's Junior Iron Chef program.
Increasing connections to local farmers
With less time needed for paperwork, Dolan is also able to spend more time building relationships with local growers and food producers. Vermont encourages school officials to cultivate these connections. Through Vermont's local food incentive, if a district can use local food for 15 percent of its needs, it will get 15 cents back for every meal served. If a district uses 20 or 25 percent local food, it will get 20 or 25 cents per meal.
Connecting farmers and schools is good for Vermont's economy and the local food ecosystem. It benefits students, too, giving them a chance to learn more about where their food comes from.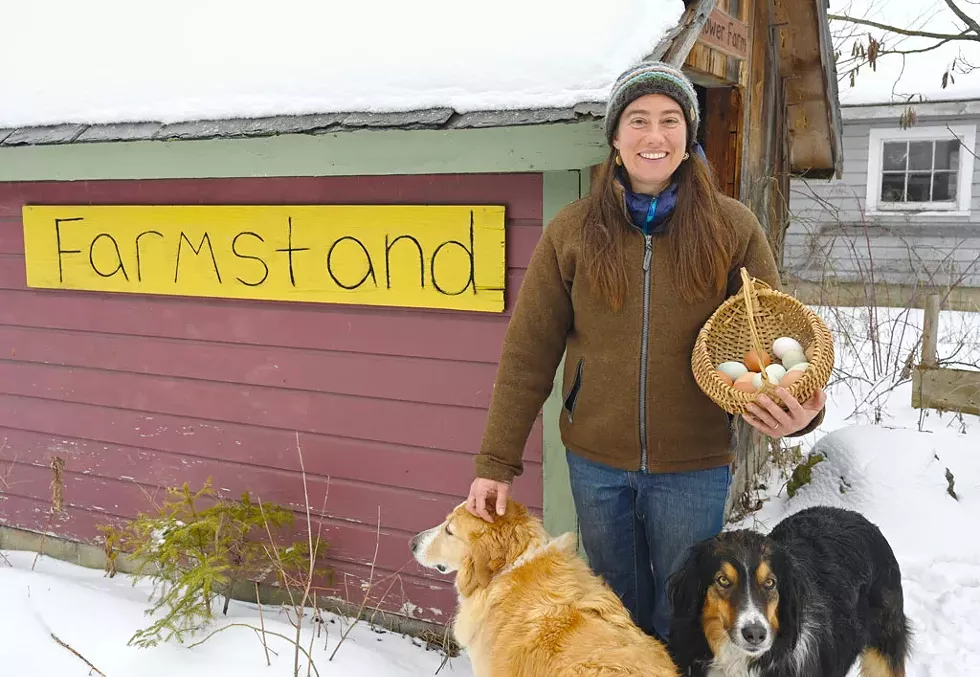 Jon Olender
Farmer Ashley Fioretti gathering eggs with her dogs Scout (left) and Petey at Little Flower Farm in Middletown Springs
"She really loves to use the fresh herbs," Fioretti said.
In addition to buying Fioretti's produce, the school also got a grant through the Farm to School program to hire her to teach the kids about food and nutrition. Fioretti maintains 10 garden beds at the school, which students help plant, weed and harvest. She also comes in once a month to cook with them and introduce them to nutritious foods.
Her work with the school isn't a huge part of her business, she said, "but it's the most fulfilling part."
Last month she made sweet potato biscuits with a group of students. The children helped, rolling and cutting the dough and waiting their turn to add ingredients.
Sometimes, at the beginning of a lesson, kids will refuse to eat something they've never tried before, such as beet chips; she taught them how to bake the beets with olive oil and seasoning salt. Fioretti always encourages students to at least lick what they've made. "To have a kid at the end ask for seconds, it is a
big
deal," she said.
Some students' enthusiasm for beets surprised her. "It was very funny, the number of kids who would take seconds of raw and pickled beets. It's like, 'You want seconds of
raw
beets? That's amazing!'" she said.
She also hears students say "Miss Ashley grew that? I know her!"
"There's something really special knowing that I'm feeding the kids here," she said — especially because her third-grade son is currently a student at the school and her sixth-grade daughter went there for years. "As a parent, it's important to me that my child is eating local foods as part of his lunch," she said.
Fioretti is eager to see schools using more locally grown food, and she knows she's not alone. "The momentum is there, for sure," she said.
Making universal school meals permanent
Fioretti, Dolan and Sterling have all testified before the Vermont legislature to support universal school meals. Most importantly, right now, they want lawmakers and other Vermonters to understand that food is essential to learning.
Food is something that all schools should provide the same way they give kids textbooks, Chromebooks, bus rides, soap and toilet paper, they said.
Sterling points out that, in Maslow's hierarchy of needs, having enough to eat is part of the base of the pyramid. Everything else rests on being well-fed. "You have to feed people before they're going to understand anything," he said.
Here's how you can help:
Visit UniversalSchoolMealsVT.org to learn more about the campaign and sign up for email alerts.
Call or email your legislators to express your support for universal school meals.
Share your story about why you support universal school meals.
He pointed out that the cost to the state is estimated to be at most 1.5 percent of the total education fund: "That's just a drop in the bucket to make sure all the rest of what we spend on education isn't wasted, because hungry kids can't learn," he said.
And it will help everyone involved in the school nutrition system — parents, students, administrators, food service staff, farmers. "It's a win-win, even a triple-win," he said. "You get so much value, so much benefit."
Vermont has a national reputation for its local food scene, filled with farmers, cheesemakers, sugarmakers and specialty food producers. In a state that prizes agriculture so highly, making sure all K-12 students can eat nutritious and delicious food at school should be a point of pride.
"Vermont is so far ahead of neighboring states," Sterling said. "Let's keep going."