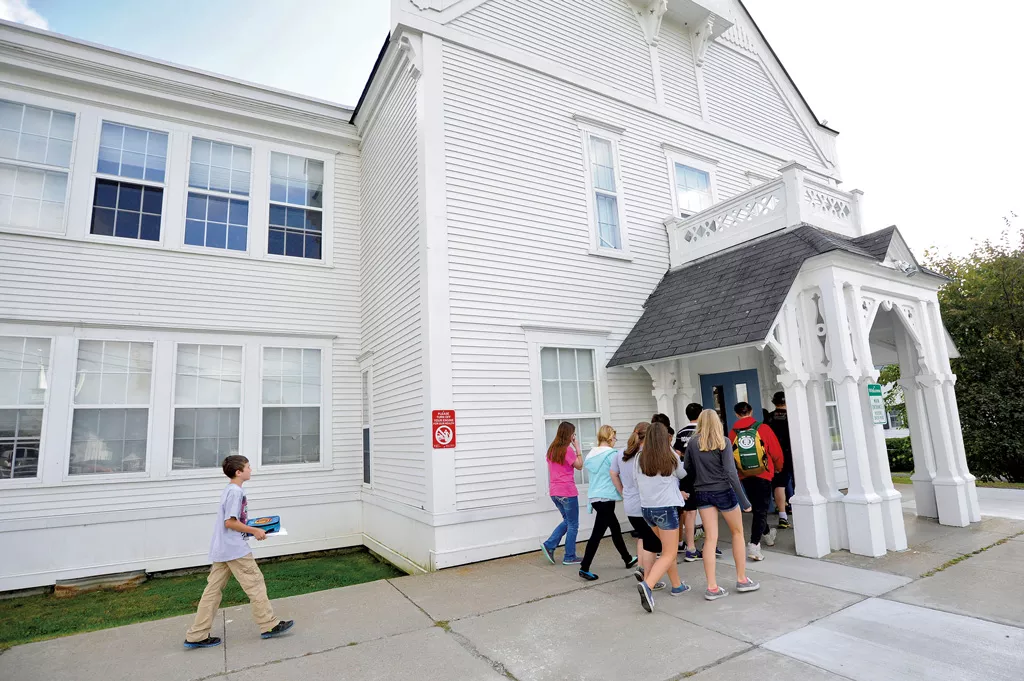 Jeb Wallace-BrodEUr
Students arriving at Craftsbury Academy
Last Thursday morning, a horse-drawn buggy passed in front of Craftsbury Academy — a white-clapboard, cupola-topped building that sits across the street from the town commons. For a moment, it seemed like 1880.
But inside the school these days, students walk the halls with laptops, take advanced-placement courses on-site and online, and draw crowds for basketball games in a sparkling new gym.
The town of Craftsbury, which has one of the smallest public high schools in Vermont, with just 79 students, is hell-bent on keeping a foot in both eras. It wants to hold on to a quaint-as-it-gets, small-town institution, where students feel connected, while also serving up a first-rate, modern education that prepares students for the best colleges in the country.
Principal Merri Greenia, who oversees the 179-student, prekindergarten-through-12th-grade school district, said the town is succeeding. "I think our kids are doing well by any measure you can take," she said. "The community support I've experienced in this town is nothing like I've ever seen."
Greenia and others are worried, though, that a new state law will force Craftsbury to consolidate into a larger school district and leave local residents with less say in their schools' future.
Act 46, which lawmakers passed last spring, requires all of the state's 265 school districts to consider consolidating by 2018. It provides enhanced incentives for those that act quickly and mandates state intervention for those that don't act at all. The law was an attempt to address concerns about rising property taxes and nose-diving enrollments.
In Craftsbury and around the state, the new law is causing angst. Community leaders who have tried and failed to consolidate school districts many times are being forced to try again.
Jeb Wallace-BrodEUr
The new gym
A few mergers are nearly ready to roll. Essex and Westford will vote on an agreement in November. Another five or so mergers may be ready for community votes in March. Consolidation is going more smoothly in the state's most populated areas, where neighboring districts have more in common. But in many areas of the state, partnering up is not so simple.
"It becomes very, very complicated," said Jen Marckres, vice chair of the Craftsbury School Board, who served on a committee that studied merging area schools for three years before deciding against it in 2014. "There are a lot of places in the Northeast Kingdom where it just doesn't work," she said.
As Craftsbury officials worry they'll be forced into a relationship that will quash local control, those in neighboring Wolcott have another fear. Will their town, which allows students to attend any high school they like, be forced to give up school choice?
And new school district spending caps that were included in the law have some in the state so fired up they're threatening to sue because they say the cost-saving stick is being enforced unevenly across the state. These issues have already become fodder in the 2016 gubernatorial race and are likely to become more prominent as districts delve into the details.
"Certainly, there's frustration out there," said Nicole Mace, executive director of the Vermont School Boards Association. "Board members are in varying stages of the grieving process."
Mace has been traveling the state, trying to soothe their pain as she explains the new law to school board members. After five such intense meetings, she remained unfailingly optimistic.
"Board members are in the best position to design what their future looks like," Mace said. "What I hear is a sense of relief from school boards when they hear Act 46 isn't one-size-fits-all. I see light bulbs go off, where they say, 'OK, we could make that work.'"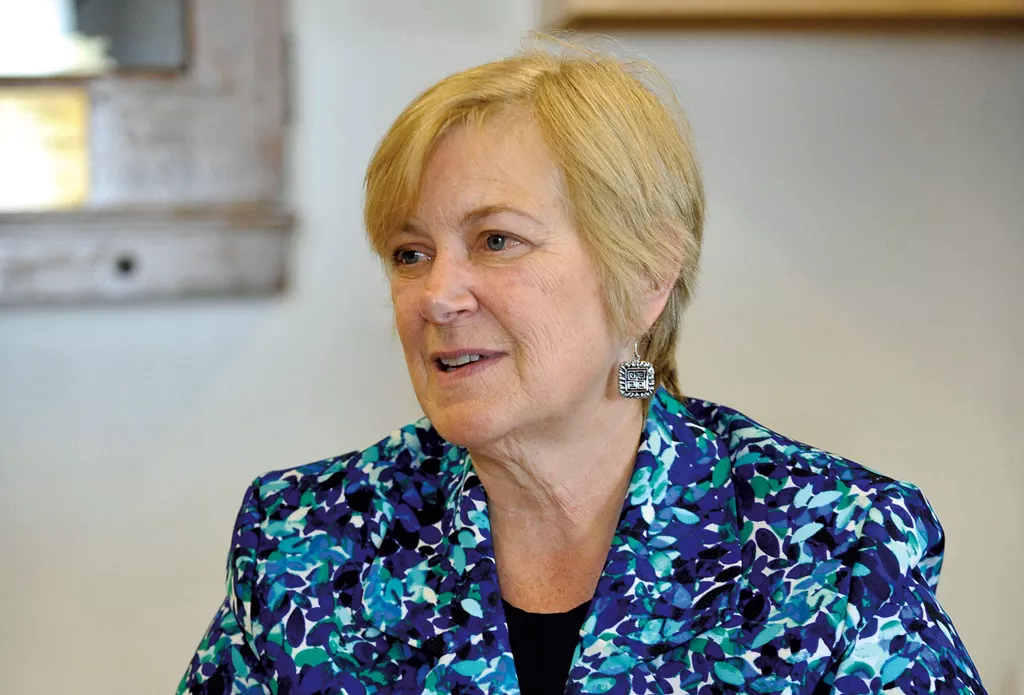 Jeb Wallace-BrodEUr
Merri Greenia
That's the message state Agency of Education Secretary Rebecca Holcombe hopes to convey as she, too, travels the state to more meetings than she can count. "There is no one-size-fits-all," Holcombe said. "We've been saying everywhere we go we want boards to get together and come up with solutions."
Greenia is a mild-mannered principal with 36 years of experience in Vermont schools who can — without raising her voice — induce a lunchroom full of high-schoolers to patiently wait for pizza to come out of the kitchen. But she gets fired up when she challenges the notion that larger schools are better.
"The piece of it that gets my ire is this whole idea we need to consolidate so we can offer richer programs to students. That's put out there, generalizing without any certain facts," she said.
Just after she finished teaching her daily middle-school math class and before filling in as cafeteria monitor, Greenia sat in her office, put on her reading glasses and opened her laptop to make her case that smaller can be better. This year, she said, Craftsbury students are taking 63 advanced-placement classes. Last year, eight students took AP calculus. Six of them scored a perfect 5 out of 5 on the exams and two scored 4.
On standardized tests in 2013, 92 percent of Craftsbury's 11th-graders scored proficient or above in reading, compared to 74 percent statewide; in math, 62 percent were proficient or better, compared to 35 percent statewide.
Unlike at many Vermont schools, enrollment at Craftsbury has been rising. Greenia said she asked a student who transferred this year from a larger school what the difference was. The student told her, "There's more thinking here."
The public school that Greenia runs looks and feels like the kind of private college-prep school where parents pay big bucks to ensure that their kids get individualized attention.
During a study period, senior Jared Benson sat in a small alcove on the school's first floor, researching on his laptop for the school debate team. He is taking five advanced-placement classes, two of them online. He hopes to study physics at the Massachusetts Institute of Technology.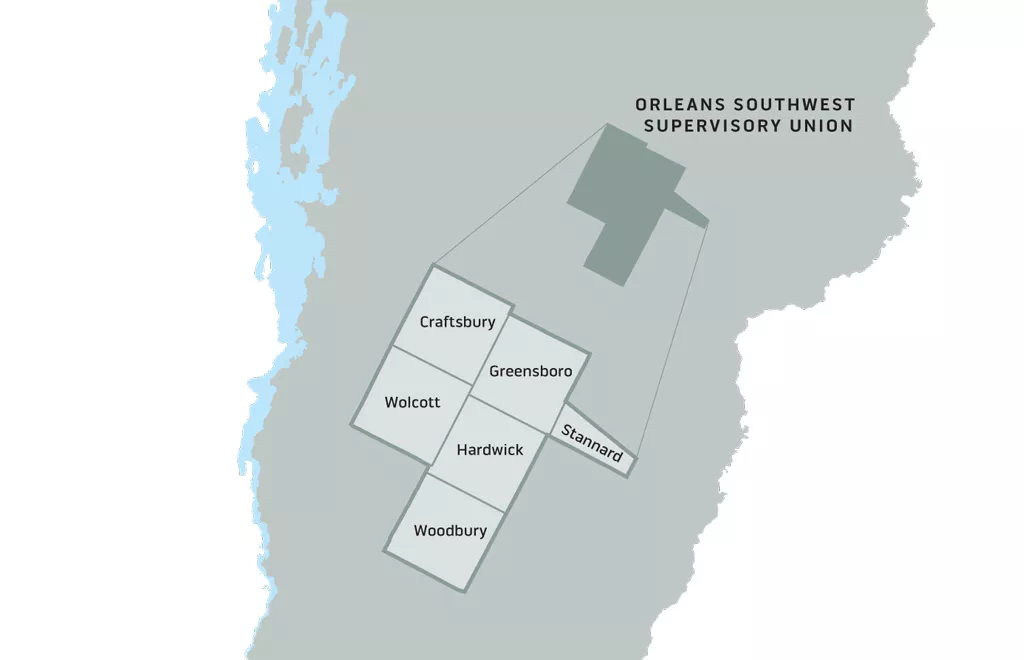 Based on Craftsbury's track record, he has a solid chance. Marckres' oldest son graduated from Craftsbury this year and is now studying neuroscience at MIT. His small-school background posed no problem in the admissions process, she said. Some years, all of Craftsbury's graduates go on to post-secondary education.
To demonstrate Craftsbury's fierce support for its school, Greenia showed off the school gym. Residents approved a $5 million renovation in 2010 that included replacing a gym that was so decrepit it was deemed too dangerous to use whenever outdoor wind speeds exceeded 30 miles per hour. Greenia still has a wind gauge in her office. Townspeople saved money on the project by laying the wood floor themselves with local timber, Greenia said.
The new gym's bleachers hold 300 people, and senior Anna Strong, who plays on the girls' basketball team, said they're full for most games. Strong, whose father and grandfather went to Craftsbury, said she doesn't hanker for more classmates, course options or extracurricular activities. "Being part of a small school is great," she said. "You get to be really close to your teachers."
That closeness is endangered if Craftsbury becomes part of a larger district overseen by a single school board, with decisions made by residents from other towns, Greenia said. The principal is also convinced consolidating won't save money.
"I think people will, 10 years down the road, say that increased costs," she predicted "Transportation is going to be a huge issue."
State officials aren't promising that school consolidation will save a set amount of money, but rising education costs were the driving force behind Act 46.
Craftsbury could be considered a high-spending district, ranking 22nd out of 265 districts in the state in per-pupil spending. This year, the district spends $16,933 per pupil, compared to the state average of $14,442, according to the state Agency of Education. Craftsbury gets a $142,773 small-school grant from the state, which it would lose if it fails to come up with a satisfactory consolidation plan.
The push to cut spending could force Craftsbury to take a more critical look at its operations. Next year, the district will face penalties if its budget goes up more than 1.56 percent, under the new law's spending cap.
School districts are just starting to see the potential impact of those caps, which vary by district, and some are yelping about it, Mace said. With health insurance costs slated to rise 7.9 percent, many districts will be forced to make cuts.
But it is the perceived inequity of the caps — which could hit low-spending districts harder than high-spenders — that is fueling the most complaints. Allen Gilbert, executive director of the Vermont chapter of the American Civil Liberties Union, said he's prepared to sue the state if the legislature fails to repeal the caps early next year. The Vermont School Boards Association and Vermont Superintendents Association plan to push legislators to change or eliminate the caps, Mace said.
For Craftsbury, it's not just the threat of being part of a larger district that has residents worried. Merging with its neighbors is downright complicated.
Marckres has volunteered to serve on a new merger study committee, even though she just spent three years on the panel that concluded Craftsbury and its neighbors were too different to merge.
Craftsbury is one of six towns spanning four counties that make up the Orleans Southwest Supervisory Union. All six towns have different school configurations that are typical of Vermont but make it difficult to form a single school district. Craftsbury runs its own prekindergarten-12 school. Stannard is in a union elementary school with Greensboro, but offers choice for high school. Greensboro is in another union with Woodbury and Hardwick to form Hazen Union High School. Wolcott operates its own pre-K-6 school and offers high school choice.
Stannard and Wolcott have been unwilling to give up school choice in previous talks, which makes merging with non-choice districts difficult under state law. The state Board of Education clarified last month that a consolidated district can go one route or the other but can't run a school and have school choice. That means any choice and non-choice towns that want to work together have to either give up choice or close schools.
That's thrown a wrench into merger plans throughout the state. Leaders in Windsor, which operates a high school, had wanted to merge their district with neighbors that don't, but now have to go back to the drawing board.
Some say this will pressure towns into giving up school choice, a precious tradition in Vermont. "I don't think we can still have choice the way the bill is," said Rep. Linda Martin (D-Wolcott), who voted for Act 46 amid assurances that choice had been protected but now fears it hasn't. "I kind of feel like I was blind-sided," she said.
Mill Moore, executive director of the Vermont Independent Schools Association, a group that is keenly interested in keeping school choice as an option, does not view the situation so dimly. "All the hysteria about this being the end of school choice is far-fetched," he said.
State law clearly says districts cannot be forced to give up choice, he said. "I think most choice districts are so committed to the importance and value of choice that they will resist and will pressure the General Assembly to change the statutes," he said.
Mace said the law allows for creative options, even for choice and non-choice towns to work together.
For example, she said, Wolcott and Stannard could become one district, retaining school choice, while Craftsbury, Hardwick, Woodbury and Greensboro form another. Such "side-by-side" districts would meet the letter of the law, she said. That arrangement would require Stannard and Greensboro to break their elementary union, however, which they were unwilling to do in previous talks.
Holcombe conceded that some districts won't find partners. They could be granted dispensation under the law, but only if they've tried, she said.
Craftsbury is willing to make an effort, Marckres said. After attending a regional meeting about the new law earlier this month, she came away buying some of Mace's optimism. "We're trying to keep our minds open," she said. "We have options."
Greenia, too, doesn't shrink from the debate about consolidation despite her strong feelings about the value of her small school district.
"I think there is some wiggle room," she said, tossing out a possible scenario by which Craftsbury could retain its own school board while forming a modified union with its neighboring towns. "That's the thinking right now that I'm banking on."