James Buck
Ayman Alsalloumi (left) and Majd Alabas
Majd Alabas, 17, got down on all fours on the wrestling mat at the former Black Bear Tavern & Grille in St. Johnsbury and braced himself. Beside him Ayman Alsalloumi, 18, stood with his hands behind his back. He bent his knees, angled to lean his chest against Majd's side and scuttled across the room on the balls of his feet, pushing Majd with him.
"Stay strong, MJ!" hollered St. Johnsbury Academy coach Michael Verge at Majd as he watched him struggle to resist his sparring partner.
Majd dropped to the floor, and Ayman fell on top of him. "What are you doing, MJ?" Verge asked.
The boys popped up to repeat the sprawling drill. Ayman walked to Majd's other side, tugged at his sweatshirt and ran a hand through his floppy hair before assuming his position.
Wrestling is in Ayman's blood; his paternal grandfather participated in tournaments in Egypt, Lebanon and Jordan. Since he joined the team last fall, he's lost about 20 pounds, a change he hopes will surprise his family in West Haven, Conn., when he returns home for winter break.
"Stay stronger, MJ," said Verge with a chuckle, as Majd struggled to match his sinewy frame to Ayman's. But the younger boy couldn't overcome the difference of five weight classes between them. "He's too much for me," Majd said, turning to Verge with his hands spread in surrender.
On the mat, these two St. Johnsbury Academy students may be fierce sparring partners, but off of it, they share a bond they compare to brotherhood. Both recent refugees from the conflict in Syria, they're attending the Northeast Kingdom boarding and day school on a scholarship designed specifically for young people in their position. Ayman and his younger sister Ghena were the first students to come to the academy on that scholarship in 2016.
The program is the brainchild of headmaster Tom Lovett. Moved by the stories of Syrian refugees trying to escape to Europe by sea, he wanted to help. But using private sponsorships to bring Syrian families to St. Johnsbury, as locals did when they resettled Laotian refugee families there in the 1980s, wasn't feasible under current U.S. immigration policy. And obtaining the necessary visas to admit students directly from Syria was too difficult.
So Lovett turned to a St. Johnsbury resident with connections: Alison Barkley, a retired Foreign Service officer and wife of Robert Ford, former U.S. ambassador to Syria. She introduced the headmaster to Syrian American architect and artist Mohamad Hafez, who lives in New Haven. He in turn connected the headmaster to a former refugee family with children he believed would benefit from attending the academy: the Alsalloumi siblings, who moved to the country in 2015.
The concept of a boarding school is unfamiliar to many Syrians, said Hafez, and after escaping war in their native country, parents didn't welcome a separation from their children. The Alsalloumi family faced skepticism from the local Arab community, said Rawan Oudeh, the family matriarch (with Ghena as her interpreter). But they recognized Lovett's offer as an opportunity.
"I knew that I was going to be sad, alone," said Ayman, now a senior. "[But] I needed to take any chance that comes and get a better education."
While Ghena has since returned home to Connecticut, Ayman remains at the Academy. In his nearly three years there, the shy boy with limited English proficiency has transformed into a confident young man who is eager to attend college, Lovett observed.
Hafez, who remains a mentor to Ayman, agreed. But the high schooler continues to face challenges, he noted. "I think he appreciates the scholarship," said Hafez, "but it's also a big undertaking for a young student to cope with everything at once."
'In one second, everything was gone'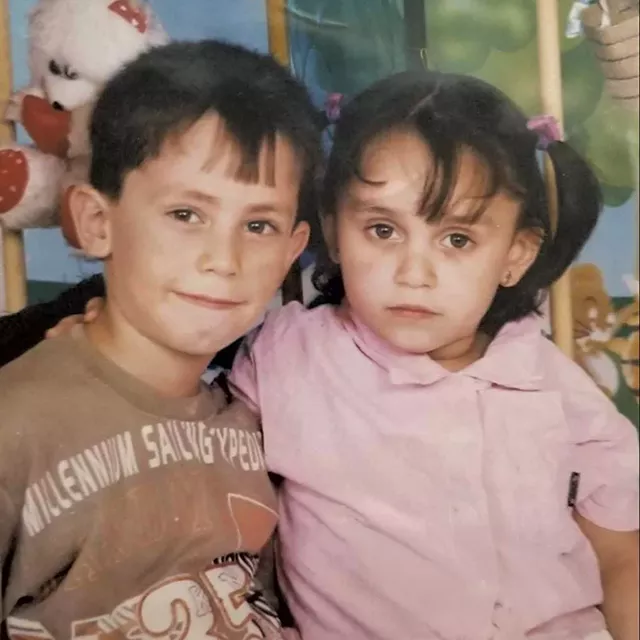 Courtesy Of Ghena Alsalloumi
Ayman and Ghena Alsalloumi
Ayman grew up in the ancient city of Homs in western Syria, where the Alsalloumis lived near Al-Baath University in an apartment building owned by Ayman's paternal grandfather. Neighbors knew one another, Ayman recalled, and local kids played soccer and rode bicycles together.
Ayman's father owned a restaurant about 20 minutes from home, where the boy sometimes visited him after school to eat shawarma — a spit-roasted, shaved meat sandwich. Bus drivers kept an eye on Ayman and made sure he got to his destination.
Ayman was expected to focus on his education, he said, and faced his father's wrath whenever he got bad grades. His father served as provider, saving up enough to build a second home for the family.
Then war broke out. "In one second, everything was gone," recalled Ayman. "We did not get to live in the house."
In February 2011, a group of boys in the city of Daraa, about 150 miles south of Homs, painted anti-government graffiti on the walls of their school. Against a background of public demonstrations that had forced the longtime strongmen of Egypt and Tunisia out of office, the Syrian government cracked down hard. The arrest and torture of more than a dozen schoolchildren in Daraa triggered a wave of protests across the country, which eventually spiraled into a civil war.
Ayman's father moved to Saudi Arabia to find a job to support the family when the conflict was nascent. Ayman, his mother and his two sisters stuck it out in Syria for about another year.
Homs was the scene of fierce fighting between government and opposition forces. Bombs exploded, buildings crumbled, black plumes of smoke filled the skies, gunshots rang out continually and fleet-footed civilians dodged snipers.
Ayman remembers his last day in his maternal grandfather's home. He was jolted from his sleep early in the morning. The family hurried out in hopes of getting through a checkpoint that the approaching government army had erected on the road. The boy looked at his sisters, mother, uncles, aunts and grandparents.
"Maybe this is the last time we're going to see each other," he remembered thinking.
At the checkpoint, Ayman's uncle pleaded for passage. The soldiers waved the family through and warned them not to look back. Minutes later, the shelling began.
Ayman's family took refuge in a village for the next few months before going to Damascus for their passports. Saudi Arabia denied them visas. They tried to leave for Jordan by land and air but were turned away because they came from Homs.
Finally, they paid a large bribe to get land passage to Lebanon. They made their way to Jordan by air, where they were reunited with Ayman's father.
'We started dreaming big'
Courtesy Of Majd Alabas
Majd Alabas in Syria, age 9
The warm welcome that Syrian refugees received in Jordan was short-lived. As the war continued, swelling the refugee population and putting pressure on the host country's resources, locals grew hostile toward the newcomers.
Sometimes he was afraid to say he was Syrian, Ayman recalled. When he visited a government office to get his paperwork, officials didn't address him by name, he said, but clucked their tongues in disapproval and called him "Syrian refugee."
"My country is in my blood," said Ayman. "I wouldn't leave my country for no reason."
Ayman's father was arrested for not having required work permits. "Just because he was trying to feed his family, they took him to jail," said the teen. "What kind of humanity is that?"
Then came an offer of resettlement in the U.S. Ayman's father knew he couldn't afford to send his son to college in Jordan, Ayman said. But in the U.S., "the country of freedom," his children might have a shot at higher education.
"In Syria, we have a saying: Your education is your weapon," said Ayman.
With a move to the U.S. imminent, Ayman started watching English-language movies and putting more effort into his English class. He looked up New Haven and learned about Yale University. He told his mother, "Mom, look! God is sending us to this place."
"We started dreaming big," said Ayman.
In September 2015, the Alsalloumis moved to Connecticut. There they got to know Hafez, who helped the family adjust to their new home. The artist took Ayman under his wing and allowed the teen to help out at his studio. He impressed on the young man the importance of learning English as quickly as possible.
As the oldest child and only son, Ayman feels responsible for his family. "I want to give [my parents] the life that they really want, give them everything they want," he said. "If I don't study, I won't be able to give them that."
But acquiring a new language proved difficult. At his high school, the English as a Second Language teachers used Spanish to communicate with their students. While Ayman was sympathetic to the needs of his classmates, he was anxious about his own progress.
The next year, he tried out a summer program at Phillips Exeter Academy in Exeter, N.H. "I used to cry every day because that was my first time leaving my family," he said.
But Ayman steeled himself and began to enjoy the experience, studying American history, architecture and English; playing soccer; and swimming. He met campers from different countries and taught them about his culture. At the end of the five-week program he told his mentor, "I want to go to a school like this."
'He was the catalyst'
James Buck
Ayman Alsalloumi (second from right) and Majd Alabas (right) cheering with their team during a meet
The Fairbanks family established St. Johnsbury Academy in 1842 for their children and those of the townspeople. Today, it offers both college prep and technical training and accepts school choice vouchers. Students come from about 30 countries, and the academy has several levels of ESL classes.
Lovett, who joined the school in 1984 and has been headmaster since 2001, said he explored other options for addressing the Syrian crisis, such as admitting students directly from Syria and partnering with an organization in Lebanon that had established a school for Syrian refugees. But to obtain an F-1 student visa, an applicant must demonstrate an intention to return home, a tricky proposition when their home country is in the throes of civil war.
Lovett met Barkley, the retired Foreign Service officer, when they both participated in local pianist Michael Arnowitt's concerts to benefit Syrian refugees. Barkley, in turn, had met artist Hafez in New Haven and invited him to put on an exhibition and give a lecture in St. Johnsbury.
"Within half an hour of putting those two heads together, they had a plan," said Barkley of Lovett and Hafez. "All I did was put the right people together."
Lovett said he knew the academy could get private donors to create scholarships destined for Syrian students. He was also confident that the school would be able to support those students and help them catch up academically.
"We didn't design the program specifically to meet their needs," said associate headmaster Jack Cummings. "It's a simple matter of the program that we have [being] capable of meeting their needs well."
The team worked fast. A few weeks after the headmaster met Hafez, Ayman and Ghena went through the academy's orientation program.
"He was the catalyst," said Cummings of Lovett. "This was something he wanted to do."
Lovett said he didn't fear that St. Johnsbury would see a repeat of the situation in Rutland, where the proposed resettlement of 100 Iraqi and Syrian refugees divided the city and made national headlines. In April 2016, when then-mayor Chris Louras announced plans for the city to become a refugee resettlement site, some Rutland residents felt blindsided and accused him of acting unilaterally and in private on a public issue.
The situation in St. Johnsbury was very different, Lovett noted, because the academy was enrolling a small number of students who would be boarders. Even if their families relocated with them, there would be no significant influx. "I didn't ever consider any negative response from the local community," said Lovett. St. Johnsbury, he continued, has a long history of enrolling a diverse community, and local families have often stepped up to host international students.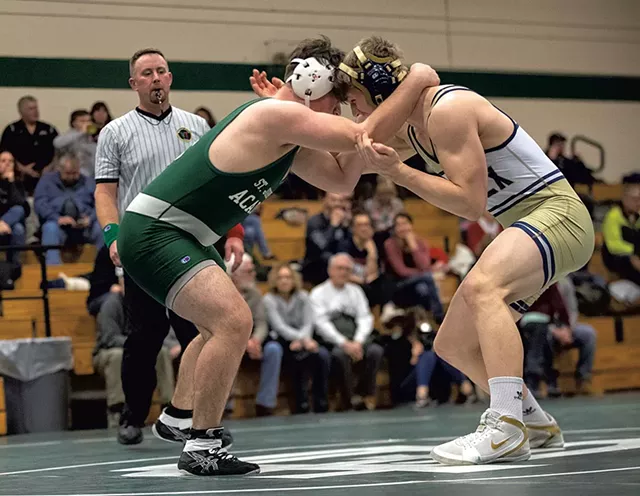 James Buck
Ayman Alsalloumi (left) wrestling in a meet
The scholarships for Syrians came from a number of sources, including endowment income and foundation grants; the school used no public funding for them, Cummings stressed. An alum from Saudi Arabia has been helping with other costs so the Syrian students can participate in school activities such as skiing.
A handful of private boarding schools in the U.S. offer scholarships for Syrian refugees and recent Syrian immigrants to the U.S. to attend summer programs, Hafez noted, but he hasn't come across "this generous of a gift" before.
The school can support four Syrian students at any one time. In 2017, it admitted two sophomores, one from Massachusetts and another, Majd Alabas, from Glastonbury, Conn.
Two of the scholarship students have since left, and the school hasn't been flooded with applications, Lovett said. Many Syrian parents are reluctant to send their kids away after what they've undergone, suggested Hafez and Lovett.
One of those is Ayman's sister Ghena, who returned home to help her mother care for their new baby sister. Though her mother didn't let her feelings show, the teen said, she could tell her mother missed having her children at home.
Ghena made her mark at the school, though. "We were disappointed when she left," said Cummings.
'He knows the most how we feel'
James Buck
Artworks made by Majd and other students
A large Syrian flag hangs on the wall of Majd's dorm room at the Maple Center on Hastings Street. It belongs to his older brother. Majd described Ayman, who lives a few doors down, as an "older brother," too. And he's close at hand to serve as Majd's personal barber.
The two teens are inseparable, demonstrating their affection by clutching each other's hands. Majd has a habit of stroking the back of his older friend's head. The boys said some students were bemused and teased them about their relationship, so they explained that such expressions are common and a sign of kinship among Arab men.
"Our relationship is very special," said Ayman. "We only have each other."
Majd had mixed emotions when he first arrived at St. Johnsbury Academy, he said. But, like Ayman, he understood that the school would help him improve his English and apply to college. His dream is to be a pediatrician.
As the pioneer, Ayman took it upon himself to take care of Majd. After all, it was he who had told Majd's family about the academy. He told his younger peer: "I'm not your friend. I'm your brother."
The boys also have an adult big brother figure: Florian Rexhepi, the dean of international students. An Albanian born in Macedonia, Rexhepi attended St. Johnsbury Academy from 2001 to 2003. Like the Syrian pair, he has experienced war and is Muslim. The teens nicknamed him "Imam Flo" and consult him on personal and religious issues.
"He knows the most how we feel," said Majd.
Rexhepi said his first impression of Ayman was that the teen was confused and overwhelmed, mirroring his own experiences as a newcomer at the school. Not only did Ayman have to speak a new language, he also had to learn a new local and national culture. His senses were "heightened to an unbelievable level," said Rexhepi.
Rexhepi also noted that Ayman is reluctant to express discomfort lest he give offense and endanger his position at the school. Recently, the dean observed the senior walking around in thin socks and sneakers. When confronted, Ayman confessed he didn't have winter boots. Rexhepi had new ones ready for him a few days later.
Ayman's unwillingness to ask for help is understandable, Rexhepi said. "I went through it," he went on. "It's really hard to have to intrude always in people's lives because of certain needs that you have."
Majd is more relaxed, because he didn't face the pressure that Ayman did as the first Syrian scholarship student, noted the dean. He described both boys as more emotionally mature than their peers, feeling responsible for the adults around them and trying their best to integrate into the school community.
Both Ayman and Majd named another student and dorm mate, Asom Hayman-Jones, as a close friend. Ayman said he's also on friendly terms with the dining hall staff; he doesn't hesitate to place occasional special requests such as tabbouleh. During a recent wrestling practice, as the pair ran laps around the former Black Bear, they playfully jostled their teammates.
For each other, Rexhepi said, the boys are a constant reminder of who they are and where they come from: "When Ayman sees Majd, he sees himself."
'I'm just a human like you'
James Buck
Ayman Alsalloumi (left) with a classmate
While the two teenagers are adjusting to boarding school life and a new culture, the program that allowed them to resettle in the U.S. is being debated on a national stage.
On January 27, 2017, President Donald Trump signed his executive order suspending the U.S. refugee resettlement program for 120 days and blocking the entry of Syrian refugees indefinitely. A week later, U.S. District Judge James Robart in Seattle, Wash., blocked the temporary order and lifted the ban nationwide. Since then, there have been two revised iterations of the executive order and several legal actions and court rulings.
The upshot has been a dramatic decrease in the number of Syrian refugees who have been allowed to enter the country. Last year, the U.S. Committee for Refugees and Immigrants Vermont closed its second site in Rutland, where residents had been expecting the arrival of 100 people from Syria and Iraq. (Only 14 Syrian nationals resettled there.)
Majd and his family arrived in the U.S. in July 2016, just four months before the presidential election. The anti-refugee and anti-Muslim rhetoric worried them, he recalled.
Ayman, who has relatives in Turkey as well as Syria, was devastated when he learned about the travel ban, he recalled. "What makes me angry is how people look at differences rather than what we have in common," he said.
The alienation and anger that Ayman had felt when his father was arrested in Jordan returned last May, he said, just days before he turned 18. As usual, he and his sister took the bus home for a visit. They were on board a Greyhound bus in White River Junction when a pair of border patrol agents strode up and demanded to see their IDs.
Ayman recalled that the siblings were terrified, and Ghena, who wears a headscarf, was close to crying because she didn't have her permanent residency card with her. Ayman admitted to being more scared than his sister, but he had to put on a brave front for her sake.
"He talked to us in such a bad way," he recalled of the incident. "Why? Why? I'm just a human like you."
In contrast, he feels welcomed at the academy, he said. When he left Syria, part of him was missing, he went on. But the academy has helped fill that void.
"I don't feel like I'm at school," he said. "I feel like I'm at my house. This school is my Syria."
'This is not easy stuff to do'
James Buck
Woodworking teacher and wrestling coach Matthew Stark (left) with Majd Alabas (middle) and classmate
Last fall, both Ayman and Majd joined the wrestling team. Ayman took it up because he needed an outlet for his stress and frustration. He was worried about getting into a good college and about his relatives, who were trying to leave Syria and were stuck at the Turkish border.
"I couldn't control myself," he said. "I started to punch everything."
Usually thoughtful and measured, Ayman is passionate when he discusses college. He laments that his future depends on the SATs, and it's hard for him to compete with native English speakers after fewer than four years of study. (Research has shown that an ESL student typically takes between four and seven years to achieve academic English proficiency.)
It's not always easy to convince his mother he's doing his best, he admitted. "I had to learn the language, understand the system, meet new people, leave my family, be alone in a new country. This is not easy stuff to do," he said.
Rawan, his mother, said she knows things are hard for Ayman. "He's tired now," she noted, "but he's going to relax in the future."
Ayman wanted to attend Yale, close to his family, and become an optometrist. But when he began to understand what it would take to attend the elite college, he said, he felt discouraged and didn't apply.
"I know I should have tried, but I was scared people would laugh at me," he said.
The senior considers transitioning out of ESL class his biggest achievement at St. Johnsbury Academy. His younger peer is also making good progress. In his ESL class, Majd always sits in the front row and actively participates in discussions. The junior doesn't mind his nickname, MJ — some people find it difficult to say Mah-jid, as his name is pronounced.
Karen Stark, who handles special services at the school's Field House, has worked with the Syrian students since they arrived, offering daily guided studies and weekly homework support. She finds their resilience and work ethic astounding, she said.
"I've never worked with young individuals who have such a strong desire to improve and take everything that's available to them and progress forward in a positive manner," Stark added.
But it can be difficult for Ayman and Majd to focus on school when they hear news about Syria. Sometimes they relive the trauma in their dreams.
"I don't dream about myself getting killed," said Ayman. "I dream about my family getting killed."
Recently, Ayman's class tried out virtual-reality goggles. When Ayman discovered that he could "visit" Homs, he cried, he said. With Stark's permission, he called his mother to share the excitement with her, though she was disheartened by the goggles' $200 price tag.
"I saw the streets in Syria. I saw the university next to my home," Ayman recalled. "I couldn't go to my house. I went to the closest point, where I used to play soccer."
Watching his reaction made other students emotional, too, Stark recalled. "That experience allowed him to find some comfort."
'I feel there's a change in his character'
James Buck
Ayman Alsalloumi (left) and Majd Alabas
When Ayman comes home every few weeks, the first thing he usually does is eat shawarma from the restaurant where his father works. Then he handles all the paperwork — letters and bills — that his family has accumulated. He's teaching Ghena to do the same.
During one such home visit, Ayman left a deep impression on Amal Eltaib, a former Sudanese refugee who moved to the U.S. in 2013 with her son and husband. When she first met the teen, he seemed "shy, like a kid," she recalled. She was amazed by his transformation after he started attending St. Johnsbury Academy.
Eltaib found Ayman happier, more mature, confident and charismatic. "Really, I feel there's a change in his character," she said.
Eltaib contacted Hafez, who introduced her to Barkley, who by that time had been appointed to the school's board of trustees. Barkley explained that the scholarship fund was reserved for Syrian refugees. But she offered to give Eltaib's family a tour of the school. If they were serious about sending their son to the academy, she suggested, they could consider moving to the town.
By July 2018, Eltaib and her husband were working and building a new life in St. Johnsbury with the support of a group of locals.
As Ayman prepares to graduate, Lovett said he feels very good about what the student has accomplished. He recently sat in on Ayman's class and was pleased to see the student leading discussions. But he's cautious about turning Ayman into a symbol of success. He's just a young man who took an unusual opportunity, the headmaster continued.
"I can tell a story and say, 'Here is a boy who's shy and didn't have very much language ability,'" said Lovett. "Over three years, not only did he become more outgoing and confident, but his language ability was such that he was able to go on to university."
As he waits to hear from colleges, Ayman said he's sad about leaving the academy and its community.
"They not only changed my life," he said, "they also changed my family's life."