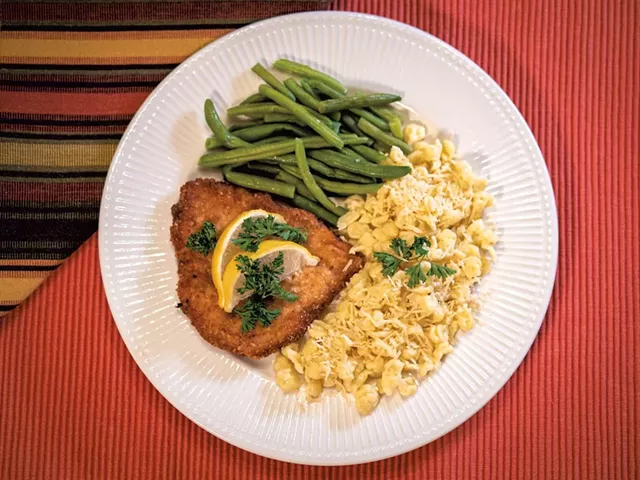 Andy Brumbaugh
Pork Schnitzel and Spaetzle
When I was 13 years old, our family took a month-long trip to Europe, culminating with two weeks visiting family in Sweden. For most of the trip, our itinerary was loose. Dad would drive our packed-to-the-gills station wagon toward a vague destination, and we would stop and find a hotel when he got tired. I specifically remember a stop in Germany, where the proprietors of the hotel we had found guided us to a restaurant right across the street. Our family of five shared a large, cozy table in the eatery decorated like a hunting lodge. The walls had taxidermied animals on them, including "jackalopes," which my father lovingly explained were rare animals — jackrabbits with large, showy antlers — found only in that part of Germany. (My father loved tall tales and could always tell them convincingly.)
As we did at nearly every restaurant, we all ordered different dishes, and then shared them around the table, round-robin style. I don't remember who ordered schnitzel, but I remember loving the crispy delightfulness of it and wishing for more than my fair share.
Schnitzel is basically a thin cut of meat, breaded and fried until golden brown. It uses an ancient preparation method; some sources I found on the internet date it back to the Byzantine empire in the seventh century! The best-known schnitzel is Wiener schnitzel, which means "Vienna schnitzel," and is made with veal and hails from Vienna. Chicken, turkey or pork — as I have used in this recipe — can also be made into schnitzel. The meat can be topped with a mushroom sauce, a tomato sauce, cheese, or just lemon and parsley. It is simple, quick to make and so delicious. It makes a perfect weeknight comfort food dinner.
You can serve it with roasted potatoes or a side salad, or go even more German and make one of the simplest pastas/dumplings ever: spaetzle. Spaetzle is made by pushing dough through a special spaetzle maker or, if you don't have one, a colander! It takes minutes to make and is a wonderful side dish to create an authentic German meal.
Schnitzel and spaetzle — almost as fun to say as they are to eat!
Pork Schnitzel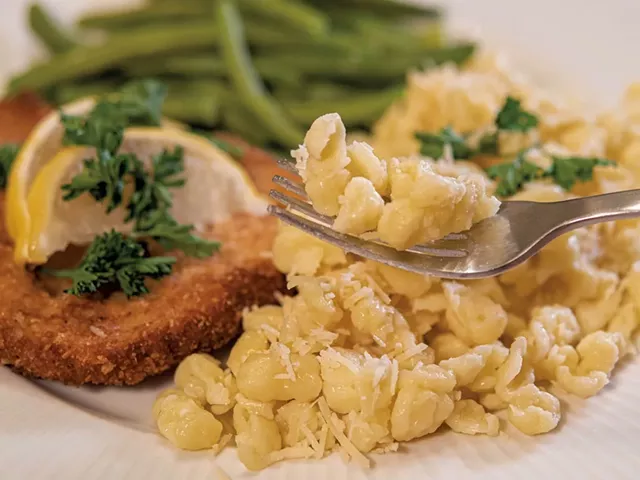 Andy Brumbaugh
Pork Schnitzel and Spaetzle
Ingredients:
2 pounds thin-cut boneless pork chops
½ cup flour
1 teaspoon salt
1 teaspoon pepper
2 eggs
1 cup bread crumbs
¼-½ cup canola oil (for frying)
1 lemon, cut into wedges
parsley (for garnish)
Directions:
If your pork chops are thicker than 1/2", cut them carefully in half, horizontally, so that they are thinner.
Place the chops between two pieces of parchment paper, one at a time, and pound with a heavy iron skillet or a meat tenderizer until about 1/4" thick.
Set up three shallow bowls for breading: one with flour mixed with salt and pepper, one with lightly beaten eggs, and one with bread crumbs.
Dip each thin cutlet first into the flour, then the eggs (let excess liquid drip off), and finally into the breadcrumbs. Make sure the meat is coated.
Heat a large, heavy skillet with the oil over medium heat. The oil level should be about 1/8"-1/4" deep, and the oil should be about 350 degrees. A good way to test the temperature if you don't have a candy/oil thermometer is to drop a bit of the breading into the oil. It should crisp up quickly.
Fry the schnitzel, one or two pieces at a time, for 2-3 minutes per side. You may need to adjust the temperature to keep them from getting too dark before the inside is cooked. (The internal temperature of the meat should be 145 degrees).
Once they are fried on both sides, remove to a rack over a pan and keep warm in the oven at 200 degrees until ready to eat.
Serve with wedges of lemon and some parsley.
Spaetzle
Ingredients
4 eggs
⅔ cup milk
2 teaspoons salt
2 cups flour
4 tablespoons melted butter
1 teaspoon white pepper
parmesan cheese (for topping)

Directions:

Mix together eggs, milk, salt and flour until they form a dough that is a little thicker than pancake batter, but not as thick as bread dough.
Bring a large pot of lightly salted water to boil.
If you have a spaetzle maker, press the dough through it, in 2-3 batches. You can also push the dough through a greased colander, using a spoon. The resulting spaetzle should be a little smaller than macaroni noodles.
Boil for just 1-2 minutes, until the spaetzle is floating and tender. Remove with a slotted spoon and place into a serving dish. Coat with melted butter and sprinkle with pepper.
Enjoy with additional butter, or top with a little cheese if desired. (Spaetzle can also be served with a cheese sauce for a truly comforting, German-style mac and cheese.)