Charlotte Scott
Smugglers' Notch (Route 108)
Autumn in Vermont is famous for a reason, and it's easy to see why on a fall foliage drive. To catch the changing colors, take an afternoon or a full day and explore the state's mountain trails and waterfalls, apple orchards and outdoor art. Pack your sneakers and a warm sweater, and roll down the car windows to enjoy the energizing nip of fall in the air.
To guide your sightseeing, here are three easy routes that are low in mileage and large in experiences. We guarantee that nobody in the car will ask, "Are we there yet?"
Burlington to Charlotte
Courtesy of Shelburne Vineyards
Shelburne Vineyard
It's only 16 miles, but there's so much to do between Burlington and Charlotte that this excursion — ending with rewarding scenery at Mt. Philo — could take all day.
First stop: Shelburne, six miles south of Burlington. There's penny candy and fudge at the Shelburne Country Store, as well as tea towels and children's toys. Grab a cappuccino at Village Wine and Coffee and pop into one of Shelburne's antique shops, which sell everything from duck decoys to velvet-upholstered slipper chairs. Plunge into New England history at Shelburne Museum, where the enormous collection of Americana includes hatboxes, weather vanes, quilts and even entire buildings, from an 1800s blacksmith shop to a bright-red round barn built in 1901. At nearby Shelburne Farms, visitors can stroll the grounds of the Gilded Age estate, now a model farm. Try the eggs Benedict at its elegant inn, open through mid-October, and stop to smell the David Austin roses that bloom through the fall in the formal gardens, located on a rocky promontory overlooking Lake Champlain.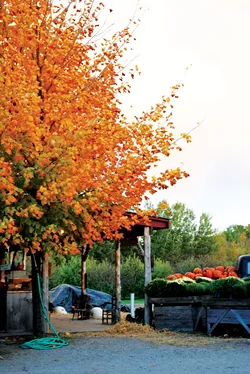 Charlotte Scott
Shelburne Orchards
Also on the west side of Route 7, Shelburne Orchards is a good pick-your-own spot for McIntosh apples, crisper and juicier than those found at so many grocery stores. Short on time? Buy a pre-picked peck, or opt for cider doughnuts and ginger cider, both made on-site.
Continue driving south to Mt. Philo, a 968-foot peak offering glorious views of the yellows, reds and oranges spreading out over the Champlain Valley. It's a short, steep hike up, but cars can drive a winding road to the top until mid-October. After all that fresh mountain air, a wine-and-cheese tasting at Shelburne Vineyard will hit the spot on the way back to Burlington.
Stowe to Jeffersonville
Courtesy of West branch gallery & sculpture park
West Branch Gallery & Sculpture Park
Stowe sits in the shadow of Mt. Mansfield, Vermont's tallest peak. Just a few miles from Vermont's most famous ski area, the compact village is home to shops that, unsurprisingly, offer sporting gear galore — but also plenty of art, books, craft beer and coffee. After browsing the shops, point the car north on Route 108 (aka the Mountain Road) toward Smugglers' Notch, a twisty mountain pass once used to bring contraband goods and alcohol down from Canada (hence the name).
On the way, stop at West Branch Gallery & Sculpture Park to view a striking selection of contemporary art both outdoors and in — from surrealist botanicals to moody rail-yard paintings. Consider hitting the brakes at Trapp Family Lodge, just west of Stowe Village, for lunch and a walk on the trails of the Austrian-style resort founded by the family that inspired The Sound of Music.
Courtesy of Stowe Mountain Resort
Stowe Mountain Resort gondolas
Then follow signs to Stowe Mountain Resort and look for the gondolas. Climb into one of the little red cars ($28 round-trip for adults; $19 for children) and enjoy the mountain ascent. The peak presents a sweeping view of the valley below; on clear days, look for the distant outline of New Hampshire's Presidential Range.
Back on Route 108, the road rises quickly, snaking past rocky outcroppings and beech, maple and birch trees in brilliant colors. Watch for the Elephant's Head cliff formation on the right, and take the zigzagging curves slowly — the road is so steep and narrow that it becomes impassable once the snow flies and is shut down for winter. At the top, there's a small parking area near the path to Sterling Pond, a glistening alpine lake in Smugglers' Notch State Park. After the roughly two-hour hike, sink into the car seats and cruise down the Notch to Jeffersonville.
Waitsfield to Warren
Courtesy of The Pitcher Inn
The Pitcher Inn
The farms, covered bridges and cozy villages along this stretch make Route 100 one of the most popular byways in the state. Start in Waitsfield by admiring Main Street's Joslin Memorial Library, a 1913 building with starburst windows and limestone columns. Then head over to the shops and eateries on Bridge Street — including the quirky Madsonian Museum of Industrial Design — where a covered bridge crosses the Mad River, flowing north in lazy fashion here. Nearby, the Big Picture Theater & Café offers regular live music and current films on the big screen. Patrons needn't bother sneaking their own beer into the movies; it's sold on the premises, along with an assortment of good eats, and filmgoers are welcome to imbibe in the darkened theater. Bonus: The maple doughnuts are delicious.
Drive a few miles south to Warren and order an overstuffed sandwich at the Warren Store. There's the Godzilla for roast beef lovers and the Pestopalooza for vegetarians; both are best enjoyed from the porch overlooking the river. Fancy a chenin blanc or fruity pinot? The wine cellar at the elegant Pitcher Inn (pitcherinn.com) is exceptional, and so are the menus at its two restaurants.
Just south of Warren, look for a pull-off on the west side of Route 100. Follow the dirt path to Warren Falls. The cascading pools of emerald water are packed in the summer with swimmers; autumn is quieter but just as beautiful. It's a refreshing place to dip your toes, but pay attention: The falls can be dangerous after a heavy rain. With bright boughs waving overhead and sweet-smelling leaves crunching underfoot, this secluded spot is the epitome of fall in Vermont.
---
Charlotte Scott
Smugglers' Notch (Route 108)
Les automnes du Vermont sont célèbres, et il suffit de vous mettre au volant pour comprendre pourquoi. Pour admirer les couleurs changeantes, prenez un après-midi ou toute une journée et allez explorer les sentiers de montagne, les cascades, les vergers et les expositions d'œuvres d'art en plein air. Prenez vos chaussures de marche et un chandail chaud, sautez dans votre voiture, baissez les vitres et profitez de la brise d'automne énergisante.
Pour vous guider dans vos aventures, voici quelques excursions faciles, pas trop longues et riches en expériences. Personne ne se plaindra durant le trajet, c'est garanti!
Burlington à Charlotte
Courtesy of Shelburne Vineyards
Shelburne Vineyard
Seulement 25 kilomètres séparent Burlington de Charlotte, mais il y a tant de choses à faire durant le trajet — qui débouche sur une magnifique finale au mont Philo — que vous pourriez y passer la journée.
Premier arrêt : Shelburne, à 10 kilomètres au sud de Burlington. Faites le plein de bonbons à un sou et de fudge au Shelburne Country Store, ou vous trouverez également linges à vaisselle et jouets pour enfants. Prenez un cappuccino pour emporter au Village Wine and Coffee et entrez chez un antiquaire pour dénicher un canard en bois ou un fauteuil recouvert de velours. Plongez dans l'histoire de la Nouvelle-Angleterre au Shelburne Museum, dont l'énorme collection regorge d'objets et de documents du patrimoine culturel américain, comme des boîtes à chapeaux, des girouettes, des courtepointes et même des bâtiments entiers, notamment une forge des années 1800 et une grange ronde rouge vif construite en 1901. Tout près, à Shelburne Farms, les visiteurs peuvent se balader sur un domaine de la Belle Époque devenu une ferme modèle. Essayez les œufs bénédictine dans l'élégante auberge de la propriété, ouverte jusqu'à la mi-octobre, et arrêtez-vous pour humer les roses David Austin qui fleurissent jusqu'en automne dans les jardins à la française, situés sur un promontoire rocheux surplombant le lac Champlain.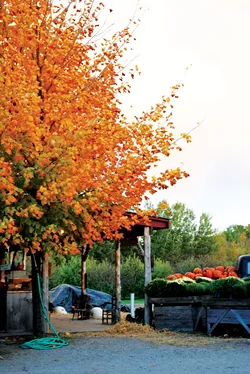 Charlotte Scott
Shelburne Orchards
Également du côté ouest de la route 7, Shelburne Orchards est l'endroit idéal pour faire l'autocueillette de pommes McIntosh, plus croquantes et juteuses que celles qu'on trouve habituellement dans les supermarchés. Vous manquez de temps? Achetez un panier de pommes pré-cueillies, ou optez pour des beignets au cidre ou du cidre au gingembre fabriqués sur place.
Poursuivez votre route au sud jusqu'au mont Philo qui, du haut de ses 295 mètres, offre une vue saisissante de la vallée du Champlain parée de rouge, de jaune et d'orangé. Grimpez à pied par un court sentier abrupt, ou montez en voiture le long d'une route sinueuse. Après cette escapade en montagne, faites escale au Shelburne Vineyard, sur la route du retour à Burlington, pour une dégustation bien méritée de vins et fromages.
Stowe à Jeffersonville
Courtesy of West branch gallery & sculpture park
West Branch Gallery & Sculpture Park
Stowe se trouve à l'ombre du mont Mansfield, plus haut sommet du Vermont. À un jet de pierre du plus célèbre domaine skiable de l'État, cette petite ville comprend, bien sûr, des boutiques de sport, mais également des galeries d'art, des librairies, des microbrasseries et des cafés. Après un brin de magasinage, dirigez-vous vers le nord sur la route 108 (surnommée Mountain Road) en direction de Smugglers' Notch, un col de montagne tortueux ayant déjà servi au passage de marchandises et d'alcool de contrebande du Canada (d'où le nom).
En chemin, arrêtez-vous au West Branch Gallery & Sculpture Park pour voir un étalage impressionnant d'œuvres d'art contemporain, en plein air ou à l'intérieur — vous pourrez notamment y admirer des sculptures botaniques surréalistes et des toiles à thématique ferroviaire. Ne manquez pas non plus d'aller voir le Trapp Family Lodge, juste à l'ouest de Stowe, pour casser la croûte et parcourir les sentiers de ce lieu de villégiature de style autrichien fondé par la famille qui a inspiré La mélodie du bonheur.
Courtesy of Stowe Mountain Resort
Stowe Mountain Resort gondolas
Puis, suivez les indications pour vous rendre au Stowe Mountain Resort et cherchez les télésièges. Montez à bord d'une petite cabine rouge (28 $ l'aller-retour pour les adultes, 19 $ pour les enfants) et profitez de l'ascension. De là-haut, vous aurez une vue imprenable sur la vallée. Par beau temps, vous pourrez même apercevoir à l'horizon la silhouette du chaînon Presidential, dans le New Hampshire.
De retour sur votre itinéraire, la route 108 monte doucement, au détour d'affleurements rocheux ponctués de hêtres, d'érables et de bouleaux aux couleurs chatoyantes. Soyez à l'affût de la formation rocheuse en forme de tête d'éléphant, à droite, et allez-y prudemment dans les courbes — la route est à ce point escarpée et étroite qu'elle devient impraticable une fois la neige tombée, et elle est fermée durant l'hiver. Au sommet, vous trouverez un petit stationnement près du sentier menant à Sterling Pond, un lac alpin étincelant faisant partie du Smugglers' Notch State Park. Après cette randonnée d'environ deux heures, installez-vous confortablement dans votre voiture et redescendez doucement jusqu'à Jeffersonville.
Waitsfield à Warren
Courtesy of The Pitcher Inn
The Pitcher Inn
Les fermes, ponts couverts et villages pittoresques le long de cette route en font l'une des plus populaires de l'État. Au départ de Waitsfield, admirez la Joslin Memorial Library sur Main Street, un bâtiment de 1913 doté de belles fenêtres et de colonnes en calcaire. Allez ensuite du côté des boutiques et des restaurants de Bridge Street — ne manquez pas le très original Madsonian Museum of Industrial Design —, rue où un pont couvert traverse la Mad River, moins agitée à cet endroit. Tout près, le Big Picture Theater & Café propose régulièrement des concerts et des projections de films récents sur grand écran. Nul besoin d'y apporter votre propre bière en cachette : on en vend directement sur place, ainsi qu'une sélection de friandises, et les cinéphiles peuvent boire sans scrupule dans la salle obscure. En prime : les beignets à l'érable sont à tomber par terre!
À quelques kilomètres plus au sud, à Warren, ne manquez pas de commander un énorme sandwich au Warren Store. Il y a le Godzilla, pour les amateurs de rôti de bœuf, et le Pestopalooza, pour les végétariens. Que vous optiez pour l'un ou l'autre, il faut absolument que vous le dégustiez sur la galerie qui surplombe la rivière. L'envie vous prend d'un verre de chenin blanc ou de pinot fruité? La carte des vins de l'élégante auberge Pitcher Inn est exceptionnelle, tout comme le menu de ses deux restaurants.
Tout juste au sud de Warren, du côté ouest de la route 100, soyez à l'affût du sentier de terre qui mène à Warren Falls. L'enfilade de bassins et de cascades aux eaux émeraude fait le bonheur des baigneurs en été; en automne, c'est plus tranquille, mais tout aussi beau. Il est tentant de s'y tremper les orteils pour se rafraîchir, mais faites attention : les chutes peuvent être périlleuses après de fortes pluies. Avec son couvert de branches chargées de couleurs vives et son tapis de feuilles odorantes qui craquent sous les pieds, cet endroit isolé est la quintessence de l'automne au Vermont.