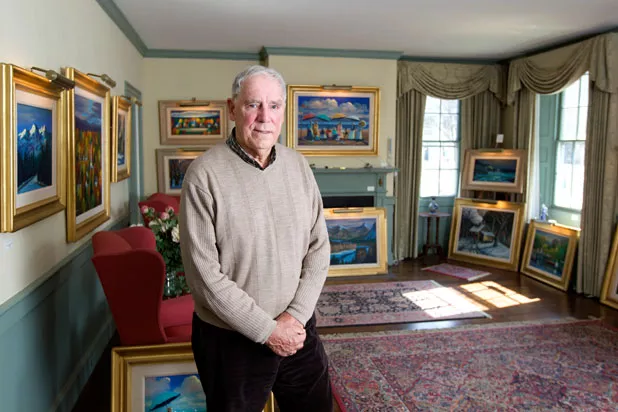 Robert O. Caulfield calls himself a street painter. It's true in more ways than one. His first memory of making art goes back to when he was 6, drawing with pieces of chalk on the mean streets of Depression-era Roxbury, Mass. When his medium changed to oil on canvas, Caulfield's subjects were often iconic street scenes of Central Park East or Copley Square in Boston. In the mid-'80s, he defined his success as an impressionist by the street names of the galleries that clamored for his work: Rodeo Drive in Beverly Hills, Calif., and Worth Avenue in Palm Beach, Fla.
Caulfield, now 79, is a warm, grandfatherly gentleman. Walk into his Woodstock gallery in a stately brick Federal-era home on the Green, and he'll shake your hand and show you around. He's modest by nature, but the accolades he's received from critics and collectors over the years defy such humility. Only after some needling will Caulfield tell you that his paintings can sell for upward of $35,000. Press further, and he'll admit he's sold more than 2400 pieces of art to people and institutions around the world, and that one of his paintings hangs in each of the suites at the Plaza Hotel in New York. He's also authored two books. "Nobody's more surprised than me at all of this," he says.
The modesty is genuine, not an egotistical affectation. Its roots are in Caulfield's tough childhood. He and his brother were abandoned by their parents and raised initially by their maternal grandmother, an alcoholic who would lock them in the attic while she went to the bar. She routinely hocked the boys' school clothes to buy liquor. When Caulfield was 10, his paternal grandparents stepped in and adopted the brothers, moving them from Roxbury to the coastal city of Lynn. It was there that Caulfield was given his first set of oil paints, and it marked the beginning of a period when he alternated between frustration and expression.
Caulfield was a born artist, but he also married young and started a family by the time he was 19. He had football scholarships to Harvard and Holy Cross, yet his responsibility as a husband and a soon-to-be father prevailed, so he took a job as a truck driver with Boston Gas. "What could I do?" he says. "I had these children coming."
What he could do was paint in his spare time. Caulfield was often inspired by the scenes of his everyday life. One day in the early 1950s, he walked by a church and saw nuns coming out into the rain with no umbrellas. "I was so excited," he recalls. "I went home that night and did the painting." Later, in the early '60s, he entered that work in a juried exhibition in Boston with 1400 paintings from around the country. One of the jurors was Edward Hopper, the prominent American realist painter, who picked Caulfield's "Nuns on a Misty Morning" as one of the best in the show.
For the next 30 years or so, Caulfield worked at the utility company 60 hours a week and painted at night. On the weekends, he'd take trips to Rockport and Gloucester, bringing along one of his five kids, to paint en plein air. Caulfield sketched scenes — a harbor with dories and gulls, for instance, or a popcorn vendor swarmed by children — on paper before committing them to canvas. All the while, he sent out slides to galleries and magazines. In 1977, he was invited to join Boston's Copley Society, one of the oldest art associations in the country.
Caulfield's big break came in 1982, when Yankee magazine used his painting of Stowe during foliage season as a center spread. The publicity wasn't the important thing; for Caulfield, it was the idea that a major magazine liked his work enough to devote two pages to it. Then prestigious galleries began buying his paintings, and the income made him question the necessity of a day job. One day he asked his wife, Marilyn, "What if we quit our jobs and opened a gallery?"
And so they moved to a small, run-down place in Woodstock in 1983. In 2001, they opened the gallery in its current location, next to the village's covered bridge.
Age hasn't slowed Caulfield down, but he rarely paints outside anymore. Now he prefers to base his initial sketches on photos he takes. Every day, he sits in a threadbare wingback chair in his studio, facing a low easel, and paints from 9:30 to 4:30. Behind his chair is a big window that filters the soft northern light. In the summer he opens the door, letting the breeze and the sound of the Ottauquechee River blow through. The room, just off the main part of the gallery, has wide pine paneling and exposed beams. Unframed paintings are stacked against the walls.
While Caulfield's larger oils are beyond the means of many Vermonters, some of his smaller paintings in the gallery go for under $3000. Art lovers with still more modest budgets will be happy to find giclée prints that start at $100 (unframed).
A thread that runs through all of Caulfield's work is his use of light to create feeling. His paintings of horse-and-buggies in front of the Plaza in the snow and rain, for example, or carriages passing Arlington Street Church in Boston, or even a bucolic farmhouse in Manchester, all feature shades of blue that ignite nostalgia tinged with melancholy. "A lady just came in here the other day and started crying," Caulfield relates. "She said, 'I've never seen so much feeling in a painting in my life.' So Marilyn goes and gets a box of Kleenex."
Caulfield's paintings may make viewers weep, but wry humor is always at the tip of his tongue. He'll turn 80 in December, and already people are asking if they can buy his easel, his bucket of dried paint and his wingback chair. They seem to forget he still uses them. "I tell them, 'Nope, not yet,'" he says.