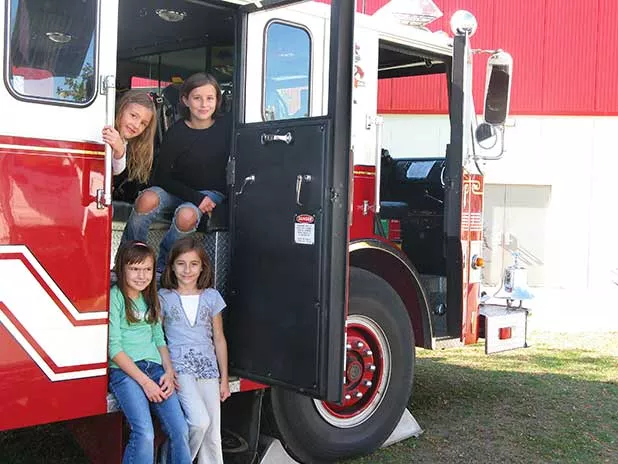 Attendance was low at the All Sports Recreation and Fitness Expo at the Champlain Valley Fairgrounds on Saturday. The event presumably lost many of its potential visitors to the sunny, 65-degree autumn weather. Some of the weekend activities they missed were dedicated to educating families about athletic safety and healthy food choices.
I steered clear of the "this is what 5 pounds of fat looks like" exhibit and chose instead to stuff myself with a pint of hand-cut fries from the snack shack. MVP Health Care, sponsors of the event, countered my poor choice with a free apple.
Inflatable moon bouncers lined one wall, giving parents a break while their kids jumped through tubes, tumbled down slides and hit each other with foam bats. Demonstrations by the University of Vermont Adventure Ropes Course and the USA Luge Olympic recruiters were popular events for the older kids.
Music blasted over speakers while BMX riders turned tricks in the center ring. They were followed by racing demonstrations by the Green Mountain Derby Dames. Both groups spoke fervently about the importance of wearing helmets, mouth guards and padding.
The expo also featured many local businesses and clubs that sold jackets and sneakers, and gave free samples of everything from car decals to a 5-minute massage.
Outside, the "touch-a-truck" exhibit showcased unique vehicles including an army jeep, a fire truck and even a dog-sled team. Boy Scouts of America drew boys and girls with their small ropes course and wooden rubber-band shooting.
I was tempted by a pair of skis at the Smugglers' Notch Ski and Snowboard Club Sale, which featured hundreds of downhill skis, snowboards and boots stacked on tables and leaning against walls. A helpful staff member patiently put up with me while I tried on, and dismissed, every single pair of size 40 ski boots.
Sunday's program included the March of Dimes 5K Fun Run. I passed on this and opted to go hiking with friends - a definite must after gorging on french fries.