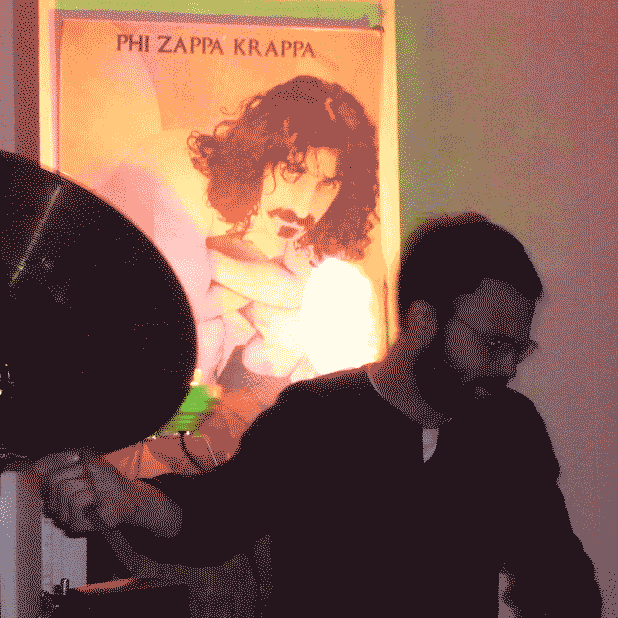 When I think of Frank Zappa, the word "fundraiser" does not spring to mind. So when I heard about "Zappa Night," a benefit for the Glover Public Library, it seemed too intriguing to miss.
I knew I was in the right place when I heard Zappa's music emanating from the Town Hall, which is a small room with a hardwood floor and two basketball hoops on either end. I entered, sat on the stage, and watched as Zappa heads filled the room. They each walked in with different instruments and facial hair, but most brought along a six-pack.
My friend pointed out a guy wearing a black shirt that said, "Crank the Frank" in pink letters. He also wore a black leather cowboy hat that matched his long hair and beard. I hopped off the stage and went over to check out what he was watching on his laptop. Zappa movies.
His name was Dave and he'd come from New Hampshire. We chatted about the Zappa Family Trust and what Frank's music meant to him.
"It's my drug. It's my church," Dave said, as another man erected a Zappa shrine on stage.
Our conversation ended abruptly when the musicians began performing their own Zappa renditions. I'm not sure which was better: the trio dressed in marching-band uniforms with drums, cornet and vocals; a duo singing "Dirty Love" and playing an accordion and violin; or the band Electric Sorcery. Each earned loud cheers and wild applause.
It all seemed exceptionally creative and awesome to me, but then I saw a man dancing with his wheelchair-bound wife; both wore tie-dye T-shirts. The man alternately spun her and leaned in to give her a kiss. When they weren't dancing, the woman kept the beat by turning her wheelchair side-to-side. Zappa may have ruled Glover for one night, but this image will stay with me much longer.