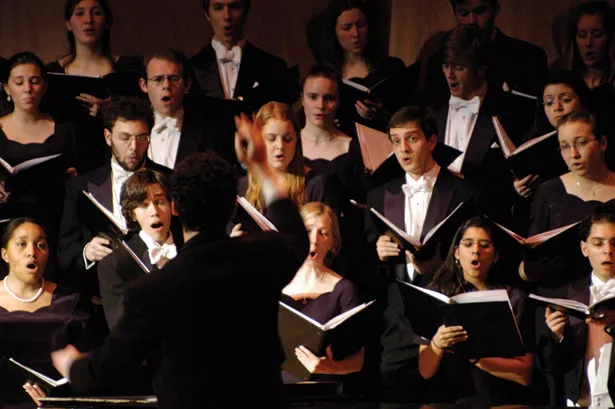 My middle-aged mind was playing tricks on me. The 65 singers of the Yale Glee Club looked impossibly young, despite sleek black dresses for the women and natty white-tie-and-tails for the men. Had 12-year-olds invaded the Ivy League? St. Mike's was the final stop on the YGC's 2008 winter tour. The quick, six-city swing had also included Rochester, Toronto and Montréal. As the fresh-faced choristers sang up a crowd-pleasing storm, I got sucked into a time warp. Had it really been nearly a quarter-century since I had toured with the same group, warbling away to some of the same songs?
Back then, I recalled, the alums in the audiences seemed hoarier than the Neo-Gothic buildings on campus. Yikes - now I was one of the "Old Blues" we used to smile upon in secret youthful disdain.
While the singers' tender age made me feel Jurassic, the music itself rejuvenated me. The primarily a cappella repertoire ranged from Palestrina to postmodern - diverse programming is a YGC hallmark. The Recital Hall's abundant wood acoustical paneling resonated warmly with delicate Renaissance motets, stirring American spirituals and vibrant South African tunes, accompanied by nifty, Xhosa-style moving and grooving on the risers.
Director Jeffrey Douma - only the seventh conductor in the group's 147-year history - has expanded the chorus' commitment to commissioning new music. "Dona Nobis Pacem," by Swedish composer Jan Sandström, provided one of the evening's highlights. Layers of harmony, rhythm and volume built, swelled and resolved evocatively around the Latin prayer for peace.
Rousing Yale songs wrapped the concert, and a handful of YGC alums accepted the standard invite to join the chorus on stage for the final two numbers. I jumped into the front row, and soon realized I'd forgotten half the words to the "Football Medley." But I still knew every note of my alma mater, "Bright College Years." And my smile was ear-to-ear.