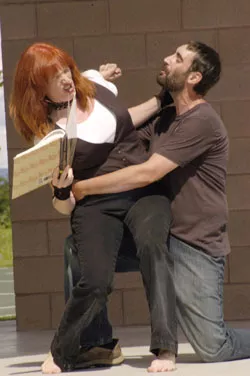 The gods doth smile upon Saturday and make fair weather o'er this blustering land! Shakespeare might have declared something like that, had he been on hand for the Strange Capers' outdoor performance of The Taming of the Shrew last Saturday.
Scattered across bleachers, spectators enjoyed the revered tradition of Shakespeare in the Park, courtesy of director Deja Guevin. Lamenting that she had yet to see most of her favorite Shakespeare plays live, Guevin took the DIY approach. Saturday's performance featured a cast of local actors in one of the Bard's most hilarious — albeit controversial — works. The story has been criticized for its misogynistic theme.
A rare (for this rainy summer) sun shone down and the actors appeared somewhat blinded and sweaty. The audience laughed as the untamable Katharine (Kate), played by the deliciously saucy redhead Wendy Webster, fought off the advances of her indomitable suitor, Petruchio, played convincingly by David Dilego. "Woo her, wed her, bed her and rid the house of her," indeed.
Kohler McKenzie, with classic good looks, played the witty Lucentio, lusting after Kate's younger sister Bianca. Jana Beagley delivered the sweet Bianca with eye-fluttering, skirt-ruffling aplomb. It appeared she had no problem winning over the men in the audience as well.
Shakespeare's dialogue transcends the need for lavish production pieces, but it was nonetheless a testament to Guevin's adept direction that her Taming came vividly to life with no sets and only minimal props. Even sitting on hard bleachers under a surprisingly hot sun, the audience was happily transported to 16th-century Padua. As the great wordsmith put it, "All the world's a stage" — including a public park in South Burlington, Vermont.