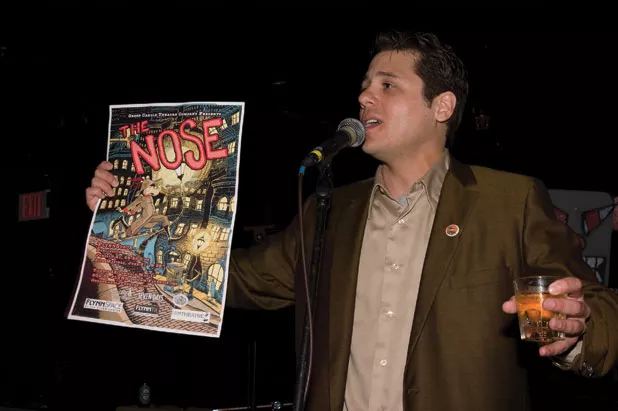 Nothing says "variety show" like drag queens, a touch of '50s rock 'n' roll and an art raffle. At least, that's what made the "Big Bad Box Variety Show" at Club Metronome such an unusually exciting Friday evening.
When I walked in - alone, mind you - I noticed two things: an empty stage and two exuberant drag queens from the House of LeMay standing at the opposite end of the room. I decided that introducing myself to these local legends would be a bit more entertaining than staring at the open stage.
I walked over, we exchanged names and acquaintances, and within minutes we were old friends. Margarite and Lucy Belle told me all about their home in Beaver Pond, their cover story in Seven Days and the many prestigious awards claimed by Lucy Belle's hairdo. By then it was showtime, but not before the LeMays grabbed someone from the Green Candle Theatre Company to take a picture of the three of us.
Rue Mevlana kicked off the evening with a high-energy, electro mini-set that reminded me of the music you might hear walking though a hall of mirrors. I'm not usually drawn to that kind of music (or going to a hall of mirrors, for that matter), but their performance was impressive and made me forget my preconceived notions.
They were followed by The Cave Bees, who got the audience dancing. Then, in between sips of beer and readjusting his shades, Koolaoke, the one-man karaoke band, delivered the evening's comic relief.
But my night peaked when The Jazz Guys invited Ryan Ober on stage. When I heard Ober sing the first lines of Bill Haley's "Rock a Beatin' Boogie," I started tapping my feet and hoped one of the girls wearing horn-rimmed glasses would drag me onto the dance floor. They didn't, but I kept tappin' away.
In fact, after the raffle ended at 1:30 and I left empty-handed, I found that Ober and The Jazz Guys had filled me with enough rhythm to keep tapping all the way home.