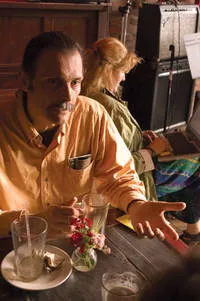 I sat at the bar nursing a Switchback and nervously watching mis amigos arrive. It's been months since my short-lived stay in Barcelona, and I feared my Spanish would be too unsophisticated for Tertulia Latina, a Spanish-language conversation group that meets weekly at Burlington's Radio Bean. But then I spotted a woman who, like myself, appeared to be a first-timer. Her confidence impressed me and encouraged me to join in.
The man who seemed to be in charge of the gathering, Hugo Martinez-Cazón, was warm and welcoming, and didn't hesitate to offer help with my pitiful speech. An environmental engineer from Argentina, Martinez-Cazón has been meeting informally with el grupo (the group) for approximately three years. I quickly learned that it got started as a simple engagement between Martinez-Cazón and a friend, who met just to hang out and talk as they would in cafés back home.
I became so absorbed in the conversation that, when I finally took a look around, I was surprised to find myself sitting among 15 or so other people, whose language skills ranged from quasi-fluent to advanced. Some even came as far as Rouses Point, New York, to reunirse (meet up with) and charlar (chat) in castellano. The few English speakers remaining in the café had disappeared into the night, leaving Radio Bean to buzz Latinoamerican-style.
What I liked most about the gathering was that its only purpose was to practice — and celebrate — the Spanish language. Before I departed, Martinez-Cazón pointed out something I hadn't thought of: "Each person's first language," he said, "is an integral part of that individual's personality and being." Es importante que no olvidemos de esto (it is important that we not forget this)!