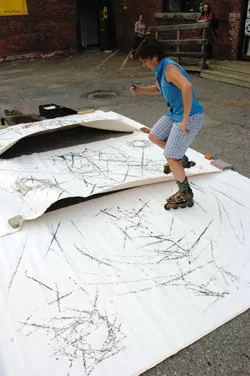 The large, white, double-primed canvas was laid out in the parking lot of the South End Arts and Business Association, held down on the corners by blocks of wood and stone. Artist Jean Cherouny was ready to roll, as it were. The crowd closed in as she began to stomp in a puddle of black paint on a palette next to the blank canvas.
Cherouny was wearing a pair of Rollerblades, already splattered in an array of crusted paint colors. She bounced in them gracefully, which led me to believe she'd done this before (I found out later she'd been a ski racer). The anticipation for her first loop around the canvas was palpable; what might this unconventional way of painting produce? What would it express?
She made the first loop, and back around again — an almost figure-eight maneuver. And then the breeze picked up, swirling the hair of the women in attendance in all directions. The wind also grabbed the canvas, pulling it out from under its anchors, and tossed it about, folding it onto itself. The audience scurried to Cherouny's aid, grabbing the canvas and re-positioning it for her next phase of stomping, rolling, kicking and strolling.
"I'm dancing with the wind," Cherouny said lightheartedly. Her eyes were wide, serious and intense, studying the canvas like a mechanic might an engine bay.
"This early sketch is like meeting a new friend; there's a lot of emotion," she continued, panting after a dozen or more laps around her "stage." The canvas was now filled with loops, lines, circles and splatters — a controlled chaos that illustrator Ralph Steadman would probably enjoy.
Cherouny continued to make marks and loops with her 'blades. The emerging painting was abstract and energetic, which seemed to team well with her blue-and-white checkered shorts and short, spunky haircut. Observers came and went, drifting inside the SEABA office or to other Art Hop venues. My stomach started to growl, and I stuffed my pen in my pocket, turned my hat around, and kick-started my moped. I careened through the parking lot toward the road, feeling electrified, motivated and inspired to write.