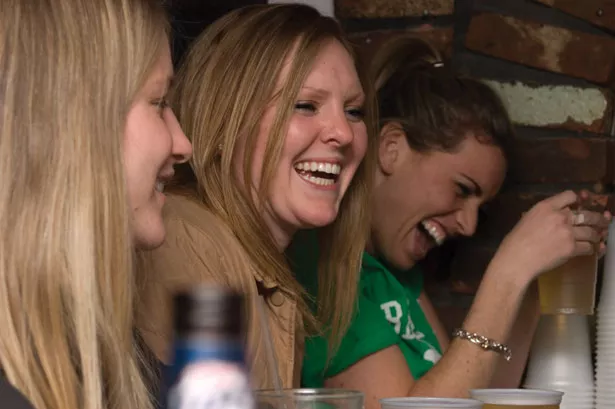 Colchester's new Unwinders bar, perched right on the edge of St. Michael's College campus, is the perfect cocktail of bar clichés, fusing a "hole-in-the-wall" atmosphere with 1970s-style furnishings. This former American Legion jaunt features a popular Big Buck Hunter Pro arcade machine, Pleather-lined tables and two beers on tap - one for the less discerning (Bud Light) and one for the more discriminating palate (Switchback). Unwinders' Super Bowl Party was a hoot, with its cross-section of two worlds: the local "been there, done that" crowd and the hard-partying St. Mike's bunch.
As the night began, the front section of the bar was packed with SMCers grasping $2 tall boys of Pabst Blue Ribbon and clear plastic cups of dollar drafts, loudly disrupting any interest in pre-game coverage. Still, the wall-to-wall crowd seemed to be enjoying the scene, festooned in all kinds of New England Patriots gear. Whenever quarterback Tom Brady was present onscreen, inexplicable "woos" and cheers of "Yeah, Tommy B!" erupted around throughout the room - a reminder that the game was fast approaching.
More random were the strange moments when twentysomethings broke into uncoordinated grind sessions and sing-alongs to The Isley Brothers' "Shout" and a techno version of Rod Stewart's "Do you Think I'm Sexy?" The latter song choice was particularly unfortunate, dispelling any semblance of good taste that may have been lingering in the room.
As the festivities progressed, the younger attendees became less enthused about Unwinders, even with its delicious hot wings and cold ale. As the clock inched towards kickoff, droves of students began to leave, most likely for the "free" beer left in fridges from Friday and Saturday on campus. A few locals stayed for the broadcast, no doubt reveling in the sudden quiet.
In the end, the game went on without a hitch, excluding the fourth-quarter upset of the almost-undefeated Patriots, which drew screams of protest across St. Michael's campus damning Eli Manning and his New York Giants with all manner of epithets.