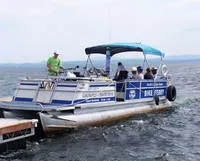 Brisk winds and choppy water couldn't stop scores of runners, walkers and bikers from crossing a 200-foot gap in the Colchester Causeway — all without getting their feet wet. An impressive trick, for even the fittest of the bunch. Of course, they had a little help in the form of their friendly neighborhood Bike Ferry. I rejected both bike and running shoes and walked to the causeway, a trip long enough to turn my "farmer's tan" from bad to worse.
The Bike Ferry, provided by Local Motion and the South Hero Rec Path Committee, operates for four weekends in August to help otherwise land-locked sojourners travel between Colchester Point and South Hero. Five-dollar donations were suggested for a round-trip ride, though this isn't sufficient to keep the project afloat. Area businesses help out, too, and local residents serve as volunteer staff.
Two of the latter are Karen Browning and Rosemary Zemore, both of South Hero, who spent last Sunday morning behind a fold-out table, collecting donations, greeting passengers, and dispensing recreation-oriented literature. The ferry is "good for the economy and good for health," Zemore declared.
By noon she and Browning had already seen nearly 75 passengers, including a man with moose antlers mounted on his handlebars. Interesting Vermonters aside, the ride was also an attraction for bikers from other states and Canada. One group of cyclists ventured all the way from New Jersey — for the third consecutive year — to put in some time on the bike path. "We keep coming back because it's so beautiful," said one biker. "This is like a bicyclist's dream right here. It's one of the best rail trails I've ever seen," he added, referring to the causeway's former life as a line for the Rutland Railroad.
Most of the traffic seemed to be headed island-ward, from Colchester to South Hero. I liked to think it was because people were sneaking over to Snow Farm Vineyard and filling up the tank before teetering back to the Greater Burlington area. Yet, despite the vineyard's proximity, I didn't detect any passengers slurring their speech or exuding wine breath — just travelers looking for good clean fun. Which suggests that most bicyclists are more disciplined than I might have been.