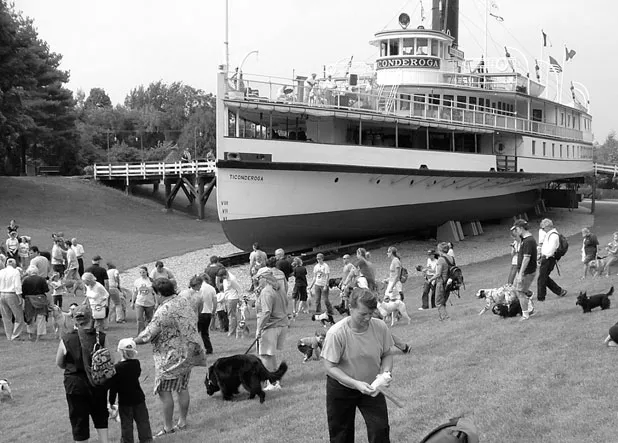 The day started dreary, but as I cruised down Route 7 toward the Shelburne Museum, I noted that not a single raindrop had fallen. My canine cohorts expressed their excitement more audibly, barking noisily before we even got parked. I wondered if museum founder Electra Havemeyer Webb really loved dogs enough to welcome such a commotion for her annual birthday celebration.
At the entrance, each dog owner signed a waiver to vouch for his or her pooch. In exchange came a schedule of events and an unlimited supply of "doggy bags." With 2600 people in attendance, many accompanied by their "best friends," the path leading to the main event was a tangle of leashes.
Booths lined the trail to the Steamboat Ticonderoga and beyond, staffed by rescue organizations, therapy dog groups, humane societies, and even a paw-reader. Along with informational materials, the booths offered games, face painting and plenty of raffles. There was also a dog-shaped piñata ready for whacking, its message unclear.
The Pet Masquerade Parade began at 1:30, and we quickly found a spot to watch the dogs in togs. The Dixie Six lead the pup procession with New Orleans-style tunes. Dogs parading as lobsters, flowers and princesses strutted proudly, all vying for the title of Best Dressed. In the end, prizes went to a Mastiff clad in clown gear, and a Jack Russell as Wonder Woman.
The excitement reached its peak after the awards, when the crowd gathered on the green to break the Guinness World Record (110 decibels) for loudest collective dog bark. With 220 registered dogs and a bark of 111.1 decibels - the barking incited via bullhorn - the group met its goal, and the resulting human cheers were even louder.
Pet Food Warehouse marketing director Evan Wisell declared that the event fulfilled its purpose: "To give area dog owners a chance to socialize, have fun, and partake in activities!"
After grabbing a Vermont-shaped catnip treat for our one household member not in attendance, I called an end to the muggy afternoon at the museum. By the time we made our way back to the entrance, I was, admittedly, dog tired.
Click here for an audio slideshow - hear the loudest collective bark.