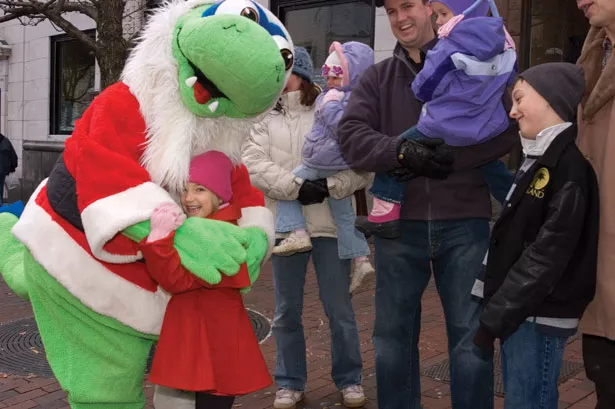 Matthew Thorsen
Santa Claus Parade
The holiday season is rough on parents. On the one hand, they've got their children's remarkably well-informed "wish lists" to consider. On the other, they've got global warming and safety hazards. Was that toy made in China? Think of the emissions between there and the local store! Oh, and what were those lead-tainted toys again? How can one be sure they were all recalled?
Even if conscientious moms and dads feel like they should buy carbon credits alongside that Fisher-Price Smart Cycle, Nintendo Wii or iCat, the environment was probably not on their minds at last Friday's Santa Claus Parade in downtown Burlington. It was hard enough just keeping track of the hyper-excited kids, and making sure they weren't crushed under the slow-moving wheels of the train that made its way from City Hall to the mall. (No, no reindeer in sight.) Word has it that Santa himself was outsourced this year - from Florida, according to an employee of WPTZ, which delivered the Fat Man to Church Street. But none of the hundreds of tots and their parents knew, or would have cared if they did. After all, we're talking Santa.
And neither age nor disbelief could dampen the enthusiasm. Grownups gawked and grinned. Jaded teenagers exclaimed, "Is that Santa?!" Or maybe it's just that everyone loves a parade. In any case, by the time the train arrived at the Burlington Town Center, the crowd was thick - even if half of it was under 3 feet tall. Most of the stroller-and-snuggly masses descended the escalator so that their children could participate in the annual ritual: standing not-so-patiently in line and, eventually, sitting shyly on the lap of Old St. Nick to share their heart's desires. The rest of us just went shopping.