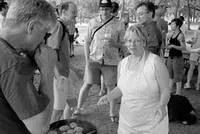 Two unassuming signs greeted visitors at the far end of North Beach — "Burg Summit!" and "All Politics, All the Time" — setting the tone for the afternoon's events. Sunday marked the second go-round for the Annual Political BBQ and Hamburger Summit, an event intended to give Vermont's tireless online political commentators a break from cyberspace in lieu of some fresh air, food and fun.
The Summit, hosted by two major Vermont political blogs — VermontDailyBriefing.com and GreenMountainDaily.com — was characterized by a distinct lack of agenda. No formal introductions, no speeches, just a meet-and-greet for anyone involved, or merely interested, in the Vermont political scene. Or in free food and drinks at the beach.
The event attracted dozens of bloggers, readers, journalists and even a few elected officials. I fell into the category of "merely interested," but I was greeted warmly just the same. As a first-timer, I had to rely on the others, such as GreenMountainDaily.com blogger John Odum, to identify certain individuals for me. I did at least recognize Congressman Peter Welch. Blogging star Steve Benen (thecarpetbaggerreport.com) made an appearance as well.
If there was any partisanship here, it was kept hidden under the picnic tables. People seemed content to sit in the shade, swap stories and debate politics. Overall, attendees agreed that this year's Summit had a more casual atmosphere than last year's. Odum and VermontDailyBriefing blogger Philip Baruth pointed out that, in an election season, political hopefuls and their campaign staff show up to rub elbows with the blogging community.
By 5 p.m. most people had headed home, perhaps to log on to the Internet and blog — or read — about the day's activities. I left having learned that some of Vermont's most outspoken political critics could occupy the same space peacefully. Nobody raised fisticuffs once, not even when the beer ran out.