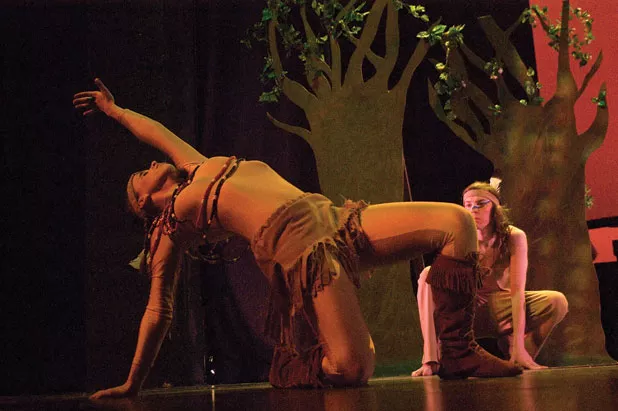 It's been a long time since I believed in faeries. However, as I sat down in a packed theater for the St. Michael's Drama Club production of Peter Pan, I was determined to let my faith be born again.
Held on the main stage of the McCarthy Arts Center, the student-produced play featured an impressive array of colorful costumes, swashbuckling scenes and, of course, flying.
After all, Peter Pan would not be Peter Pan without his ability to fly, and the producers were obviously aiming for authenticity. The actors undertook aerial lessons from ZFX, a company that specializes in theatrical flying effects. In this case, it appeared that Peter and friends were hooked onto a cable of sorts that would lift them up and suspend them as they indulged in back flips and airborne arabesques.
Unfortunately, I missed the open workshop ZFX held last week at the college that offered a tutorial on how to fly on stage. For all I know, the pixie dust did the trick.
The airborne effects incited a lot of "oohs" and "ahhs" from the child-filled audience but did not distract from the plot or the fine acting. In keeping with Mary Martin stage tradition, a woman, Tina Shantz, played Pan. She was convincing as a mischievous adolescent boy, as was the mostly female crew of the "Lost Boys."
There were many rambunctious scenes where pirates, Indians (PC-updated as "Native Americans"), mermaids and Lost Boys clashed, both on stage and in the aisles. It was reminiscent of recess on an elementary school playground. During these episodes, I noticed the nuances of dialogue that, whether ad-libbed or scripted, complemented the chemistry between the characters.
I would have preferred the play to end with the epilogue in the novel, which includes Peter visiting a grown-up Wendy years later and meeting her daughter. Instead, Peter Pan and Wendy Darling parted ways with barely a good-bye, leaving me without a satisfying sense of closure. Otherwise, the play was immensely enjoyable.
Near the end, Peter asked the audience to clap if they believed in faeries. Did I do it? Yes, and I'm also considering taking flying lessons.